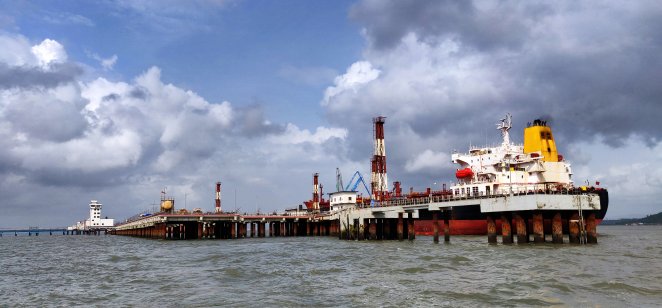 Discounted Russian crude oil is increasingly finding its way into India, according to data available from independent global consultancy Rystad Energy.
European Union (EU) sanctions on Russian energy have forced the Federation to redirect oil shipments to Asia, and exports to the region have bulked up some 347% year over year in the three months through May.
And "since the start of the war (in Ukraine), based on the average of March to May 2022, Indian imports of (Russian) Urals crude have picked up by 658% compared to 2021 levels," Rystad Energy said this week.
Brent oil
Indian refiners purchased the Urals variant owing to its "attractive margin in relation to Middle Eastern grades", which have been the south Asian nation's staple.
The Urals variant has a similar profile to Middle Eastern oil grades and also an advantageous lower sulfur content, allowing Indian refineries to swap Middle Eastern crudes with Urals, according to the 20 June Rystad press release.
WTI crude
Cheaper oil hits the markets
"Historically, India has taken very little Russian oil but the war in Ukraine and Russian-origin oil embargoes by the EU have led to a rebalancing in oil trade flows, with Russian-origin crude oil being diverted away from Europe towards India and China instead," said Wei Cheong Ho, vice president, downstream at Rystad Energy.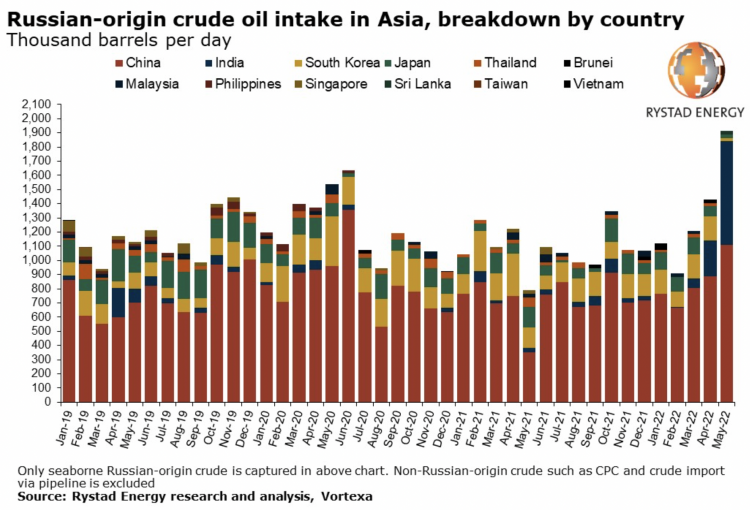 "Discounts of Russian-origin crude oil have to remain high to provide a compelling refining margin on top of offsetting the high insurance and freight costs associated with purchasing and shipping Russian-origin crude oil," Ho added.
"For now, it is just pure economics that Indian and Chinese refiners are importing more Russian-origin crude oil for processing as such oil is cheap and offers one of the highest crude refining margins compared to other crude grades."
'Financing the war in Ukraine'
Fossil fuel exports financed "Russia's military build-up and brutal aggression against Ukraine" in the first 100 days of the invasion, according to Finland-based think-tank Centre for Research on Energy and Clean Air (CREA).
The biggest importers were China (EUR12.6bn / $13.3bn / GBP10.8bn), Germany (EUR12.1bn), Italy (EUR7.8bn), Netherlands (EUR7.8bn), Turkey (EUR6.7bn), Poland (EUR4.4bn), France (EUR4.3bn), and India (EUR3.4bn).
"India became a significant importer of Russian crude oil, buying 18% of the country's exports. A significant share of the crude is re-exported as refined oil products, including to the U.S. and Europe, an important loophole to close," CREA said in a 12 June report.
What is your sentiment on Oil - Brent?
Vote to see Traders sentiment!
'Energy justice for its citizens'
India banks on imports to meet its crude requirements. Therefore, the regime's priority is to "deal with the havoc" caused by rising oil prices, "since the Ukraine crisis", said Narendra Taneja, who heads the Independent Energy Policy Institute in New Delhi.
And "higher crude imports of Russian oil are meant to reduce the overall size of India's 'crushing' import bill, which is devastating the country's economy. Refiners see economics, not love for Russia, at play," Taneja wrote in commentary published on the Barron's news platform on 9 June.
While Capital.com's email to India's petroleum ministry seeking comment went unanswered, a recent government statement defended New Delhi's purchases of Russian energy as "miniscule in comparison to India's total consumption."
"India's energy needs are enormous with (a) daily consumption of around five million barrels and a refining capacity of 250 MMTPA. For energy security and to fulfil its objective of providing energy justice to each of its citizens, Indian energy companies buy from all major oil producers in the world", said the 4 May official statement.
"(India's) top 10 import destinations are mostly from west Asia. (However) in the recent past, the United States has become a major crude oil source for India, supplying almost $13bn worth of energy imports, with almost 7.3% of market share of crude oil imports," the administration noted.
Read more