RPM International takes hit in consumer products segment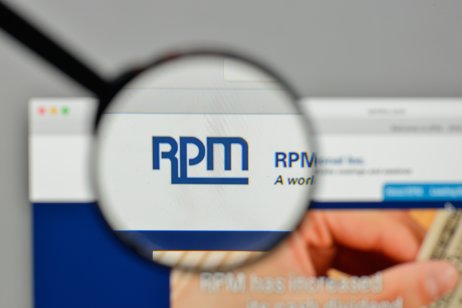 Shares of RPM International were roughly flat, at $79.58 by press time, on Wednesday after the company announced its fiscal first-quarter 2022 earnings.
According to the Medina, Ohio-based company's earnings, three out of its four operating segments generated "solid" sales and adjusted EBIT growth in the first quarter with RPM's consumer segment making up most of the losses.
Segment performance
Its construction products segment saw the greatest increase in sales, representing a 17.7% spike during the first quarter. The company's specialty products and performance coatings group increased their sales by 15.2% and 9.9%, respectively.
However, its consumer products segment saw its sales decrease by 16% and its adjusted EBIT growth decrease by more than 65%.
The company said in its quarterly investor presentation that the dip in consumer sales is "temporary" and primarily driven by a "tough prior-year comparison and acute supply chain challenges."
However, the company expects its consumer segment to generate sales above its pre-pandemic levels during the second quarter of 2022. Some factors that could have an impact on these results include price increases, process improvement and new market opportunities.
Bottom line
Overall, the company reported net sales of $1.65bn (£1.22bn) and net income of more than $134m during the first quarter.
The company reported diluted EPS of $1.04 per share, a decrease of more than 25% when compared with the first quarter of 2021.
"All indicators suggest that the underlying demand for our consumer products is still strong and that the supply and material disruptions the segment is currently experiencing are temporary," RPM CEO Frank Sullivan said in a press release.
Looking ahead
As the company moves into the second quarter, several factors could weigh down its performance. Some of those include wage and labour rate inflation as well as increases in the prices of raw materials and challenges posed by supply chain disruptions.
In all, Sullivan expects next quarter's sales to increase by the "mid-single digits" due to these factors.
"While underlying demand for our products and services is strong, significant material shortages and inflationary pressures remain," Sullivan said. "Accordingly, we expect that the second-quarter results will be directionally similar to the first quarter, with significant year-over-year declines again in our Consumer Group, which is still lapping tough comparisons, and double-digit sales and earnings increases for our other three segments in aggregate."
Read more: Fed expects inflation to remain elevated into 2022