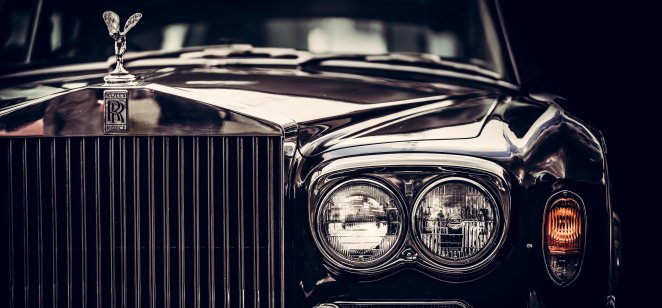 Established in 1904, Rolls-Royce (RR) is an iconic British company, offering products and services used in various industries like defence, power generation, and aerospace industries.
The firm has divided its business into four segments: civil aerospace, power systems, defence, and ITP aero. The civil aerospace segment provides engines to aircraft manufacturers like Boeing and Airbus, while the defence category deals with government contracts. The power category supplies engines and propulsion systems to industries like marine, oil and gas, while ITP aero provides engine design and maintenance.
The civil aerospace segment is its best-known business because of the engines it provides to aircraft manufacturers and airlines. In 2019, the business generated more than £8.1bn (£10bn, €9.2bn) and an operating profit of about £44m. It was followed by the power segment, which brought more than £3.5bn in revenue and £357m in operating profit. Further, the defence and ITP aero had revenue of £3.25bn and £936m respectively.
In the past few years, Rolls-Royce has faced numerous challenges that have affected its share price. After peaking at about £12.70 in 2014, the stock has declined by more than 76 per cent. Indeed, this year alone, the stock has shed some 60 per cent.
So, what are Rolls-Royce shares: buy or sell? In the article, we try to answer this question.
Rolls-Royce: just another investors' disappointment?
Rolls-Royce has been a disappointing company to own for most investors. They have had to bear with a stock that has been in freefall for the past six years.
However, there are several reasons why many people still choose to invest in the firm. First, Rolls-Royce operates in a highly defensible industry with many barriers to entry. For example, developing a new aircraft engine costs $4-$5bn and takes between 10 to 20 years. During this time, the manufacturer makes no money and is not assured of customers. As a result, there are just a few companies that produce these jet engines: General Electric (GE), Raytheon Technologies, CFM, and Safran (SAF).
Second, many investors are attracted to the firm's business model, especially in the civil aviation segment. The company develops engines, sells them to customers (airlines) at a loss, and then takes long-term contracts to maintain, repair and overhaul (MRO). This business model guarantees the company regular cash flow.
Third, Rolls-Royce business is highly diversified, which means that various parts support one another. For example, while the civil aviation segment has faced several challenges, the overall business has been relatively stable because of the strong performance of other units. In 2019, the defence business provided about half of its total operating profit.
Finally, before the coronavirus pandemic, the company was loved because of its strong dividends, which it has been offering since 1987. In 2019, it had a dividend yield of about 4.31 per cent, which was higher than that of peers like General Electric and Safran.
Rolls-Royce share price analysis: latest news and analysis
Before we look at the Rolls-Royce shares forecast, let's recap the stock's recent performance. In the past five years, the shares have dropped by more than 70 per cent, giving it a market capitalisation of about £5.5bn. This decline is mostly because of problems with the Trent 1,000 engine; a bribery investigation; accounting; A380 cancellation; Brexit; and the current coronavirus pandemic.
The challenges with the Trent 1,000 engine started in 2018 when airlines started seeing corrosions and cracks in the turbines. In response, the company allocated millions of pounds to research and solve the problems. As a result, these costs led to a £2.9bn loss in 2018 and a £1. bn loss in 2019.
On accounting, the firm was forced to adopt the new IFRS 15 accounting standards, which changed how it accounted for future revenue. In short, the new system meant that it accounted for all original equipment manufacturing (OEM) cost at the time of sale, and only recognised revenue when the MRO was actually done. By adopting these standards, and because of the bribery charge, the company's net income fell from £126m in 2015 to a loss of £4.6 bn in 2016.
On A380, the company lost orders worth billions of dollars when Airbus scrapped its A380 programme because of lack of demand for the jet. At the same time, the UK voted for Brexit, which meant additional costs for the business.
Finally, the Covid-19 pandemic has led to a significant challenge for the firm. With global travel firmly grounded, the probability is that most airlines will not make it. Companies like Virgin Australia, Flybe and The Trans States Airlines have already filed for bankruptcy, while others like Virgin Atlantic and South African Airlines are fighting for their lives. Consequently, this means that order cancellations will increase in the near term. As a result of these challenges, Rolls-Royce has suspended dividends and announced massive layoffs.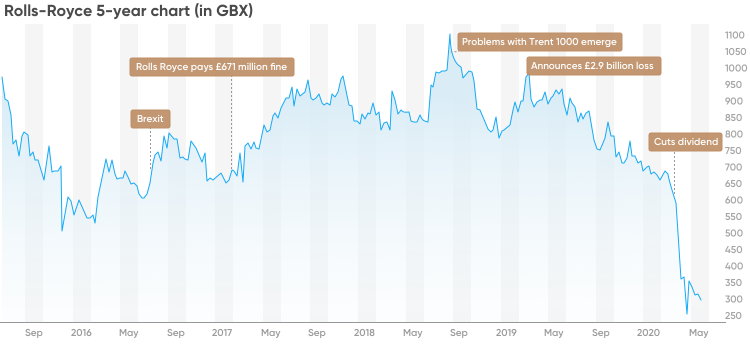 Rolls-Royce share price prediction 2020
Let's now look at the Rolls-Royce share price prediction for the near term. Rolls-Royce is now facing its biggest challenge as many airlines cancel their orders. Boeing (BE) and Airbus (AIR) have already reported hundreds of order cancellations, and analysts expect more to come.
In a report early this year, the company slashed its expectations for deliveries from about 500 to 450 for 2020. It will be difficult for the firm to hit this target since some of its plants are not operating.
Therefore, the share price will mostly depend on the number of planes that are cancelled and how fast the aviation industry resumes. Also, its future will rest on whether governments continue increasing their investment in defence now that they have borrowed heavily to fund stimulus packages.
Two important dates will be July 1 and August 31, when the company will hold a trading update and release the half-year results, respectively.
Rolls-Royce share price prediction by analysts
As a UK company, Rolls-Royce is not covered by many analysts. However, those that do have a mixed feeling about its future prospects. For example, analysts at Societe Generale recently downgraded their Rolls-Royce share price forecast from £7 to £2.46. At the same time, experts at Goldman Sachs (GS) and Jefferies maintained their buy rating on the company.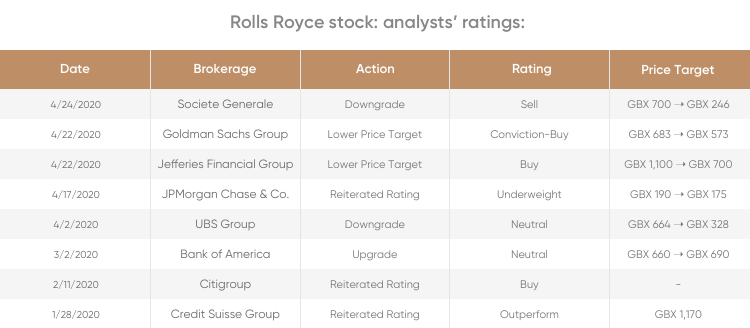 Rolls-Royce share price prediction: technical perspective
We have looked at the RR share price forecast from a fundamental point of view. Now, let's check how the stock might perform going forward from a technical perspective.
On the daily chart, the Rolls-Royce stock price has been on a downward trend and is now a few points above its lowest level since 2009. The price is below the 50-day and 100-day exponential moving averages, while the RSI is slightly above the oversold level. Therefore, a move below the 2.45 level will mean that bears are in control and could see the price fall further.
On the flip side, a move above 4.00 will likely lead to higher prices. This price is a psychological level and is also along the 23.6 per cent Fibonacci retracement and 50-day EMA.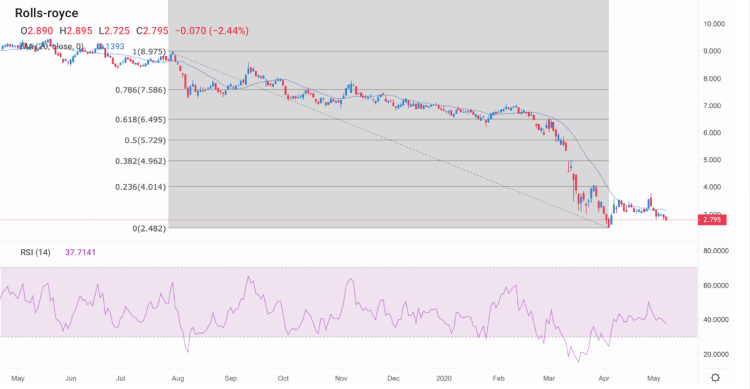 The bottom line
Rolls-Royce, like other industrial companies, is facing its biggest test as demand falls and the cost rises. In the short term, we will be looking at how fast economies reopen, whether there will be a new wave of the disease, the number of order cancellations, and whether countries maintain their defence budgets.