Roblox (RBLX) up 7.5% after the company's first Investor Day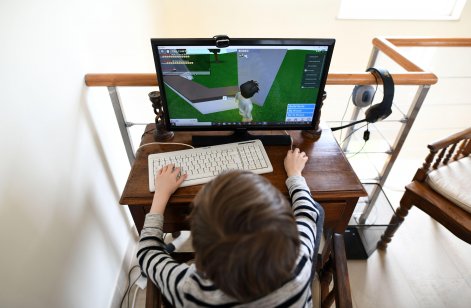 Roblox saw its stock jump more than 7.5% to $116.18 (£86.54) on Tuesday after company executives revealed plans to build the Metaverse during its first Investor Day.
Over the last six months, the stock is up over 51% and has increased in value by more than 67% so far in 2021.
Validation
Roblox CEO David Baszucki said the last 18 months "validated" the company's aims to help people connect when they otherwise are unable to. He pointed to the company's third quarter results as proof.
According to the earnings statement, Roblox more than doubled its revenue to $509.3m in the third quarter and more than $170.6m in free cash from operations.
The net loss attributable to shareholders was reported at $74m.
However, the company also reported significantly increasing both its average daily active users and hours of engagement by 28% and 31%, respectively.
Roblox's stock has gained 34% in value since the Q3 earnings were released on 8 November.
Plans for the Metaverse
Baszucki also provided a few details about Roblox's plans to become a leader in the metaverse space.
As it is currently constructed, Roblox's metaverse, which it calls "Human Co-Experience," is entirely constructed by its users, Baszucki said.
It is being built with eight foundations in mind: identity, friends, immersion, low-friction, variety, anywhere, economy, and civility. Baszucki said these foundations will help users connect with each other while engaging with the Roblox platform.
The metaverse also exists within the convergence of storytelling, communication, gaming, and entertainment, Baszucki said. And while that may sound like the aims of Meta's Facebook platform, Baszucki said Roblox's metaverse is designed with both safety and civility in mind.
"A lot of Roblox friendships come from off the platform," Baszucki said. "But our platform encourages friendships with people of similar interests and like minds. And that is somewhat unique for this category."
Competitors
While Roblox focusses on engagement and social connection, other metaverse companies are taking a different approach.
For example, Meta announced on Tuesday that one of its research teams is developing haptic gloves that will allow users to feel things in the metaverse. The gloves are designed to reproduce sensations such as texture, pressure and vibration.
Unity Software is developing technology that can train robotic operators against realistic virtual world settings. The company hopes to deploy the technology to help solve supply chain issues using artificial intelligence.
Read more: Roblox launches live music release events