Roblox (RBLX) stock down 18% amid user safety concerns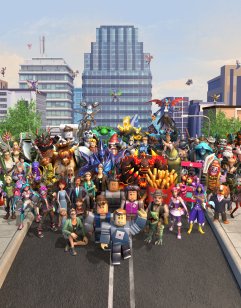 Roblox stock is down more than 18% this week after the video game developer reported weaker daily active user counts for November and received new criticism about safety on its platform that is mostly used by younger kids.
Daily active users increased by 32% year over year to 49.4 million but fell slightly below the 50.5 million analysts at Truist were expecting for the month, according to a report released Wednesday.
The stock fell as much as 12.46% lower following the announcement to $94.25 per share. Although the stock moved back above $100 per share at Thursday's open, by mid-day it was back down to lows of $93.27 per share.
The lower-than-expected user count comes as the company faces new accusations that claim the company is not doing enough to protect children on its platform and that it encourages gambling behaviours through collectible items.
Video series raises concern
The alleged problems on the platform were brought to the surface by documentary YouTube channel People Make Games earlier this week as a follow up to a video they released in August titled "How Roblox Is Exploiting Young Game Developers." People Make Games said Roblox pressured them to remove that August video, so instead they dug deeper into the issues with a new video released this week.
The first video in the series did not have a huge impact on the company's stock price and indeed shares shot to new all-time highs in November at $141.60 per share following the company's investor day presentation.
However, the concerns raised in the second part of the video series, combined with lower user counts, speaks to one of the biggest risks Morgan Stanley identified in its most recent report provided to Capital.com: "Platform trust and safety issues could impair (Roblox's) ability to acquire/retain users."
Alleged safety issues
Roblox is one of the early and leading companies creating what people are now calling a metaverse. The game sells songs, digital outfits and accessories that can be used to customise characters that play in games that are created largely by the community of players themselves.
As the game has evolved, larger teams of community developers are required to make the games and experiences. Those independent teams are recruiting from Roblox pool of daily active users – nearly half of which are under the age of 13, according to a presentation from Roblox third-quarter earnings report.
The teams are then communicating outside of Roblox itself where kids are vulnerable to harassment and which Roblox can't monitor. People Play Games told the story of a 12-year-old who claims she was harassed by a user by the name of DoctorRofatnik in the communications app Discord while helping to develop a game on Roblox.
Investing and gambling on collectibles
One of the most enticing features of the game is the Roblox collectibles page where the company has partnerships with brands and celebrities to sell items that can cost thousands or tens of thousands of dollars, such as Gucci bags.
A parent or guardian's permission may be needed to purchase items with real money in the game, but developers getting paid on the platform receive an in-game currency called "Robux" that can be spent in-game or exchanged for real money.
One user in the People Make Games video described their experience of getting paid more than $1,000 Australian dollars' worth of Robux for their game and spending it all on two or three items in the collectibles store where Roblox displays the value of items, using a stock ticker-like graph to indicate the purchase could be something that appreciates in value over time.
"Because gambling and investing are both seen as adult activities, kids are going to be that much more likely to want to do those activities because kids want to act like adults," said Quintin Smith, the writer and presenter for the People Make Games video.
"Roblox should be warning children about the collectibles market, not encouraging them, and certainly not trying to keep the whole feature continually exciting by minting new collectibles and working with pop stars to get kids excited," said Smith.
Roblox response
A spokesperson from Roblox said the company denies the claims made in the video and sent the following statement to Capital.com.
"We reject the characterisation of Roblox as portrayed in the video. It downplays or outright ignores key features we have in place to ensure our platform provides a safe and civil space for our community of users and developers, and creates a misleading picture of how our platform functions."
Additionally, Roblox has continually invested in "infrastructure and trust and safety"; an expense for the company that has risen 59% year over year to $82.6m (£62.04m) in the third quarter alone.
Investors continue to be quite bullish on the company, raising its average consensus price target to $114 per share at a range of $70–$150 per share, according to Refinitiv data.
And while the stock has taken a hit from its recent highs, the company is still up more than 35% year to date and 15% higher since the first People Make Games video was posted in mid-August.
Read more: Roblox August revenue may reach 0m