Roblox IPO: is this gaming platform a good fit for your portfolio?
Subscribe to Weekly Highlights
The major market events for the week ahead right in your inbox.
Subscribe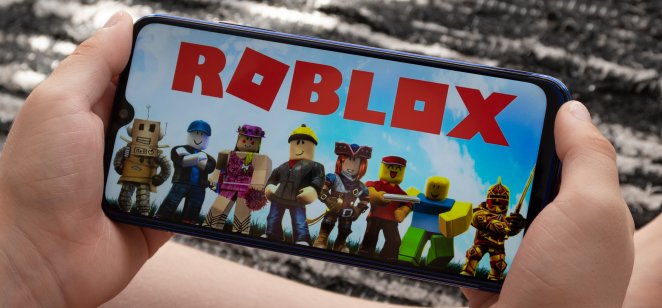 Content
Roblox Corporation is the latest video gaming business to go public, planning to list on the New York Stock Exchange (NYSE) this month.
The Covid-19 outbreak has accelerated the growth in the company, which provides tools for developers to create online games primarily aimed at children. Gaming has become one of the main means of entertainment worldwide during the pandemic. Roblox (RBLX) follows Corsair Gaming (CRSR), Unity Software (U) and Playtika Holding (PLTK) in capitalising on the trend to raise funds from a stock market listing.
The firm abandoned plans for a traditional initial public offering and intends to go public via a direct public listing (DPO) instead. The Roblox DPO is the fifth such listing of a large company after Palantir Technologies (PLTR), Asana (ASAN), Slack Technologies (WORK) and Spotify Technology (SPOT).
So, should you buy shares when Roblox goes public through a direct listing?
This article covers everything you need to know about the Roblox stock DPO and offers an overview of the listing details to help you decide whether to invest your money in the stock when it launches.
Roblox builds its own online economy
The groundwork for Roblox was laid in 1989 when founders David Baszucki and Erik Cassel programmed Interactive Physics, a 2D simulated physics lab that influenced their approach to Roblox. The company was incorporated in 2004.
Roblox is not a game developer but provides a platform for developers and creators to build 3D experiences and games for its virtual community that interacts using avatars.
The underlying Roblox platform has three elements: a 3D application called Roblox Client; the Roblox Studio toolset that allows developers and creators to build, publish, and run 3D content; and the Roblox Cloud services and infrastructure that power the platform.
Roblox said in its SEC filing that it experienced rapid growth from the second quarter of 2020 onwards due in part to the Covid-19 pandemic as users have been spending more time online because of shelter-in-place policies.
The company's bookings increased by 171 per cent in 2020 compared with 2019, but it warned that the growth is unlikely to be sustained once lockdown restrictions are over. "We do not expect these activity levels to be sustained, and in future periods we expect growth rates for our revenue to decline, and we may not experience any growth in bookings or our user base during periods where we are comparing against Covid-19 impacted periods," the filing said.
Roblox reported 32.6 million daily active users (DAUs) in 2020, an 85 per cent increase from 17.6 million in 2019. DAUs increased by 47 per cent in 2019 from 12 million in 2018. The number of hours spent on the Roblox platform jumped by 124 per cent to 30.6 billion in 2020, compared with a 45 per cent increase in 2019 from 9.4 billion to 13.7 billion. The number of daily paying users climbed from 125,000 in 2018, to 184,000 in 2019, to 490,000 in 2020.
The strong growth in users lifted Roblox's revenue by 82 per cent in 2020 to $923.9m, having risen by 56 per cent in 2019 from $325m to $508.4m. However, the company's net loss climbed to $253.3m in 2020 from only $71m in 2019 and $88.1m in 2018.
The company generates revenue through the sale of its Robux currency through its Robux Client and website, which users can spend on virtual experiences and items for their avatar created by developers, who receive a share of the transaction and can then convert the Robux into offline currencies. Users can make one-off purchases of Robux or sign up for a monthly subscription to Roblox Premium.
| | |
| --- | --- |
| Long position overnight fee | -0.0166% |
| Short position overnight fee | 0.0060% |
| Overnight fee time | 22:00 (UTC) |
| Spread | 3.0 |
| | |
| --- | --- |
| Long position overnight fee | -0.0500% |
| Short position overnight fee | 0.0140% |
| Overnight fee time | 22:00 (UTC) |
| Spread | 0.00301 |
| | |
| --- | --- |
| Long position overnight fee | -0.0082% |
| Short position overnight fee | -0.0061% |
| Overnight fee time | 22:00 (UTC) |
| Spread | 0.09 |
| | |
| --- | --- |
| Long position overnight fee | -0.0500% |
| Short position overnight fee | 0.0140% |
| Overnight fee time | 22:00 (UTC) |
| Spread | 66.00 |
The majority of Roblox's users interact with its platform on mobile devices. In 2020, around 35 per cent of its revenue was attributed to sales through Apple's App Store and 19 per cent was attributed to sales via the Google Play Store. Mobile users accounted for 68 per cent of the total engagement hours users spent on the platform. Roblox is required to pay 30 per cent of its revenue earned from sales of Robux through the stores to Apple and Google.
What is your sentiment on AAPL?
Vote to see Traders sentiment!
Roblox targets demographic and geographic growth
Roblox said in the filing it has growth been driven by its investment in technology, the quality of its user-generated content and the social aspect of the platform. The high-quality content on the platform attracts users and the higher the engagement, the more developers and content creators are attracted to building on the platform. Users typically play games with friends on the platform, attracting more users through word of mouth.
Roblox is focused on pursuing growth by investing in the platform to support interactions in the entertainment, learning and business markets. By extending the platform, the business is looking to enable developers to build higher quality experiences and content to increase its use among a wider range of age demographics and geographies. The company is addressing the opportunity for growth in the large Chinese market through LuoBu, which is a wholly-owned subsidiary of its joint venture with Songhua, an affiliate of technology conglomerate Tencent (0700).
The company said in its SEC filing: "We believe there is significant potential to increase monetisation on our platform."
"First, we are actively working with our developer and creator community to help them improve their monetisation. Second, we recently introduced our subscription service, Roblox Premium, which we believe will increase our conversion of our free users to paying users and the retention of our paying users. Finally, we expect to work with leading brands to build unique marketing opportunities on the Roblox Platform."
Roblox IPO: everything you need to know
Roblox filed its prospectus with the Securities and Exchange Commission (SEC) on November 19. However, the company has since issued a number of amendments, with the latest published on February 22. The business had planned a traditional IPO but the SEC approved a change in the IPO rules to allow direct floor listings without underwriters. The company held an Investor Day presentation on YouTube on February 26 to promote RBLX stock.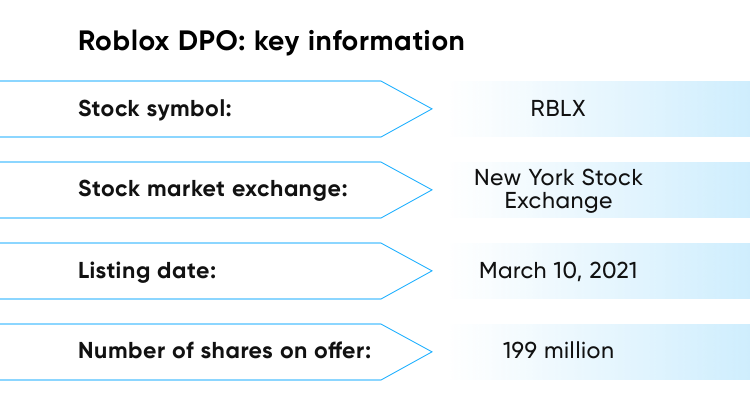 In the Roblox direct listing, the business will sell 198.9 million shares of common stock on March 10. The DPO means that Roblox's opening price will be set by the buy orders the exchange receives rather than underwriters setting the price.
The company announced on January 6 that it had raised $520m in an eighth round of funding at $45 per share, putting the Roblox valuation at $29.5bn. Investors included Altimeter Capital, Dragoneer Investment, the Investment Group of Santa Barbara and Warner Music.
Roblox said it would use the financing to advance its growth initiatives and build out its platform.
Now, are you interested in buying the stock as soon as Roblox goes public?