Robinhood IPO: is the listing worth the hype?
Subscribe to Weekly Highlights
The major market events for the week ahead right in your inbox.
Subscribe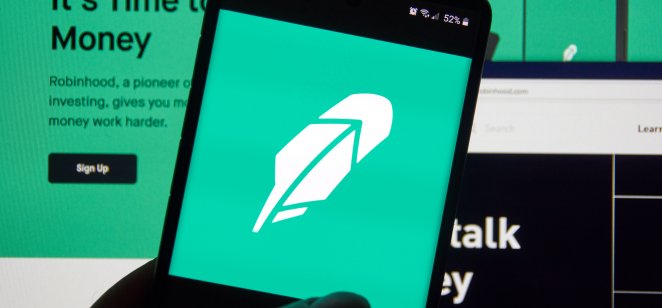 Content
In one of the most hotly-anticipated IPOs of 2021, Robinhood went public on 28 July. Stock priced at $38 (£27.30) on the first day's trading, but by 4 August prices surged by up to 82% to take HOOD to $85 before falling back slightly at close. Trading has been described as frenzied by observers, with price swings leading to several suspensions.
Robinhood is a digital broker that caters to what it terms "everyday people". It offers features like fractional share ownership, which means that instead of requiring around $3,600 (£3,078) to buy one share of Amazon.com stock, investors can buy half a share for $1,800 or even one-tenth of a share for just $360.
There's a growing trend to democratise share dealing across the market, and Robinhood joins the ranks of brokers – including Capital.com – helping investors of all shapes and sizes gain access to the same stocks that Wall Street hedge funds own.
Robinhood going public presents an opportunity for investors to own shares in a company that is in the very early stages of shifting influence away from Wall Street and towards Main Street.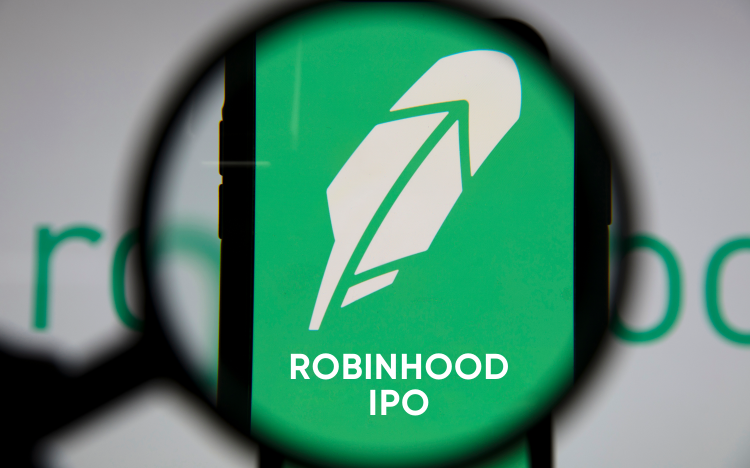 Robinhood isn't Wall Street
There is no doubt that Robinhood faces stiff competition. Some competitors are substantially larger in size and scope and have been around for decades, plus there is a raft of other new entrants into the market.
Put in context, Robinhood targets a valuation of $30bn and competes against companies such as Charles Schwab, which is worth around $130bn. Rival broker E*Trade was acquired by Morgan Stanley, a Wall Street behemoth worth around $160bn.
But Robinhood markets itself as a disruptor being a sort of anti-Wall-Street broker. It emphasises its zero-fee trading platform with no account minimums. According to the company's regulatory filing, more than 50% of all 18-to-44-year-olds in the US know the Robinhood brand.
The main pitch of the company is that investors, regardless of whether they have $10 to get started or are looking to invest $10m, can join in. This, they hope, will encourage traders to buy Robinhood shares too, once it launches.
Robinhood by numbers: how big is the broker?
According to its filing with the US Securities and Exchange Commission (SEC), Robinhood has 18 million users funding accounts. Total monthly active users (MAU) rose from 4.3 million in 2019 to 11.7 million in 2020 and 17.7 million in the first quarter of 2021.
Robinhood's revenue rose 245% from $278m in 2019 to $959m in 2020. During the same period, the company turned a net loss of $107m into a net income of $7m while Adjusted EBITDA improved from negative $74m to plus $155m.
Momentum picked up in 2021, with Robinhood recording an acceleration in revenue growth. For the first quarter of 2021, revenue rose 309% year-over-year to $522m. A net loss of $1.4bn in the first quarter is due to a $1.5bn fair value adjustment to convertible notes and warrant liability. However, adjusted EBITDA improved from negative $47m in the first quarter of 2019 to positive $115m.
Robinhood has seen assets under custody (AUC) improve from $4.505bn in 2017 to $8.3595bn in 2018, $14.1356bn in 2019, and $62.9785bn in 2020. For the three-month period ended 31 March 2021, AUC totaled $80.932bn.
Robinhood started off as a US stock-focused retail broker, and now offers the following services:
Trading in US stocks, ETFs, and ADRs.

Cryptocurrency trading via its subsidiary Robinhood Crypto.

Cash management products such as Robinhood-branded debit cards and the ability to pay bills.

Robinhood Gold: a paid subscription service that includes advanced market data, borrowing and professional research.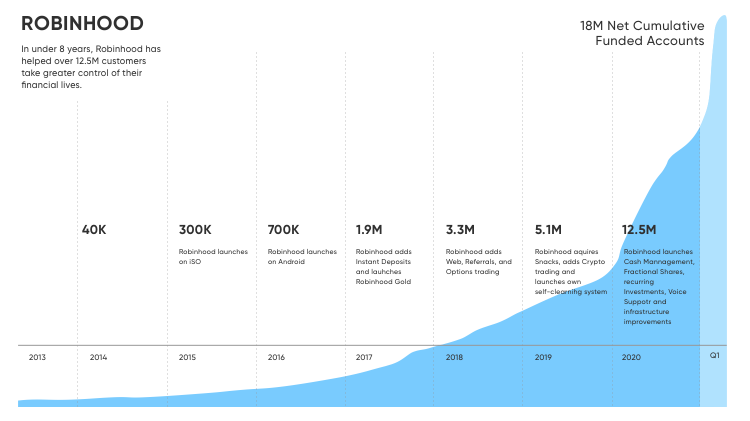 | | |
| --- | --- |
| Long position overnight fee | -0.0500% |
| Short position overnight fee | 0.0140% |
| Overnight fee time | 22:00 (UTC) |
| Spread | 0.00327 |
| | |
| --- | --- |
| Long position overnight fee | -0.0166% |
| Short position overnight fee | 0.0059% |
| Overnight fee time | 22:00 (UTC) |
| Spread | 1.8 |
| | |
| --- | --- |
| Long position overnight fee | -0.0500% |
| Short position overnight fee | 0.0140% |
| Overnight fee time | 22:00 (UTC) |
| Spread | 66.00 |
| | |
| --- | --- |
| Long position overnight fee | -0.0095% |
| Short position overnight fee | -0.0042% |
| Overnight fee time | 22:00 (UTC) |
| Spread | 0.03 |
Robinhood IPO details: everything you need to know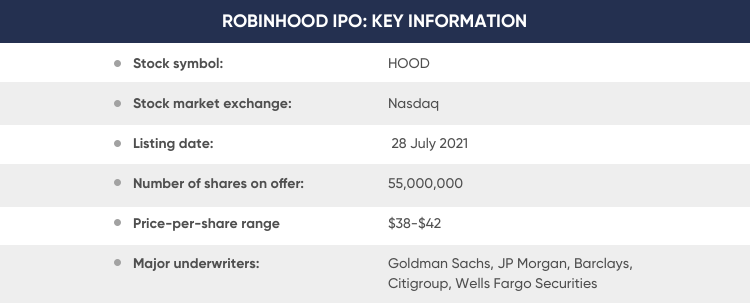 After filing a Draft Registration Statement on 15 June 2021, Robinhood submitted an S-1 form to the Securities and Exchange Commission on 1 July 2021. On 19 July, it released an S-1/A amendment. The stock started trading on the Nasdaq on 28 July under the ticker symbol HOOD.
As stated in the filings, the company plans to sell 52,375,000 shares of Class A common stock, while its founders and Chief Financial Officer will be selling an additional 2,625,000 shares, for a total offering of 55 million shares. An initial Robinhood stock price range is set at $38-$42 a share, which would value the IPO between $2.09bn and $2.31bn.
Goldman Sachs and JP Morgan are leading the offering. The underwriters have the option to purchase up to 5.5 million additional shares "solely to cover over-allotments". Assuming the underwriters exercise their full option to buy shares, the company's market valuation in the IPO would be between $27bn and $35bn.
After the listing, all Class B shares will be owned by Robinhood's co-founders Vladimir Tenev and Baiju Bhatt. According to the SEC filing, Tenev will hold about 7.9% of the company's outstanding stock and 26.2% of the voting power. Bhatt will control approximately 7.9% of the outstanding stock and 39% of the voting power.
One interesting feature of the Robinhood's listing is that 20% to 35% of its IPO shares will be made exclusively available to its retail customers. Assuming an IPO share price of $40, the company plans to offer from $440m to $770m worth of shares for sale through its platform.
The IPO process traditionally targets institutional investors, hedge funds and wealthy entities, who can buy hundreds of millions of dollars worth of shares at a time, as opposed to retail investors with a few hundred dollars to invest.
The company said in its prospectus: "Because we expect Robinhood customers to have the opportunity to participate in this offering through our platform, and given the broad consumer awareness and brand recognition of Robinhood, individual investors, retail or otherwise, may constitute a larger proportion of the investors participating in this offering than is typical for an initial public offering."
In the meantime, the company warned that "these factors could cause volatility in the trading price of our Class A common stock".
Robinhood is also letting its employees sell up to 15% of their shares immediately upon the listing, rather than having them wait the customary six months.
In the recent report from The New York Times, R.A. Farrokhnia, the founding executive director of Advanced Projects and Applied Research in Fintech at Columbia Business School, commented on Robinhood's way of going public: "The company is taking a huge risk. If it works, it's going to be a fantastic win. If it goes badly, it will be a black mark."
The company said it plans on using approximately $342.1m of the proceeds "to fund our anticipated tax withholding and remittance obligations", or tax liabilities in plain language. The remainder of the money raised will be used for "working capital, capital expenditures and general corporate purposes, including increasing our hiring efforts to expand our employee base, expanding our customer support operations and satisfying our general capital needs".
Recent concerns: does it matter?
Recent Robinhood IPO news has led to added scrutiny of the company. In early July, Robinhood agreed to pay $70m in penalties to its customers and the Financial Industry Regulatory Authority (FINRA). The penalty is due to the company's technical failures in March 2020, failure to perform proper due diligence prior to letting customers trade options, and misleading information to customers related to trading and margin, according to FINRA's investigation.
Robinhood, as part of the settlement, did not admit or deny any wrongdoing. The company's head of public policy communications, Jacqueline Ortiz Ramsay, said in a statement the company issued to CNBC that it's "glad to put this matter behind us" and the company has since "invested heavily" in fixing prior issues. Robinhood has, as yet, not responded to enquiries from Capital.com.
When contacted by Capital.com and asked if there were any outstanding investigations of Robinhood, a spokesman for FINRA said: "The settlement we released on June 30 focuses only on the rule violations discussed in the Letter of Acceptance, Waiver and Consent. As a policy, FINRA investigations are confidential and we will not be able to comment further."
FAQs
What is Robinhood's business model?

If Robinhood is known for its zero-commission trading, how did it generate nearly $1bn in revenue in 2020? Robinhood's business model relies heavily on payment for order flow (PFOF.) What this means is Robinhood receives a minuscule payment, often a fraction of a penny a share, to route customer orders to different entities that execute their trade.

Robinhood also derives revenue from lending securities to customers (ie, short selling) and interest earned on margin lending. It also makes money from customers who opt to pay for a Robinhood Gold membership.
Could I profit from the Robinhood IPO?

It's impossible to say if buying Robinhood stock will result in investors making money. If the company accelerates its growth rate, expanding its market share, the company has a potential to generate growth.

However, Robinhood has acknowledged that there are several risks that could affect its business and financial condition, including the fact the majority of its revenue is transaction based.

In its IPO prospectus, which was filed with the US Securities and Exchange Commission on 1 July, Robinhood said: "Changes in our business relationships with market makers and any new regulation of, or any bans on, PFOF and similar practices may result in reduced profitability, increased compliance costs and expanded potential for negative publicity."
Read more: Robinhood shares poised for opening losses