Rivian (RIVN) stock plunges on first earnings report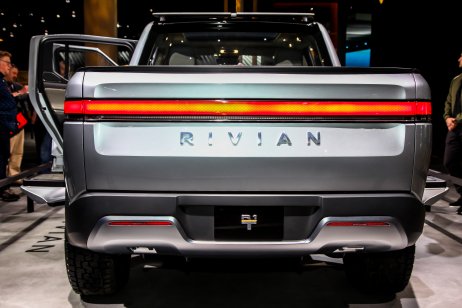 Rivian (RIVN) stock fell 5.33% during regular market hours and plunged an additional 11% in extended trading on Thursday, as the electric truckmaker posted its first earnings as a public company.
"For 2021, we expect to produce a few hundred vehicles short of our initial 1,200-vehicle production target," said CEO RJ Scaringe on a conference call with analysts.
As of 15 December, the company had produced 652 R1Ts and delivered 386.
Scaringe said the company decided to begin introducing the R1S SUV after starting to roll out the R1T, but the ramping up of R1T production was "more challenging than expected."
Rivian delivered its earnings report in the form of a letter to shareholders after markets closed.
Loss larger than expected
Irvine, California-based Rivian reported a loss of $12.21 per share, on both a basic and diluted basis, after analysts polled by Dow Jones had expected Rivian to post an adjusted per-share loss of $1.30.
CFO Claire McDonough said Rivian generated a "negative gross profit of $82 million (£61.55m)." Production increases at the Normal, Illinois, plant and increases in parts inventory dragged on the gross profit and will continue to negatively affect it, she added.
Scaringe said the company has faced some supply-chain constraints that impacted battery module builds. But most supply-chain bottlenecks have been dealt with effectively and will not pose long-term systemic issues.
What is your sentiment on RIVN?
Vote to see Traders sentiment!
Georgia plant announced
As well, investors were not swayed by Rivian's announcement that it will build a second plant, to be located east of Atlanta, Georgia. The facility will employ more than 7,500 people at peak production.
"This project represents the largest economic development deal in Georgia's history," said Scaringe.
But finance chief McDonough sidestepped a question on financial figures or what the company might have received from the state in the way of incentives, saying more details will be provided later.
Plant construction to begin in 2022
Construction is expected to begin in the summer of 2022, and production of saleable vehicles is anticipated by 2024. Eventually, the plant's production capacity will reach 400,000 vehicles.
In addition to rolling out the pick-up trucks, the company is developing commercial vans following a pre-order of 100,000 from Amazon. Scaringe said the first sales to Amazon will be completed by the end of December. The R1S is expected to roll out in earnest in 2022.
Scaringe said he and his wife recently acquired the first two SUVs off the line.
Rivian raised $11.9bn on 10 November 2021 on an upsized initial public offering (IPO) that ranked as the most valuable market debut since Alibaba's in 2014. The offering valued Rivian at more than $66.5bn (£49.2bn) as the company sold 153 million shares at $78 apiece. The company's backers include Amazon and Ford.
Previously, Rivian had planned to sell 135 million shares at $72 to $74 per shares, according to a regulatory filing.
Despite being the "new kid in town," Rivian is "showing maturity," wrote Wedbush analyst Daniel Ives in a report he provided to Capital.com.
"Rivian is set to create a new (truck-related) category in the EV space with its game-changing debuts, a massive Normal, Illinois, factory footprint, and create a major brand within the EV market over the next decade," wrote Ives, adding the company is in a very strong competitive position.
Ives initiated coverage on Rivian in November and set a $130 price target.
R1T receives praise
On Wednesday, 15 December, Rivian's new pick-up truck, the 2022 R1T, received the first Editors' Choice award from automotive data provider Edmunds.
"The R1T is the first mass-production all-electric truck to market, meaning it's currently competing in a class of one," said Edmunds in a news release. "It packs a tonne of trick hardware and clever design elements that are unprecedented in any other truck or electric vehicle to date."
Due to its high cost, Edmunds said, the R1T will likely be used by drivers who lead active lifestyles rather than for traditional hauling.
"This is about as close as you'll get to a truck that does everything — and remember, it does all that without burning a single drop of fuel," said Edmunds.
Earlier in the week, MotorTrend magazine named the R1T its 2022 truck of the year.
Demand ramping up
Recent media coverage has ramped up demand for the vehicle. Scaringe said orders received today will not be delivered until 2024.
In November, American businesswoman Pamela Thonas-Graham made a series of Rivian stock purchases by exercising options, US Securities and Exchange documents show. According to Refinitiv, the purchase price was $1.91m.
Refinitiv said the company's insider trading – in other words, executives's ownership of the stock – is much more bullish than that of other auto and truck manufacturers.
Rivian shares have been on a roller coaster – up or down, an average of about 7.3% a day – s since the company went public, according to MarketWatch. The S&P index has moved up or down an average of 0.8% during the same time, the report added.
Options markets imply that Rivian stock will move, up or down, about 10% after earnings, according to MarketWatch.
Read More: FedEx (FDX) stock up 8% on strong Q2 earnings