Rivian (RIVN) stands out in crowded EV market, analysts say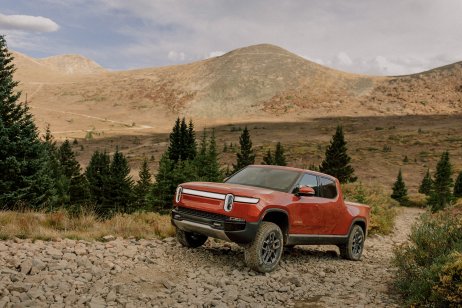 Equity analysts largely heaped praise on electric truck maker Rivian in the first group of evaluations since the company went public last month.
Wedbush called Rivian an "EV stalwart in the making," Bank of America called the company "one of the most legitimate in the universe of start-up EV automakers," and Morgan Stanley called the EV maker "The one that can challenge Tesla."
Rivian shares rose by 4.41% to $109.29 per share on Monday up from last week's closing price of $104.67.
Price targets
The price target consensus among the 13 companies that came out with ratings on Monday is $134.08 per share with a range of $94–$170 per share, according to MarketBeat.
Nine analysts gave Rivian a buy rating and four are keeping the company at a hold.
Bank of America was the most bullish on the company, initiating a price target of $170 per share that represents a 62% upside from last week's close.
"In our view, RIVN's key competitive advantage among the universe of incumbent and start-up EV automakers is an extremely comprehensive and well-constructed business strategy, in addition to solid/innovative technology and interesting/attractive product," BofA research analysts John Murphy, Aileen Smith and TT Fletcher wrote in a note provided to Capital.com.
"Although this does not mean complete avoidance of the obstacles many EV start-ups have endured from concept to commercialisation, we assign much more credibility to RIVN's success in this endeavour."
What is your sentiment on RIVN?
Vote to see Traders sentiment!
Amazon partnership
Key to Rivian's high valuations is a roughly $7bn order from online retail giant Amazon in 2019 for some 100,000 electric vans for its last-mile deliveries.
Deliveries of the "Rivian Commercial Van" are scheduled to begin this month and Morgan Stanley analysts said the initial 100,000 order is "stale" and has the potential to increase to 300,000 through 2025/2026.
"Rivian is a 'call option' on AMZN's desire to decarbonise its delivery/fulfillment footprint in a highly visible way (by) delivering packages on your street multiple times per day," Morgan Stanley analysts wrote in a report sent to Capital.com. "The key is that Amazon is really motivated to reduce the carbon footprint and to improve the economics of its final-mile fleet, and they are betting on Rivian to help Amazon to do that at scale — quickly."
Consumer vehicles
Analysts are also highly impressed with Rivian's consumer trucks and SUVs, saying they have the capability to compete with the biggest players in the automotive space.
Rivian already has 55,000 pre-orders for the R1T pickup truck and the R1S SUV as of the end of October, calling the vehicles the most capable/desirable products in the market for around $80,000.
"The company is looking to strategically launch itself into an untapped market as SUV/ Pickup Truck EVs are virtually nonexistent in the EV market today," Wedbush analysts Daniel Ives wrote in a report provided to Capital.com. "Rivian's debut vehicles, the R1T and R1S, are anticipated to launch in early 2022, competing with GM's all-new Hummer, Ford's stalwart F-150, Tesla's down the road (Cybertruck), and on a path to disrupt the auto industry over the next decade."
Read more: Will Rivian Automotive shares soar to 0 post-IPO?