Rivian (RIVN) shares up 6% after hauling in MotorTrend award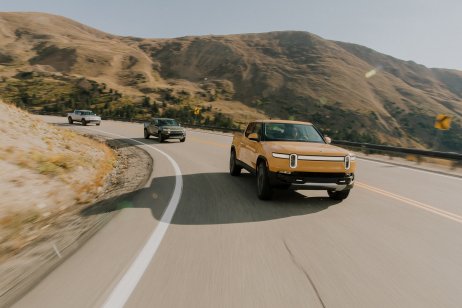 In its first year of production, Rivian's R1T electric pickup truck won MotorTrend's 2022 Truck of the Year award with the publication's reviewers calling it "The most remarkable pickup truck we've ever driven."
The award is much sought after by manufacturers in the US market for use in commercials and as a trusted source for evaluating quality, especially for pickup trucks that continue to be America's best-selling vehicle class four decades running.
Rivian shares, which began trading publicly a little over a month ago, were up as much as 6% on Monday to as high as $121.64. By mid-day, the price had settled to around $116.62 per share for a 1.71% gain.
"The long-standing philosophy to frame truck design in the context of commercial work has restricted the freedom to radically redesign the look and layout of such a vehicle," MotorTrend wrote. "The skateboard (EV platform) is a blank canvas, and Rivian has demonstrated how to seize the opportunity it provides without offending historic truck-buyer sensibilities."
EV trucks are here to stay
The R1T is the first production electric truck released in the US beating Ford's F-150 Lightning, General Motor's Chevy Silverado EV and Tesla's Cybertruck to the market.
The GMC Hummer EV pickup is the only other 2022 electric truck competing with the R1T this year and MotorTrend wrote that Rivian's model hauls more, tows more, has a nicer interior, has more storage space, drives better, rides better, handles better and costs tens of thousands of dollars less.
Ram – which is now a unit within Stellantis after Fiat Chrysler Automobiles (FCA) and Peugeot S.A. (Groupe PSA) merged earlier this year – won MotorTrend's previous three Truck of the Year awards going back to 2019.
While R1T is the first electric truck to win the award, Tesla's Model S was the first electric vehicle to win the award in the Car of the Year category in 2013. The Chevy Bolt EV won in 2017 and the soon-to-be-released Lucid Air electric vehicle won the Car of the Year category for 2022.
Lucid's shares rose 23.7% the day after the announcement that it won the award on 15 November. Lucid Group shares even peaked at their 52-week highs of $64.86 per share following the award and more upbeat predictions for sales and production times.
Read more: Rivian (RIVN) stands out in crowded EV market, analysts say