RHI Magnesita shares fall on RBC Capital downgrade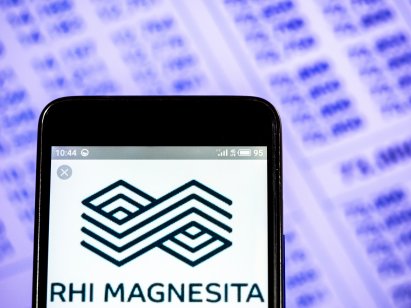 RHI Magnesita's value on the London Stock Exchange dropped on Wednesday after RBC Capital Markets downgraded its shares from 'Outperform' to 'Sector Perform'.
RHI Magnesita shares were down 6.48% at 13:30 BST.
RBC Capital also reduced its price target for shares from 4,750p to 3,700p.
The investment bank said it was due to lower sales in euros and slower than expected benefits from price rises at the refractory product supplier, which reported €2.2bn revenue in 2020 and an adjusted EBITA of €260m.
Revised forecast
In September, RBC Capital Markets reduced its upper end of consensus forecasts to earnings before interest, taxes, and amortisation (EBITA) of €305m, below management's €310m guidance.
It said it was now reducing this to €296m due to slightly lower assumed sales from auto and transport, and continued uncertainty on price recovery.
However it said "medium term attractions" remained, with 2022 EBITA cut by 7% but still representing a margin of 13.9%.
"RHIM remains one of the cheapest stocks in our coverage and we continue to see attractions in its valuation," RBC Capital Markets said in a note.
"However, with inflationary pressures likely to persist in H2 and into H1 2022 we see increased uncertainty in its earnings progression versus our coverage and therefore downgrade to Sector Perform from Outperform."
Read more: Centrica shares dip as company postpones investor event