Report: Lithium ion phosphate batteries to lower EV costs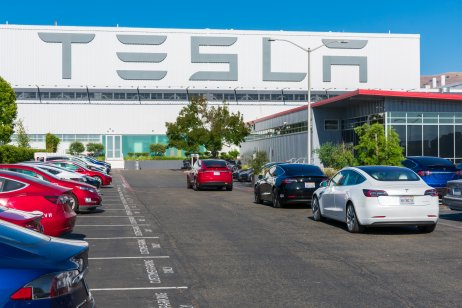 Lithium-ion phosphate batteries will push electric-vehicle costs down, and Tesla is positioned uniquely to benefit, says a report from Ark Financial.
Although their production total is five years behind, the (LFP) batteries are already less expensive than those with nickel-rich lithium-ion (NMC), Ark research analyst Sam Korus wrote in a report provided to Capital.com.
LFP battery costs could decline 37%
If LFP battery production ramps up at the same rate as NMC batteries did from 2015 to 2016, LFP unit costs would decline 37% to $41 per kilowatt from $65 per kilowatt.
Korus based the cost forecast on Wright's Law, which was developed by US aeronautics researcher Theodore Wright in 1936, and states that costs will decrease by a constant percentage for every cumulative doubling of unit production.
"While the 28% learning rate associated with LFP batteries is consistent with other lithium-ion battery chemistries, the interesting difference is its low base," Korus wrote. "In other words, from a lower base, each cumulative doubling in LFP production could be faster and easier than that for the higher NMC production level.
"The trade-off for lower costs, however, will be less range than otherwise would be the case."
But Tesla, which plans to deploy an LFP battery chemistry, stands to gain because of its EVs's "industry-leading drivetrain efficiency."
"Superior efficiency suggests that, unlike its competition, Tesla will offer acceptable range at lower prices with LFP batteries," Korus wrote.
What is your sentiment on TSLA?
Vote to see Traders sentiment!
GM has "golden opportunity"
While Tesla will remain the EV market leader, battery improvements will also help traditional automaker General Motors make huge gains against pure EV makers, said Wedbush analyst Daniel Ives in a research report Monday.
Looking beyond the global microchip shortage and a recall of its Bolt EV models, General Motors "has a golden opportunity to lay the groundwork and ultimately convert 20% of its massive customer base to EVs by 2026 and north of 50% by 2030," wrote Ives in the report, which he provided to Capital.com.
In August, GM recalled its Bolt sedans and sport-utility vehicles due to defective battery packs provided by a supplier. The battery packs are now in the process of being replaced.
Revenue in position to double
Even if GM runs into "natural speed bumps" and challenges along the way, the "green tidal wave" and EV conversion opportunities will change the Detroit automaker's long-term growth trajectory and earnings multiple, putting the company's revenue in a position to double by 2030.
"(GM's) EV vision is clear," Ives wrote. "Now, execution will be the focus. With (GM) developing game-changing battery technology under the Ultium platform, GM is in a great position to take advantage of a $5-trillion (EV) market emerging over the next decade."
GM's Ultium batteries deploy NMC technology that uses aluminium instead of the metal cobalt. Battery makers are seeking to replace cobalt with other minerals because the bulk of its mining is tied to human rights abuses and child labour in Africa's Democratic Republic of Congo.
With autonomous and assisted-driving vehicles advancing quickly, GM will receive an additional $2,000 per vehicle each year, Ives predicted.
Read More: Gores Guggenheim (GGPI) rises 23% on Polestar expansion