Renewable energy sector grows to meet world net-zero target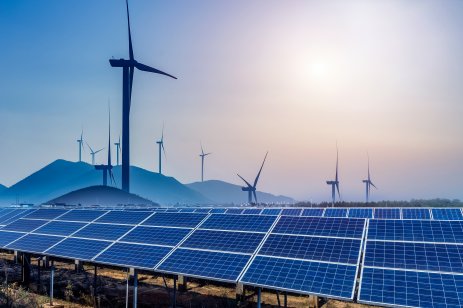 The NTPC and EDF cooperation was one of the latest to be announced. Indian state-owned power producer NTPC Ltd said on 7 October that it has signed a Memorandum of Understanding (MoU) to explore potential power project development opportunities in the Middle East, Asia, Europe and Africa with French utility company Électricité de France (EDF).
The company said:
"NTPC aims to expand its portfolio of power generation assets globally. This MoU supports our roadmap for the development of clean energy projects worldwide. We believe this alliance will bring multiple mutually constructive investment opportunities in the global markets."
NTPC's power capacity in India is dominated by coal-fired power plants – coal-fired electricity generation accounts for 88.7% of its 53,485 megawatts (MW) total installed capacity. Renewables (from solar, wind, hydro) only make up 3.75% of the integrated power producer's capacity.
"We are excited to join forces with NTPC and work on low-carbon energy
opportunities in India and other growth markets," said EDF on the MoU.
EDF operates in 25 countries and has experience in renewable energy projects globally. The group has invested heavily in power generation projects in Asia, and particularly China. The region is "one of EDF Group's most important industrial stake".
Earlier in September, the Asian Infrastructure Investment Bank (AIIB) and the International Renewable Energy Agency (IRENA) also signed an MoU, making a commitment to work together to support Asia's energy transition and mobilise greater private capital for renewable energy.
AIIB's President Jin Liqun said:
"With Asia's growing energy demand, and the rising challenges from climate change, we need to ensure the region invests more than ever in renewable energy and energy efficiency to facilitate their transition to a low carbon energy mix."
"With developing countries in Asia expected to account for about two-thirds of global energy growth by 2040, […] it is essential that this growth is met by renewable energy capacity," commented IRENA.
Outside China, the use of renewable energy is not widely adopted by developing countries in Asia. Oil and gas production will continue to grow to support energy consumption in developing Asian economies, according to the International Energy Outlook 2021 (IEO 2021) report.
More investments needed for green energy 2021
The future of renewable energy in the world seems to be rather bright with a growing number of international energy projects and investments.
According to the International Energy Agency (IEA), "global power sector investment is set to increase by around 5% in 2021 to more than $820 billion, its highest ever level, after staying flat in 2020. Renewables are dominating investment in new power generation capacity and are expected to account for 70% of the total this year."
The IEA is urging for more investments in renewables in order for the world to meet its net-zero carbon emission target by the middle of this century.
The IEA's executive director Fatih Birol explained:
"Much greater resources have to be mobilised and directed to clean energy technologies to put the world on track to reach net-zero emissions by 2050. Based on our new Net Zero Roadmap, clean energy investment will need to triple by 2030."
The clean energy sector is set to grow. Power-generation from renewable sources is forecast by the IEA to account for most of the new installed capacity.
According to the IEO 2021 report, "renewables will be the primary source for new electricity generation, but natural gas, coal, and increasingly batteries will be used to help meet load and support grid reliability."
Global solar power generation is expected to exceed 10 trillion kilowatts/hour by 2050, according to the IEO forecast.
China will be dominating in many of these low-carbon energy projects, as the country announced its commitment to shift away from coal-power generation. China's President Xi Jinping said at a UN General Assembly on 21 September that China would stop building new coal-fired power plants abroad as part of its transition to carbon neutrality by 2060.
Following President Xi's speech, the state-owned commercial bank Bank of China announced on 24 September that with the exceptions of finalised projects, it would no longer finance new coal mining and coal-fired power projects overseas from the fourth quarter of 2021. During the 14th five-year plan from 2021-2025, the bank also plans to cut funding for energy-intensive industries and increased support for green projects such as emission-reduction technologies.
According to IEA's Global Energy Review: "China alone is likely to account for almost half the global increase in renewable electricity generation."
China is expected to generate over 900 trillion watt-hour (TWh) of electricity from solar photovoltaic (PV) and wind in 2021, the European Union around 580 TWh and the United States 550 TWh. Together, they represent almost three-quarters of global solar PV and wind output.
Types of renewable energy
Although solar, wind and hydroelectric power-generation are some of the more well-known types of renewable energy, there are other renewable energy solutions such as bioenergy, geothermal and ocean.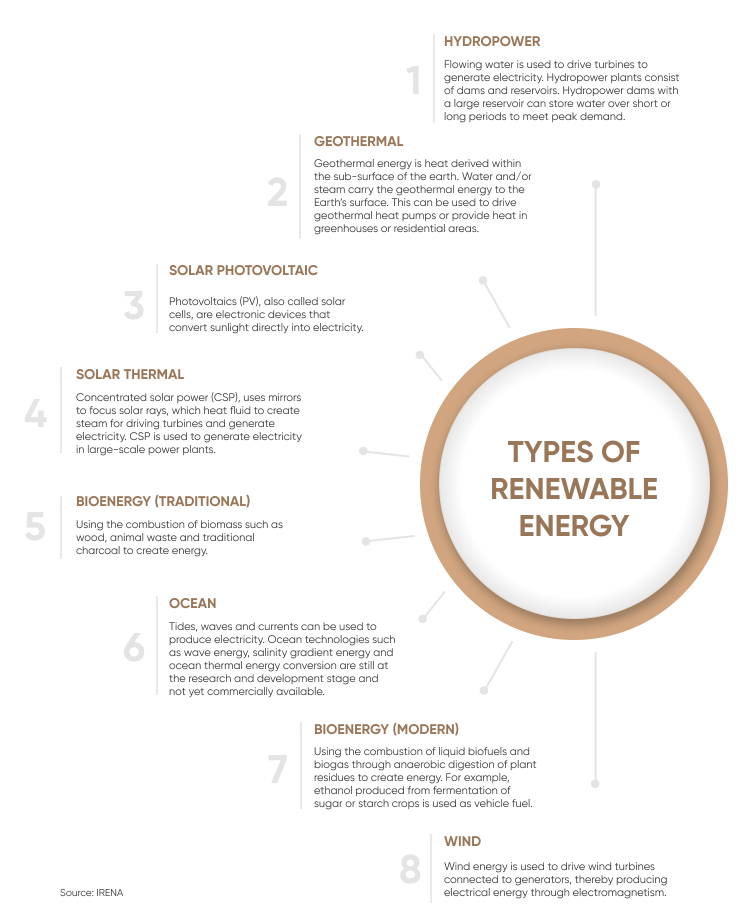 However, not all renewable energy offers low-carbon emission. While biofuels such as ethanol can be completely combustible, reducing carbon monoxide emissions, the production of biofuel will neither reduce greenhouse gases nor conventional pollutant emissions, said the US Environmental Protection Agency (EPA).
Biofuel produced from the fermentation of sugar or corn as an alternative energy source to conventional petroleum is controversial, as land used to produce feedstock crops "would otherwise be used for human consumption directly, or indirectly as animal feed".
The EPA added: "Most biorefineries operate using fossil fuels. Some research suggests that greenhouse gas emissions resulting from biofuel production and use, including those from indirect land use change, may be higher than those generated by fossil fuels, depending on the time horizon of the analysis (Melillo et al. 2009, Mosnier et al. 2013)."
The most promising renewable energy are "clean" sources with low or zero carbon emission. Examples of clean energy are hydropower, solar, wind and geothermal.
Some of the biggest renewable energy companies traded on the major US stock exchanges are Brookfield Renewable Partners (NYSE:BEP), Clearway Energy Group (NYSE:CWEN.A), First Solar (NASDAQ: FSLR) and NextEra Energy (NYSE: NEE).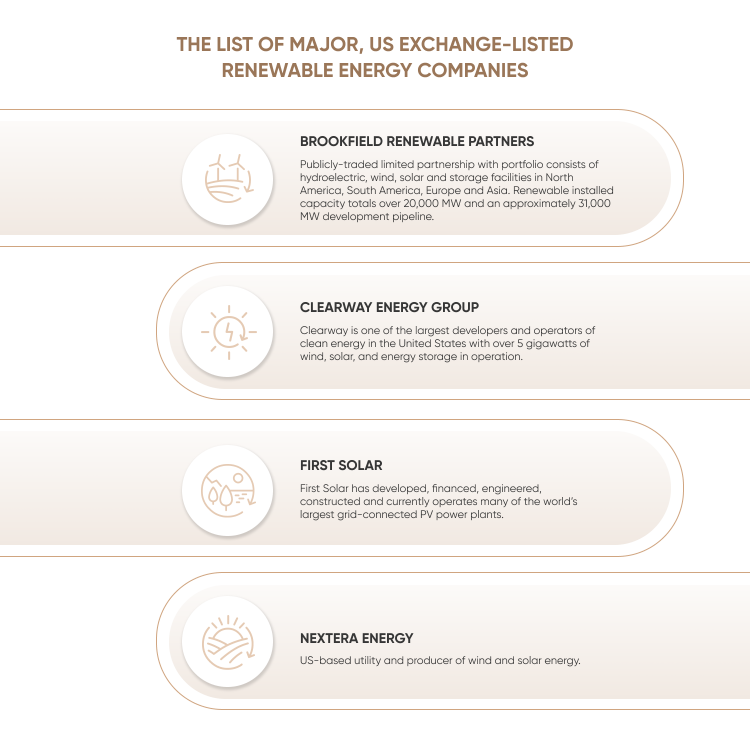 Note that this article does not constitute financial or investment advice. Before investing in any renewable energy company, always do your own research and remember that your decision should be based on your attitude to risk, your expertise in this market, the spread of your portfolio and how comfortable you feel about losing money. Never invest more than you can afford to lose.
Always stay on top of the latest market news with Capital.com.
Read more: Energy crisis explained: where next amid surging power prices?