RBI note on 'overstretched valuations' hurts Indian shares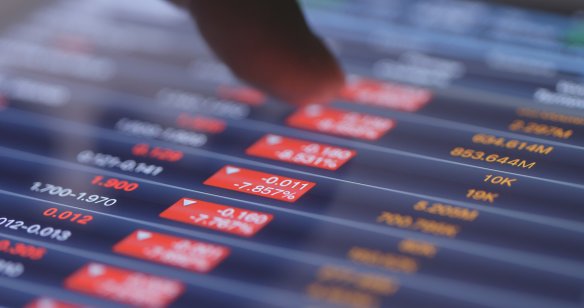 Indian shares finished lower on Tuesday, pulled down by the central bank's notion that the valuations of domestic equities seem 'overstretched'.
The National Stock Exchange's (NSE) Nifty50 index closed 0.61% lower at 17,999.20 points, while the S&P BSE Sensex ended 0.65% lower at 60,322.37 points.
The Nifty Public Sector Undertakings (PSU) Bank index, comprised of 13 stocks including the Union Bank of India, dropped 2.14%
The Nifty Auto index, a basket of 15 stocks including the nation's leading manufacturer of two-wheelers Hero Motocorp, rose 2.48%
The Indian rupee was trading 0.10% higher to the US dollar, to INR74.35 at 16:30 hours local time (UTC+5:30).
On the Nifty50
Shares of the country's leading carmaker Maruti Suzuki India (MSIL), tractor giant Mahindra & Mahindra (M&M), and JLR-parent Tata Motors were the top gainers, adding 7.28%, 2.87%, and 2.47% respectively.
But stock in Shree Cement, oil-to-telecom conglomerate Reliance Industries (RIL), and aluminium and copper maker Hindalco Industries were the top losers, shedding 3.19%, 3.12%, and 2.54% respectively.
On the Sensex
MSIL, M&M, and software exporter Tech Mahindra were the biggest gainers, adding 7.31%, 3.44%, and 1.56% respectively.
RIL, the subcontinent's largest lender State Bank of India, and the nation's leading cement producer UltraTech Cement were the biggest losers, shedding 2.58%, 2.31%, and 2.2% respectively.
RBI's opinion
In a report published on 15 November, the Reserve Bank of India (RBI) raised the subject of "widespread concerns" surrounding the "valuations" of domestic equities.
"The Indian equity market has outperformed major equity indices in 2021 so far (up to 9th)", said the report, which is a part of the latest central bank Bulletin.
"The spectacular gains have raised concerns over overstretched valuations with a number of global financial service firms turning cautious on Indian equities. Traditional valuation metrics like price-to-book value ratio, price-to-earnings ratio and market capitalisation to GDP (gross domestic product) ratio stayed above their historical averages. The yield gap (or the difference between the 10-year G-sec yield and the 12-month forward earnings yield of the Sensex) at 2.47% has far outstripped its historical long-term average of 1.65%," RBI economists wrote in the report.
"Despite widespread concerns over valuations, it is noteworthy that the percentage holding of private promoters in companies listed on the NSE increased by nearly 50 basis points to 44.90% at end September 2021 from 44.42% at end-June 2021. Empirical research shows a positive relationship between promoter ownership and firm value. Steadily increasing promoters' shareholding reflects confidence on the part of the promoters about their business prospects and comfort with ongoing valuations", they added.
Read more: Indian bank-brokers earnings outpace rivals: ICRA