Japan's Rakuten Group's loss widens in first nine months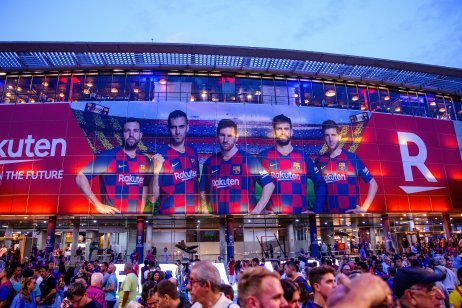 Japanese internet services firm Rakuten Group, internationally known as the jersey sponsor of FC Barcelona, reported wider losses for the first nine months of the year on the back of investments in 4G and 5G base stations.
Between January and September, revenue rose 15% year-on-year to JPY1.2trn ($10.5bn), Rakuten reported. Despite such an increase, the operating loss widened to JPY108.4m from JPY60.5m in the corresponding period a year earlier.
Net loss in the first nine months of the year amounted to JPY92.3m against JPY71.5m a year earlier.
Loss-making mobile arm
E-commerce and internet services remained the mainstay for the group, with revenue rising 15.6% on-year to JPY702.25m in the first nine months – nearly 60% of total revenue.
Profit from the segment surged to JPY83.4m from JPY6.4m.
Revenue from the fintech segment was up 7% to JPY455.6m, with a profit of JPY68.2m – 7.6% higher than a year earlier.
The mobile segment booked a significant increase in revenue thanks to greater customer acquisitions. Revenue jumped 26.5% to JPY162.2m, but losses doubled to JPY302.5m from JPY150.7m.
"Network-related expenses including depreciation are increasing due to the expansion of the in-house network area ahead of schedule," Rakuten said.
Splurge on mobile to continue
"As a result of these efforts [to develop 4G and 5G networks], we expect to incur some more operating expenses including depreciation," said Rakuten.
"The instalment of base stations in areas that exclude the metropolitan centres of Tokyo, Nagoya, and Osaka associated with the plan to establish specified base stations for spreading fifth-generation mobile communication systems, which was certified in April 2021, is expected to commence primarily from the fiscal year ending December 31, 2022."
Rakuten's stock fell 1.3% to JPY1,166 in late afternoon trade in Tokyo.
Read more: Rakuten Mobile to buy stake in telecoms tower firm JTOWER