Railway merger needs voting trust approval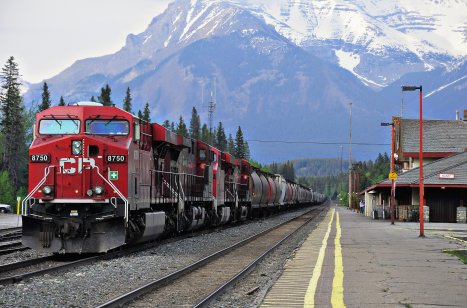 Canadian Pacific Railway (CP) and Kansas City Southern (KCS) will face a crucial question over voting trusts before they can complete a planned $31bn (C$ 39.3bn) merger. The issue sank a rival bid for KCS by Canadian National Railway.
"That is the ticket to realising this deal's certainty and value for the shareholders," CP's CEO Keith Creel said during a investors conference call Thursday morning.
On Wednesday CP provided notice to the US Surface Transportation Board of intent to merge. "We were very intentional not to change any material fact," Creel said, adding that CP's board and executive team will remain in place.
The Calgary, Alberta-based company will submit its merger application by mid-October and requested a 10-month review period. After that, Creel said, the company expects the merger to complete by the fourth quarter of 2022.
KCS shareholders can expect to receive consideration when the transaction closes into a voting trust by the second half of 2022.
Wall Street's question
Institutional investors quizzed CP and KCS executives about whether the two railroads can deliver promised profits without repeating the industry's history of cutting jobs, services and location after combining forces.
The conference call gave the companies' stock a slight boost in early trading Thursday. CP was up 0.67% to $69.27 per share. KCS was selling at $283.25, a 0.58% jump.
CP's Creel reassured investors the combined company would not slash jobs nor close facilities to reach its $180m in cost savings and efficiency improvement plans.
"We realise customers have some scars from past mergers," he said. "Risk comes if we are not men and women of our word, and we are not going to act in a predatory manner."
Kansas City Southern has about 7,000 workers, Canadian Pacific employs roughly 12,500.
Upon the merger's completion, the company will be called Canadian Pacific Kansas City. CPKC will become the first single-line railroad serving the US, Mexico and Canada.
The figures
KCS shareholders will receive 2.884 shares of CP stock and $90 in cash per common KCS share, for about $300 a share, according to CP.
Preferred shareholders will receive $37.50 in cash for each KCS share.
CP shareholders will own 72% of the new company. KCS shareholders will hold the remaining 28%.
The merger will be paid through a combination of cash-on-hand and raising approximately $8.5bn in debt, for which financing has been committed.
Pro forma leverage based on Wall Street's 2021 EBITDA estimate will be 3.9x, with leverage dropping to 2.5x within 24 months of closing into the trust.
CP will also issue 262m new shares.
The merger is expected to create $1bn of annualised synergies over three years comprising of $820m EBITDA growth from market opportunities and $180m in cost and efficiency improvements.
Areas of focus
Management has targeted four main area of growth for the combined company: bulk shipments, a merchandise line, intermodal and automotive.
Bulk shipments is described as a new single line for shipments of grain from Canada and the US upper Midwest to domestic and export markets in the southern US and Mexico.
The merchandise line is another single line for shipments of energy, chemicals, plastic and merchandise between Canada, the US and Mexico.
Intermodal will be a new-head-to-head line between Mexico and the US upper Midwest and Canada.
Finally, automotive will create new single line head-to-head competition for automotive shipments between Canada, the US Midwest and Mexico.
Read more: Kansas CIty Southern agrees to merge with Canadian Pacific
Read more: Canadian railway makes bid for US line, sending shares upward