Purdue Pharma $4.5bn bankruptcy plan tossed by US court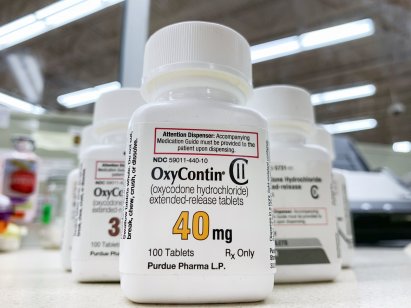 OxyContin maker Purdue Pharma plans to appeal a US federal court decision that throws out a controversial $4.5bn bankruptcy deal.
The deal provided millions of dollars to opioid abatement trusts while shielding Purdue's founding Sackler family from civil liability from damages caused by addiction.
The so-called plan of reorganisation triggered immediate appeals after a US Bankruptcy Court judge signed off on the agreement on 17 September.
California, Maryland and Washington were among the states to contest the decision that would bar further legal actions against the Sacklers.
Not the last word
US district court judge Colleen McMahon ruled on Thursday that the US Bankruptcy Court lacked the authority to authorise non-consensual non-debtor releases. The Sacklers are non-debtors because they did not file for bankruptcy along with the company.
However, Judge McMahon warned her opinion would "not be the last word on the subject".
Purdue chair Steve Miller criticised the order, warning it would "delay, and perhaps end, the ability of creditors, communities and individuals to receive billions in value to abate the opioid crisis".
Positive reaction
The Stamford, Connecticut-based drugmaker said it would appeal the decision while simultaneously continuing efforts to forge yet further consensus around a plan that will deliver billions of dollars to the American people for opioid abatement.
"The Sackler family must be held accountable for their contribution to the ongoing opioid crisis"
by
California Attorney General Rob Bonta on civil liability releases for founding family
California Attorney General Rob Bonta said: "The Sackler family must be held accountable for their contribution to the ongoing opioid crisis."
Bonta noted the Sackler family made billions of dollars from the sale of OxyContin but were granted lifelong immunity from any future civil liability under the opioid crisis, preventing states like California from holding them accountable.
Bankruptcy expert Melissa Jacoby, a professor who teaches bankruptcy and commercial law at the University of North Carolina, tweeted: "The district court decision in #PurduePharma is a wake-up call for the restructuring profession. Over time, the bankruptcy system has been pitched a response to problems beyond its domain to resolve."
US Attorney General Merrick Garland echoed professor Jacoby's opinion: "The bankruptcy court did not have the authority to deprive victims of the opioid crisis of their right to sue the Sackler family. The department remains committed to opioid abatement efforts and supporting victims of opioid abuse."
Bankruptcy plan
Purdue's bankruptcy plan would transfer substantially all company assets to a new entity with a public-minded mission. The new company, called Knoa Pharma, would develop and distribute millions of doses of opioid addiction treatment and overdose reversal medicines.
It will also continue serving existing patients and consumers while using its scientific capabilities to bring to market other potentially life-saving medicines in its pipeline.
The new company will be owned mostly by the National Opioid Abatement Trust (NOAT) as well as a trust established to benefit Native American tribes. Proceeds will also flow to opioid abatement trusts established for the benefit of other creditors such as hospitals, schools and children.
The Sackler families agreed to pay $4.32bn, in addition to the $225m previously paid to the US to resolve civil claims. The families currently have no role in Purdue and will have no involvement in Knoa Pharma.
Past marketing practices
Purdue Pharma and 23 affiliated debtors filed for Chapter 11 bankruptcy in September 2019 in the US Bankruptcy Court for the Southern District of New York.
The company filed for bankruptcy after reaching an agreement in principle on a framework for settling US opioid litigation with 24 state attorneys general, analogous officials from five US territories and others.
Purdue had been the target of more than 2,900 civil actions generally alleging the company falsely and deceptively marketed OxyContin and other opioid pain medications.
Last year, Purdue reached a settlement with the US Department of Justice to resolve multi-year civil and criminal investigations into the company's past marketing practices related to its opioid medicines.
Under the deal, the company accepted responsibility for specified misconduct that took place before June 2017 and resolved allegations regarding conduct between 2007 and February 2018 by pleading guilty and agreeing to pay fines and forfeiture.
Read more: Purdue Pharma gains approval of bankruptcy exit plan