Property prices hit new all-time high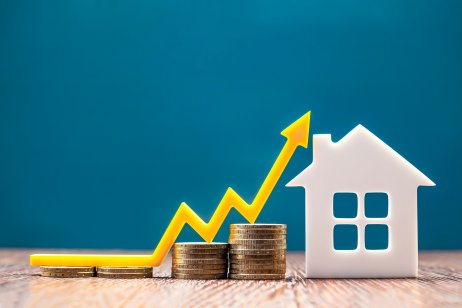 Buyer demand is pushing up house prices to an average all-time high of £338,462 ($463,321) – while lack of stock is creating a frenzy that's leaving first-time buyers out in the cold.
That's according to Rightmove's latest house price index, which reported that newly marketed property prices have risen 0.3% (+£1,091) this month.
The new record of £338,642 marginally beats the previous high set in July this year by a mere £15 – suggesting house price rises could be stabilising, according to the property portal.
Power buyers
Rightmove's data showed that, with competition heating up, 'power-buyers' have the upper hand over others in a 'stock-starved' environment.
"Competition among potential buyers to secure their next home is now more than double what it was this time in 2019. To be in pole position in the race for the best property you need to have greater buying power than the rest of the field," said Tim Bannister, Rightmove's director of property data.
"That traditionally would mean deeper pockets to outbid other buyers, but in the most competitive market ever, today's 'power buyers' also need to have already found a buyer for their own property, or to have no need to sell at all.
"Agents report that buyers who have yet to sell are being out-muscled by buyers who have already sold subject to contract. Proof that you are mortgage-ready or can splash the cash without needing a mortgage will also help you to get the pick of the housing crop."
More properties for sale
Fierce competition is gripping the property market despite a summer holiday lull, but Rightmove's data highlighted some signs that more properties are coming onto the market, with the first two weeks of September seeing the number of listings increase by 14%.
"This 14% increase in the number of new sellers coming to market in the first half of September is only an early snapshot, but autumn is traditionally a busy period, as those owners who have hesitated thus far during the year see the few months before Christmas as an opportunity to belatedly get their moving plans under way," said Bannister.
A sellers' market
Rightmove said sellers still retained a lot of power – leaving buyers having to come up with some inventive strategies, such as 'sell before you buy, to beat the competition.
"It's still a strong sellers' market in most of the country, so those looking to purchase need to do all in their power to maximise their appeal to sellers, who will often have several offers, and will usually choose the one that gives them the best chance of a quick sale," added Bannister.
Competition remains as stamp duty holiday ends
The data, which was released today, comes as the market sees an end to the stamp duty holiday, which sparked the buyer frenzy in 2020. But industry commentators believe this is unlikely to hit demand.
"While the autumn may be slightly quieter, the desire to change our lifestyle due to the pandemic and new working trends isn't likely to fade, so we anticipate activity levels remaining higher than usual," said Glynis Frew, CEO of national estate agents Hunters.
Peter Woodthorpe, director at Readings Property Group in Leicester, added: "Sales are continuing strongly despite the end of the stamp duty holiday. The main issue is the lack of stock. We are also seeing some examples of properties being overpriced, distorting the market by reducing the number of saleable properties further."
Read more: UK house prices rise 8% in a year but market is slowing