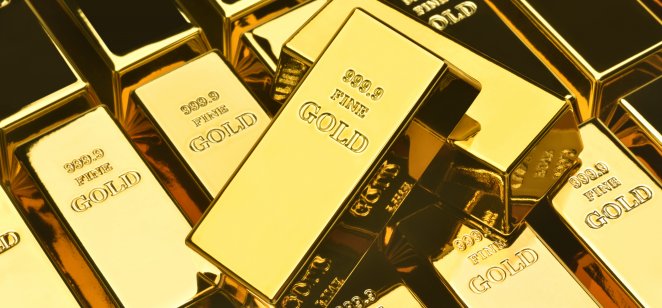 After days of solid gains, precious metals slipped on Wednesday morning, with gold, silver, platinum and palladium all down following a resurgence in the strength of the US dollar (DXY).

Investors took a more cautious stance towards metals as they awaited the minutes from the US Federal Reserve's May meeting, which are expected to shed more light on the number and size of coming interest rate hikes for the rest of the year.
The Fed has already announced a 50-basis point hike recently, with expectations of more to come in June and July.
Gold breaks five-day winning streak
In London morning trading, spot gold dropped 0.3% to $1,859.30 per troy ounce, breaking its five-day winning streak, and retreating from the two-week highs seen in the previous session, as the US dollar (DXY) advanced. However, with disappointing macro data in the US and UK, the precious metal was prevented from sliding further.
Silver dipped 0.7% to $21.90 per troy ounce, withdrawing slightly from the two-week highs of $22 per troy ounce seen in the previous trading session. Ongoing geopolitical tensions and persistent growth worries, however, went a long way towards putting a cap on prices.
US Treasury yields retreated two basis points to 2.7%, falling for the fifth consecutive trading session, as worries regarding a possible recession intesified.
Platinum inched lower 0.9% to $946.20 per troy ounce, retreating further from the one-week high of about $950 per troy ounce seen earlier. However, the operational issues that are plaguing the top platinum miners and refiners in South Africa countered this dip, and kept the precious metal trading within a fairly tight range.
Palladium fell 0.1% to $2,005.00 per troy ounce, but still managed to put some distance between its current price and the four month-low of about $1,907 per troy ounce seen recently. Investors were also speculating that the palladium market might see some deficits down the line this year, with tightening supplies from Russia and issues with South African miners.
Copper lost 1.5% to $4.60 per pound, but still hovered around over two-week highs, as China pledged greater economic stimulus. However, increasing Covid-19 cases in the country, along with lingering economic growth woes, somewhat dampened the boost coming from this news.
Aluminum decreased 3.2% to $2,878.50 per tonne, with the base metal down approximately 25% from the record highs seen in March. Demand worries from China, as well as the country reporting a drop in factory activity in April, contributed to the downbeat sentiment.
Five things to know about metals today
Gold: Barrick Gold (ABX) has recently received a fairly average "buy" rating from 14 analysts.
Platinum: A South African labour union recently revealed that it has come to a wage deal agreement with Anglo Platinum (ANGPY)
Iron ore: Iron ore prices recently leaped following increased stimulus from China as well as lingering supply shortages.
What is your sentiment on Palladium?
Vote to see Traders sentiment!
Copper: Copper prices have been struggling lately, pressured by economic slowdown in top consuming countries such as China.
Aluminum: Europe's aluminum output has recently seen a fall due to the ongoing energy crisis.
Mining stock performance
Glencore (GLEN) recently announced that it will be coughing up about $1bn as a settlement against US market abuse and bribery allegations.
Rio Tinto (RIOgb)'s Madagascar mineral sands mine has recently resumed operation, following the company coming to an agreement with protestors.
Antofagasta (ANTO) recently unveiled its plans for its trolley-assist pilot project at the Los Pelambres copper mine.
BHP (BHP) recently highlighted its expectation that mining supply chain disruptions will last for years.
Anglo American (AALI)'s spinoff Thungela Resources (TNGRF) is working to remedy a toxic coal spill, following a government order.
Read more