Pound crashes to 1.06 as Bank of England pulls alarm cord
Subscribe to Weekly Highlights
The major market events for the week ahead right in your inbox.
Subscribe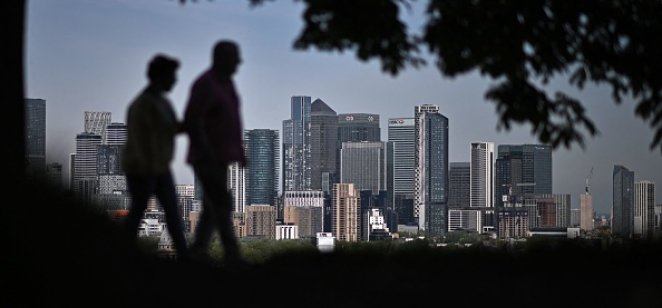 Content
Market turmoil escalated the morning with wild gyrations in sterling and news that the Bank of England was making emergency purchases of long-dated bonds.
UK debt has been selling off sharply, as has the pound: late morning GBP was selling at 1.0660 following dramatic, whipsawing convulsions. Closer to lunchtime GBP slammed lower, to 1.0598.
Some of this morning's turmoil was kicked harder by a shattering – not to mention humiliating – verdict on the UK Chancellor's decision to slash taxes funded by borrowing.
What is your sentiment on GBP/USD?
Vote to see Traders sentiment!
Urgent intervention
"This repricing has become more significant in the past day – and it is particularly affecting long-dated UK government debt," said the Bank of England in a just-released statement late morning.
"Were dysfunction in this market to continue or worsen, there would be a material risk to UK financial stability. This would lead to an unwarranted tightening of financing conditions and a reduction of the flow of credit to the real economy."
Violent reactions continued after the BoE's words with the 40-year gilt yield slumping by as much as 58bps before order was restored and prices stabilised somewhat.
'A proper s**t show'
The yield on the 30-year gilt dropped around 70 bps Capital fx strategist Daniela Hathorn said "undoing some of the previous gains and playing in favour of the BOE's plan to stop the recent selling in the bond market after the UK governments proposed tax cuts were unveiled on Friday".
The FT reported "a proper shit show" from government bond markets. The anxiousness about an avalanche of UK debt coming to market is extreme. The Bank of England says it will carry out temporary purchases of long-dated UK government bonds from 28 September "on whatever scale is necessary".
Yesterday's IMF warning meanwhile was a zinger. "Given elevated inflation pressures in many countries, including the UK, we do not recommend large untargeted fiscal packages at this juncture, as it is important fiscal policy does not work at cross purposes to monetary policy."
Veering off-road
John Kicklighter from DailyFX told Capital that the IMF was more than willing to call out the concern. "For the new PM and her Chancellor, campaign promises need to be pursued and they are willing to deviate from the global developed world playbook.
| | |
| --- | --- |
| Long position overnight fee | 0.0000% |
| Short position overnight fee | -0.0001% |
| Overnight fee time | 22:00 (UTC) |
| Spread | 0.033 |
| | |
| --- | --- |
| Long position overnight fee | -0.0028% |
| Short position overnight fee | 0.0008% |
| Overnight fee time | 22:00 (UTC) |
| Spread | 0.00006 |
| | |
| --- | --- |
| Long position overnight fee | -0.0017% |
| Short position overnight fee | 0.0002% |
| Overnight fee time | 22:00 (UTC) |
| Spread | 0.00006 |
| | |
| --- | --- |
| Long position overnight fee | 0.0015% |
| Short position overnight fee | -0.0042% |
| Overnight fee time | 22:00 (UTC) |
| Spread | 0.010 |
"The IMF is willing to call out the play, but the UK is hardly alone in this moving away from the norm. Japan's extreme hold to monetary policy accommodation and China's constant pulling on various levers represent other major players willing to go off road."
Beast in the basement
The disturbance in markets more widely is worsening. Look at the 10-year US Treasury yield, which has crashed the 4% barrier, the first time in 12 years. This yield was around 1.5% at the start of 2022. This is a phenomenal ricochet higher.
For central banks inflation is the pacing monster in the basement rattling the locks and after a long period of near 'free' money – meaning the opportunity cost to buy assets was rock-bottom – asset prices across different classes have become dangerously uncaged, unhinging other inflationary forces also exacerbated by supply chain stress.
Risk alive
A strong dollar can suppress yields if a US economy can attract capital – which it is doing, hence a catapaulting dollar. But while a strong buck hits US exports, a rush to a safe-haven dollar is welcome for US Treasuries.
Just as anxiety-making are the risks of global recession as well as economic lagging effects, which complicate the macro picture because the Fed has signalled bigger increases to come.
Loretta Mester, president of the Cleveland Fed recently said that the US economy was not an island – it's connected to the rest of the world, she reminded. It's thought the federal funds rate will surge to 4.4% by year-end before hitting 4.6%. Currently the rate sits at between 3-3.25%.
But as far as the UK goes, the combination of promised debt-funded tax cuts and –still – dovish noises from the Bank of England, compared to the Fed, has fractured confidence.
Is the new UK government a material risk to stability? The markets say yes.
GBP teardown:
FX strategist and finance consultant at Keirstone, Francis Fabrizi
"It is possible that further GBP announcements could see price reach parity soon as this pair is still very bearish. I anticipate a retrace to around 1.0945 before price continues its bearish trend towards 0.9986."
"Similarly, we saw EUR/GBP gain bullish momentum on Monday and reached 0.9276 before returning to 0.9000. I believe we will see a re-tracement this week for this pair also, potentially reaching 0.8852 before resuming its bullish run towards 0.9490."
"Looking at the weekly timeframe, 0.9220 has provided a strong resistance level. I believe it is possible we could see a rejection from this level again and price drop to 0.7862 by the end of 2022 which would confirm Kwasi Kwarteng's long term strategy for GBP."
Around lunch time DXY was 0.40% higher at 114.49 while GBP/USD had hit 1.0591. USD/JPY was at 144.72, down 0.08% while EUR/USD was 0.32% lower at 0.9569.
Related reading