What is position trading?
Position trading is a common trading strategy where an individual holds a position in a security for a long period of time, typically over a number of months or years. Position traders ignore short-term price movements in favour of pinpointing and profiting from longer-term trends. It is this type of trading that most closely resembles investing, with the crucial difference being that buy-and-hold investors are limited to only going long.
Out of all the trading strategies, position trading encompasses the longest time-frame. Consequently there is a greater potential for profit – as well as an increased inherent risk.
The advantages of position trading include limited maintenance of positions, capitalising on more substantial trends and dampening the 'noise' of the market.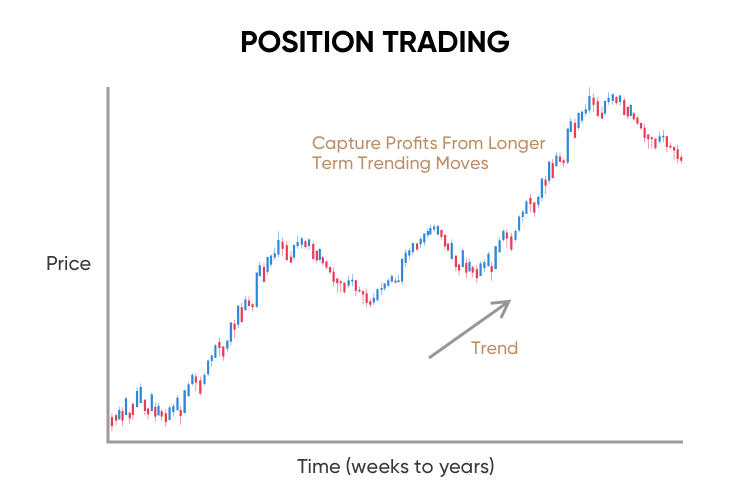 Position trading strategies and techniques
Position traders tend to use fundamental and technical analysis to evaluate potential price trends within the markets. Here are a few position trading techniques.
50-day moving average trading
The 50-day moving average (MA) indicator is a significant technical indicator amongst position traders. The reason for this is due to the fact that 50 is both a factor of 100 and 200, which have corresponding moving averages that illustrate significant long-term trends. This means that, when the 50-day MA intersects with 100- and 200-day MA indicators, it could be indicating the beginning of a new long-term trend – making it an ideal indicator for the position trader.
Support and resistance trading
Support and resistance levels can signal where an asset's price movement is headed, consequently indicating to position traders whether to open or close a position on particular assets.
A support level is the price an asset that, historically, does not fall below. You can have short-term support levels as well as historical support levels that hold for years. Opposingly, the resistance level is the price of a security where it historically tends not to be able to break. Position traders will use long term resistance, for instance, to close out positions, only for the security to fall after reaching this point. Similarly, they may buy in at historical support levels if they expect a long term trend to commence at this point.
This strategy requires that traders analyse chart patterns. When analysing the chart, position traders consider three factors when trying to identify support and resistance levels. Firstly, the historic price of a security is the most reliable source when identifying support and resistance. In periods of significant gains or dips in a market, recurring support and resistance levels are easy to spot. Secondly, previous support and resistance levels can indicate future levels. It is not uncommon for a resistance level to become a future support level once it has been broken. Lastly, technical indicators like the Fibonacci retracement provide dynamic support and resistance levels that move as the asset price moves.
Trading breakouts
Trading breakouts can be useful for position traders as they can signal the start of the next major move in the market. Traders employing this technique are attempting to open a position in the early stages of a trend.
A breakout is where the price of an asset moves outside defined support or resistance levels with increased volume. The idea behind trading breakouts is to open a long position after the security breaks above resistance or open a short position when the security breaks below support. A breakout strategy is usually the foundation for trading large-scale price movements in a security. To successfully trade breakouts, you will need to be confident in identifying periods of support and resistance.
Pullback and retracement strategy
A pullback in a market is a short dip or slight reversal in an asset's prevailing price trend. This technique is employed when there is a brief market dip in a longer-term trend. Pullback traders aim to capitalise on these pauses in the market.
The idea behind this technique is to buy low and sell high before a market briefly dips, and then to buy again at the new low. If executed successfully, a trader can not only profit from a long-term trend, but avoid possible market losses by selling high and buying the dips. Of course, this is easier said than done. Some pullback traders use retracement indicators, like the Fibonacci retracement.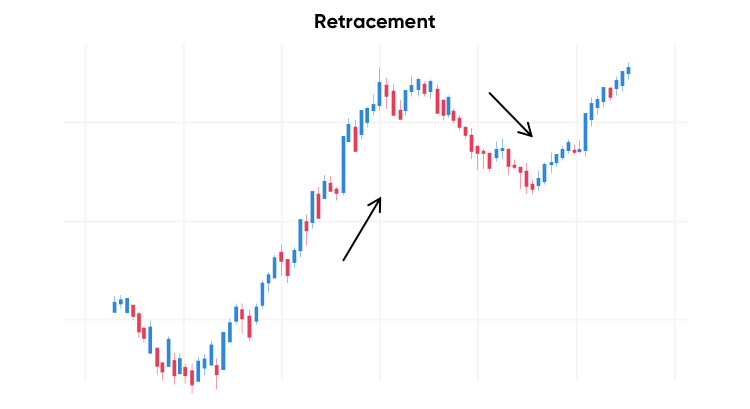 What instruments do position traders typically trade?
Position trading is the style of trading that is most akin to investing. Position traders are looking to profit from long-term movements and are consequently more interested in markets with clear trends, as opposed to markets that have a lot of volatility but ultimately trade within a tight price range.
Shares CFDs
Shares in companies are commonly traded by position traders. As a general rule of thumb, asset classes like shares are prone to more stable trends when compared to highly volatile markets such as cryptocurrencies and certain forex markets. Despite certain events, such as market announcements and broader related news, fundamental analysis of a company's underlying business model and accounts is a solid basis from which position traders can assess the worth of a company, and consequently highlight opportunities. They can speculate on where they think certain firms, and even industries, will end up in a year's time.
Commodity CFDs
Similarly to shares, commodities are more prone to longer term trends when compared to other markets, such as cryptocurrencies and certain currency pairs. This is not to say that commodities are not volatile. Commodities can be volatile at times, but tend to stabilise faster than other markets, and trade within tighter ranges. Hard commodities are extracted and so their supply is controlled by mining companies, which means they tend to have relatively stable trends. They are more prone to shocks in demand, with supply being relatively stable.
Indices CFDs
Indices are comprised of numerous companies that, more often than not, aren't related. They tend to be from the same geographic area, whether that be a particular country, trade group or continent. Consequently, indices usually have pronounced trends and are favoured by position traders. For instance, the FTSE 250 is a good indicator of the economic health of the UK – the index is often unaffected by short dips in a particular industry. Trading indices allows for less noise and clearer trends (in either direction), which is complementary to position trading.
Forex CFDs
Currency pairs, in part due to their volatility, are favoured less by position traders. That said, there are certain broader political trends that can lead to clearer and longer-term trends in the forex market. For instance, speculation after the UK-EU referendum result provided a clear trend for the following six months to one year period.
Cryptocurrency CFDs
Cryptocurrencies, despite being reknowned for their extreme volatility, attract some position traders who employ buy and hold techniques for certain cryptocurrencies that they expect to rise substantially in value. Position traders of this kind are arguably inspired by those traders who managed to gain from the cryptocurrency bubble, getting out before it burst. Cryptocurrency markets are highly volatile and those who employ buy and hold techniques should do so at their own risk.