PLUG stock climbs 4.5% on Edison Motors bus partnership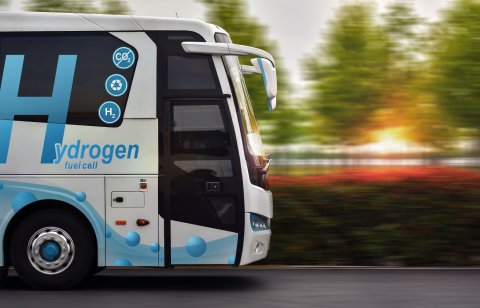 New York-based Hydrogen fuel cell developer Plug Power is gaining on the Nasdaq Thursday after announcing a partnership with Edison Motors to help build prototypes of a new fuel cell electric city bus.
The prototype is expected to be built in 2022 and Edison Motors intends to mass-produce the fuel cell electric buses and the new hydrogen fuel cell platform in 2023 in its home market of South Korea.
The announcement sent Plug Power's stock as much as 4.5% higher to $32.79 per share on Thursday. Plug Power's stock peaked as high as $75.49 per share back in January of this year but quickly fell back to lows of $18.47 per share by May.
Still, analysts see a lot of upside in the stock as the company rapidly expands its hydrogen fuel cell operations.
Smart buses
The hydrogen fuel cell bus, tentatively named SMART 110F, would join Edison Motors' existing line of electric buses that run on South Korean streets.
In fact, Edison Motors said that for the second year in a row it sold the largest number of electric buses in Seoul while expanding its electric bus platform with the launch of a new intercity long-range electric bus platform.
As part of the partnership the companies seek to collaborate on more than just buses. Plug Power and Edison Motors intend to build other applications for the future of mobility including trucks, drones, vessels, and personal air vehicles (PAVs).
What is your sentiment on PLUG?
Vote to see Traders sentiment!
Liquid hydrogen
Hydrogen fuel cell technology has not taken off with the same level of popularity that electric vehicles have, but more and more companies are exploring applications to replace diesel vehicles such as buses.
Morgan Stanley analyst Stephen Byrd just last month said that he is getting more bullish on Plug Power's ability to grow its hydrogen production and electrolyser businesses (a process of breaking water down into hydrogen and oxygen) at a more rapid rate, due to continued cost reductions and growing customer demand, according to a note sent to Capital.com.
Plug Power also has an opportunity to capture market share as it reduces cost to drive greater sales, which in turn results in greater scale and lower per-unit costs, Byrd said.
An average of the 26 analysts covering Plug Power calls for a 12-month price target of $49.80 per share with a range of $38–$78 per share, according to Refinitiv data.
"Plug Power has a goal to expand our global footprint to stimulate the Asian hydrogen and fuel cell market," Andy Marsh, CEO of Plug Power, said in the press release. "We acknowledge this is one of the fast-growing markets in the world and believe that this partnership with Edison Motors will pave the way to achieving global net zero."
Read more: Plug Power (PLUG) stock forecast: Is it time to buy the dip?