Pfizer soars on cancer drug deal, vaccine approval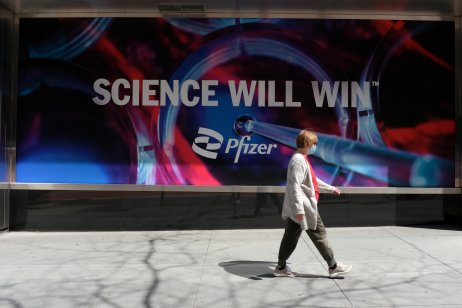 Investors rewarded commercial drug maker Pfizer on Monday after it announced a deal to acquire Canadian cancer drug maker Trillium for $2.3bn.
Shares of Pfizer were trading nearly 3% higher during the early session, reaching $50.22 per share by 11:00 a.m.
Pfizer invested $25 million in Trillium last year. It is offering to purchase outstanding Trillium shares for $18.50, more than double the value of Trillium's Nasdaq-listed shares last week.
Cancer research
The investment in Trillium is expected to help Pfizer bolster its cancer research portfolio.
Specifically, Trillium's products will expand Pfizer's hematology offerings. Currently, Pfizer has five products for hematology treatments, though only two have made it to Phase 3 trails, according to Pfizer's website.
According to the Pfizer's website, the company focuses on "advancing the next wave of antibody-drug conjugates."
To that end, Trillium's products specifically target a "don't eat me" signal that cancer cells send to a person's immune system, according to a report by Reuters.
What is your sentiment on PFE?
Vote to see Traders sentiment!
COVID-19 vaccine
The Trillion announcement came as Pfizer's COVID-19 vaccine received full approval from the US Food and Drug Administration (FDA).
The approval comes at a critical time in the US. According to the Center for Disease Control, more than 133,000 COVID cases were reported in the past week. That represents a 14% increase from the previous week.
Pfizer's vaccine is now available to Americans aged 16 years and older. It continues to be available for children aged between 12 and 15 years under its Emergency Use Authorization.
According to the FDA, Pfizer's vaccine is 91% effective at preventing COVID-19.
At the same time, Pfizer has committed to "additional post-marketing safety studies, including conducting a pregnancy registry study to evaluate pregnancy and infant outcomes," the FDA said in a press release.
Trade Pfizer Inc - PFE CFD