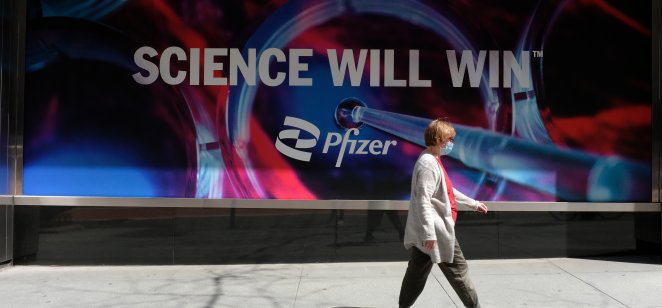 Content
American biotech and pharmaceutical corporation, Pfizer (PFE) plans to sell its GlaxoSmithKline (GSK) spin-off stocks in November.
GSK shareholders voted on Wednesday 6, July to spin off its consumer healthcare business, this means it will soon be listed as a new company and known as Haleon.
The GSK demerger will take place on 18 July, as the UK's largest biotech firm spins-off the healthcare business with a primary listing on the London Stock Exchange and American Depository Receipts (ADRs) on the New York Stock Exchange.
Haleon makes Sensodyne toothpaste and Advil painkillers among other over-the-counter drugs and healthcare consumer items. GSK plans to focus on vaccines and prescription drugs.
GSK rejected a £50bn ($59bn) bid for its consumer health business from Unilever (ULVR) back in January. GSK CEO Emma Walmsley said in a report by the Financial Times, that the vote by GSK shareholders to go through with the demerger only helped vindicate the groups decsion to reject Unilever's bid.
Pfizer (PFE) share price
The consumer health business is currently a joint venture between GSK, which owns 68% and Pfizer (PFE), which has 32%.
In a statement released by GSK in June, the company stated: "In keeping with Pfizer's transformation into a more focused, global leader in science-based innovative medicines and vaccines, Pfizer intends to exit its 32% ownership interest in Haleon in a disciplined manner, with the objective of maximising value for Pfizer shareholders."
Once the demerger has taken place, the total issued ordinary share capital of Haleon will mean that GSK shareholders will jointly own 54.5%, Pfizer (PFE) will continue to hold 32%, GSK will hold 6% and 7.5% will be held by Scottish limited partnerships (SLPs), which provide funding to GSK pensions.
However, according to a report in This is Money, analysts at Barclays have said that once GSK spins-off its consumer healthcare business into Haleon, the new company will be lumbered with £10bn worth of debt.
What is your sentiment on GSKl?
Vote to see Traders sentiment!
When can Pfizer sell its stake?
Pfizer share price has been down by 13% this year. Following Haleon's initial public offering (IPO) and the lock-up period, Pfizer (PFE) is then expected to reduce its stake in Haleon.
Pfizer, GSK and each of the SLPs have agreed to a lock-up period, meaning that sales of shares or any offers or other methods of disposal of Haleon shares and American depositary shares (ADSs), are prohibited.
This lock-up period will end on 10 November, which is the date forecasted for Haleon to produce its first quarterly trading update for the period ending after 30 June 2022.
Pfizer M&A
Off-loading its shares in Haleon may work in Pfizer's favour. In Pfizer's quarterly filing in May, the biotech firm valued its stake in Haleon at $15.8bn (£13.2bn).
GlaxoSmithKline

GSK

share price
The cash injection Pfizer (PFE) would receive from the sale of its Haleon stake would help it grow its pipeline of innovative drugs and vaccines.
SVB Leerink analyst Geoffrey Porges wrote in a note in December, that when you include the sale of its stake in Haleon, Pfizer (PFE) could have $175bn in "M&A firepower by the end of 2022."
Read more