Peloton (PTON) drops after character dies on 'Sex and the City' spinoff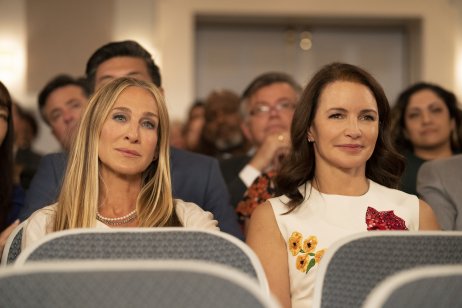 Peloton (PTON) stock continued its downward spiral on Friday, the day after the company's exercise bike played a central role in the death of a beloved character in the season premiere of the Sex and the City reboot.
It was unfortunate timing for a company that hasn't experienced a smooth ride in the market this year. Peloton's stock was down more than 5% Friday to close at $38.51, not much higher than its 52-week low of $37.67. Its 52-week high was $171.09.
The HBO Max dramedy series And Just Like That… picks up with the Sex and the City characters years later as Carrie Bradshaw (Sarah Jessica Parker) and John James Preston, aka 'Mr. Big' (Chris Noth) are finally living in contented wedded bliss. Six seasons and two films explored the cycles of their tortured on-again, off-again romance.
As the first show of the reboot draws to a close, Mr. Big takes his 1,000th Peloton bike ride and then collapses on the bathroom floor where Carrie discovers him dying of a heart attack later that evening.
Cautionary tale
Peloton had its own spin on the storyline that left some fans of the show reeling. In a statement the company provided to the Los Angeles Times, Dr. Suzanne Steinbaum, a preventative cardiologist and a member of Peloton's health and wellness advisory council, said that while she is saddened by Mr. Big's death, as a fan of the show, the character had it coming.
"Mr. Big lived what many would call an extravagant lifestyle — including cocktails, cigars, and big steaks — and was at serious risk as he had a previous cardiac event in Season 6," Steinbaum explained. "These lifestyle choices and perhaps even his family history, which often is a significant factor, were the likely cause of his death. Riding his Peloton Bike may have even helped delay his cardiac event."
Steinbaum chose to take the opportunity to present a real-life cautionary footnote on the fictional tragedy.
What is your sentiment on PTON?
Vote to see Traders sentiment!
Peloton's difficult year
"More than 80% of all cardiac-related deaths are preventable through lifestyle, diet and exercise modifications. And while 25% of heart attacks each year are in patients who already had one (like Mr. Big), even then they are very, very treatable. The lesson here is, KNOW YOUR NUMBERS! It's always important to talk to your doctor, get tested, and have a healthy prevention strategy. The good news is Peloton helps you track heart rate while you ride, so you can do it safely."
Peloton has faced a bumpy year. Last May, the company issued a recall for 125,000 of its treadmills after a six-year-old child was pulled under the rear of the treadmill and died. The company received 72 additional reports of children, adults and pets being injured by the exercise machine, including 29 incidents involving children suffering broken bones, lacerations and abrasions.
Then in June, the security software company McAfee disclosed a vulnerability with the Peloton bike. A hacker could visit a fitness centre and insert a USB key in the bike to gain remote access, allowing them to "install and run any programs, modify files, or set up remote backdoor access over the internet."
This could enable the hacker to use the bike's camera and microphone to spy on the exerciser. They could also add apps masquerading as services such as Netflix or Spotify to trick users into entering their login credentials and deploy the information for nefarious purposes.
Read more: Product shortages put Chewy (CHWY) in the doghouse