Palladium rally provides theatre for precious metal prices
Subscribe to Weekly Highlights
The major market events for the week ahead right in your inbox.
Subscribe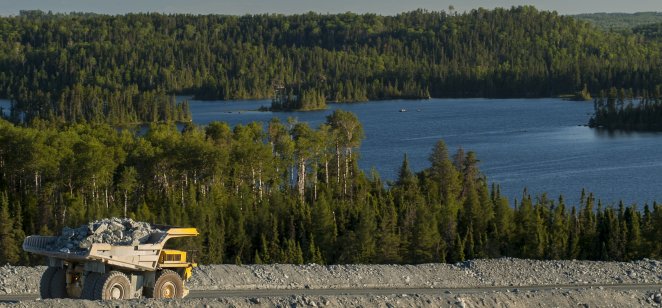 Content
Palladium has risen about 6.5% this month, boosted by a weaker US dollar (DXY) and by speculations of the US Federal Reserve potentially halting its aggressive monetary tightening strategy following the latest disappointing US ISM Manufacturing PMI data. The precious metal has also received a boost from Sibanye Stillwater (SBYSF) still not being able to come to a wage deal with mine workers in South Africa.
According to Piero Cingari, analyst at Capital.com, "In recent days, there have been a number of positive catalysts that have allowed palladium and other metals to catch up. First, we see a slightly falling dollar (DXY), while Treasury yields have declined significantly.
Fears of a recession fuelled by the September ISM Manufacturing PMI (50.9 vs 52.2 expected) prompted the market to speculate on the end of the Federal Reserve's rate hike cycle. This provided a flood of oxygen to all assets that had been battered by rate hikes this year.
Despite the fact that demand for auto catalysts for gasoline-powered vehicles has not yet reached pre-pandemic levels, supply has significantly decreased as a result of rising energy prices.
Technically, the metal is approaching its August highs of $2,300/oz. If it were to surpass this significant technical barrier, resistance would be seen between $2,482 and $2,500. The 50-day moving average is rising, and if the upside momentum continues, it may cross the 200-day moving average from below, forming a golden cross."
Palladium is swiftly approaching its August highs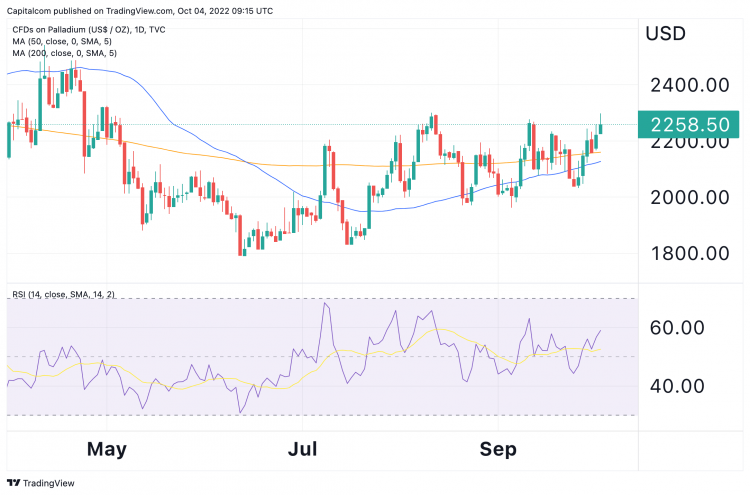 Palladium is quickly approaching its August highs – Credit: TradingView
Why has palladium rallied so much this month?
Palladium rose about 6.5% this month, trading at about $2,294 per troy ounce at the time of writing, with a spectacular jump of over 5% on Tuesday. Like other precious metals has seen a boost lately from a falling US dollar (DXY), which after hovering near 20-year highs for a while has finally lowered a little. This was also supported by speculations of the US Federal Reserve taking recent economic data into account and reconsidering its aggressive monetary tightening policy.
However, one of the main drivers of palladium's sharp rise, is that the Association of Mineworkers and Construction Union (AMCU) in South Africa have recently rejected Sibanye Stillwater (SBYSF)'s deal of a 6% wage rise. This is because a 6% increase in wages would still be below inflation levels.
On the other hand, the National Union of Mineworkers has already reached a deal with Sibanye Stillwater (SBYSF). This latest roadblock regarding negotiations with AMCU have worried investors that palladium supply from South Africa may still be disrupted in the coming months, as mining operations are regularly disrupted. South Africa is currently the world's largest PGM supplier.
So far, this has managed to keep palladium prices higher. However, this may soon change in the near future, as the US's supply of palladium may soon increase, with the recent discovery of a huge new source of palladium in the Buckeye silver mine in Arizona.
| | |
| --- | --- |
| Long position overnight fee | -0.0215% |
| Short position overnight fee | 0.0060% |
| Overnight fee time | 22:00 (UTC) |
| Spread | 0.04 |
| | |
| --- | --- |
| Long position overnight fee | -0.0062% |
| Short position overnight fee | 0.0023% |
| Overnight fee time | 22:00 (UTC) |
| Spread | 0.020 |
| | |
| --- | --- |
| Long position overnight fee | -0.0156% |
| Short position overnight fee | 0.0013% |
| Overnight fee time | 22:00 (UTC) |
| Spread | 0.03 |
| | |
| --- | --- |
| Long position overnight fee | -0.0061% |
| Short position overnight fee | 0.0025% |
| Overnight fee time | 22:00 (UTC) |
| Spread | 0.18 |
The fact that US auto vehicle sales have also been quite disappointing in the third quarter, despite a few gains in September has also gone some way in putting a cap on palladium prices. Palladium is used widely in auto catalysts, which drive most of the demand for the precious metal.
What is your sentiment on Palladium?
Vote to see Traders sentiment!
Which are the key palladium players impacted?
Sibanye Stillwater (SBYSF), one of the largest palladium producers in the world, with a global share of about 11% as of 2021, is one of the most impacted at the moment. This is due to the double-edged sword that rising palladium prices, but increased losses at its South African mines provide.
Nornickel, another major palladium producer, also saw gains of about 8.3% this month. However, due to several international restrictions and bans on Russian metals due to the ongoing Russia-Ukraine war, Nornickel is still facing considerable difficulties in trading, which is eating away at its profit margins.
Anglo American Platinum (ANGPY), with a palladium production share of almost 24%, as of 2021, also rose about 14% this month already. The company has also recently formed a joint venture with EDF Renewables to launch Envusa Energy, which will be central to bringing more wind and solar energy to South African mining.
What is the outlook for palladium for the rest of the year?
The palladium outlook for the rest of the year largely depends on whether Sibanye Stillwater (SBYSF) can reach an acceptable wage deal with AMCU or not. This is crucial, as with Russia still out of commission on the metals front for the foreseeable future, investors are relying heavily on South Africa and other producers such as Canada to pick up the slack in PGM supply.
Investors are also keeping a close eye on auto vehicle sale and production figures, especially in key markets such as the US and China. So far, these figures have still been disappointing, mainly due to raging inflation, as well as an ongoing energy crisis. This has left consumers with less disposable income to spend on what may be seen as luxury items. However, if the US Federal Reserve's aggressive monetary tightening policy pays off dividends in the coming few months, we may finally see an improvement in these figures.
The US dollar (DXY), as well as interest rates by major central banks are another thing to watch, as a stronger dollar (DXY) in the coming few months as well as higher interest rates are both likely to pressurise palladium.