Paccar recall: Can PCAR stock price ride out truck crash risk issue with digital dashes?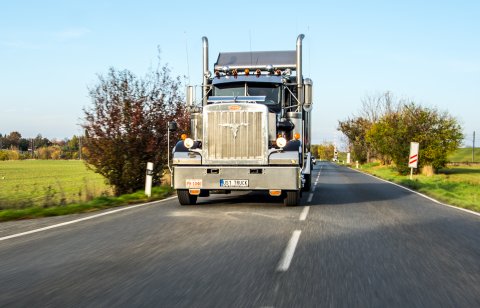 Paccar (PCAR) is recalling more than 76,000 of its trucks because the digital dash can freeze, which prevents its systems from updating, increasing the chances of a crash.
This comes ahead of its third quarter earnings due to be released October 25.
The stock is listed on the S&P 500 (US500) and competes with companies such as Volvo (VOLVa), Mercedes Benz (MBGn) and Volkswagen (VOW3). Since Paccar began its electric vehicle range in 2019, it has also been in competition with the likes of Rivian (RIVN) and Lucid (LCID).
Paccar owns a number of heavy duty vehicle brands including Peterbilt, Kenworth, DAF Trucks and Leyland Trucks.
Paccar (PCAR) Price Chart
As of writing this article, analysts at Market Beat have given the stock a moderate buy rating with a 3.5% upside potential.
The news of the recall has done little to move the value of the stock price, which is currently trading at around $92.
This is likely due to the fact that there have been no accidents stemming from this issue and the problem affects less than 1% of the company's delivered vehicles.
What is your sentiment on PCAR?
Vote to see Traders sentiment!
Volvo (VOLVa) Price Chart
Paccar was founded in 1905 and has become one of the world's largest heavy duty truck manufacturers. It has established or acquired several premium brands of trucks and is positioned among the top 10 of global truck makers.
It did this by focusing on owner operated businesses, rather than large scale logistics companies, which had more bargaining power. Paccar has shifted in recent years from truck assembly to in house production, allowing it to grow its margins.
In the second quarter of 2022, Paccar achieved record high revenues. It managed this by increasing deliveries of new truck models. Paccar also has positioned itself to be a key supplier of truck parts.
Its second quarter net income grew by 45% when compared to previous year, and gross profit from its parts division grew by almost 32%.
Mercedes Benz (MBGn) Price Chart
Paccar has positioned itself as a leader in a niche market of the trucking business.
Keith Schoonmaker, sector director at Morning Star commented: "While truck manufacturing is inherently volatile, given its dependence on the freight industry (capacity, economic output, and so on), we believe that Paccar's biggest risk is that there are many large industry players, including Daimler, Volvo, Navistar, and Volkswagen.
"However, we remain impressed by Paccar's ability to navigate this competitive landscape; apart from its premium brand, we attribute this success to Paccar's strong dealer network. Indeed, the company possesses a robust network of independent dealers across 2,100 worldwide locations."
He added: "Moreover, we believe that Paccar's dealer network breadth and premium product reputation allow it to maintain not only its entrenched market share through strong customer service/customer interaction, but also better resale values for used trucks relative to its peers, both of which remain hurdles for competitors to match."