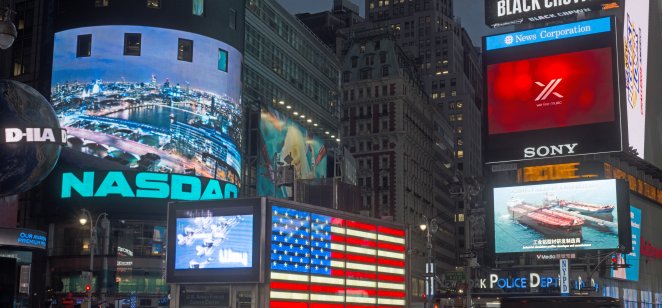 Content
A total of 30% of Nasdaq 100's value (US100) has been wiped off over the past six months as global equities markets continue to suffer in a dire economic environment.
Just six companies proved to be resilient enough to deliver a positive stock performance during the first half of 2022. These were Vertex Pharmaceuticals (VRTX), T-MOBILE (TMUS), Exelon Corporation (EXC), American Electric Power Company (AEP), the Kraft Heinz Company (KHC) and Xcel Energy (XCEL).
Most are in the utilities sector, and became a reflection of investors seeking defence strategies during the high inflation of 2022.
Nasdaq 100 (US100) Price Chart
All the stocks on the index have lost their values, some more than others. The three worst performers Moderna (MRNA), Verisign (VRSN) and Microchip Technology (MCHP) dropped more than 35%.
But the following six successful companies tend to have inelastic product demand, and are able to pass on high input costs to customers, keeping their profitability relatively unharmed.
What is your sentiment on AEP?
Vote to see Traders sentiment!
1. Vertex Pharmaceuticals (VTRX) – up 26.57%
Market confidence in this Boston-based pharmaceutical company has been rising since 2021 when the company reported positive results from a mid-stage study evaluating a therapy designed to combat a kidney disease, segmental glomerulosclerosis. This came after the stock suffered in 2020, following failed research efforts.
At the end of 2021, the company announced that Trikafta, a drug aimed at curing cystic fibrosis, had completed its global trial ahead of its becoming available to children under 12.
The first quarter of 2022 saw Vertex (VRTX) increase its earnings by 18%, much of this driven by Trikafta sales.
Vertex Pharmaceuticals (VTRX) Price Chart
2. T-Mobile (TMUS) – up 15.47%
The market hopes to see T-Mobile capitalise on its 5G technology advantage over AT&T (T) and Version (VZ). While all three of them provide 5G services, T-mobile offers an extended range service.
The merger with Sprint Corporation allowed the mobile service company to enhance its 5G services to gain advantage over its competitors, bringing the total number of major US mobile service providers to three, down from four.
In May 2022, T-Mobile (TMUS) again expanded its 5G services, by introducing "Internet Freedom", making the novel fast internet service available on home broadband.
T-Mobile (TMUS) Price Chart
3. Exelon Corporation (EXC) – up 11.67%
First of three energy providers on our list, Exelon has benefited from being a utility company with an inelastic demand for its product even during times of inflation. This has allowed the company to maintain its profitability.
Exelon is the largest utility parent company in the US, running multiple brands under its umbrella. In February 2022, Constellation Energy, its nuclear operating arm, spun off into an independent company.
Rising commodity prices in 2021 saw its operating costs rise that year. However input costs have eased slightly, paired with their ability to increase their service charges, their operating income and net profits grew by almost 50% the first quarter of 2022, and 16% year on year.
Exelon Corporation (EXC) Price Chart
4. American Electric Power Company (AEP) – up 8.24%
Second energy company on this list, also a top pick for investors seeking defence strategies during times of inflation.
American Electric (AEP) is responsible for the largest amount of transmission system in the US, and much like Exelon (EXC) it has been able to pass on its rising input costs to its customers.
Its operating income saw a 30% quarterly growth during the first quarter of 2022, and a 7% year on year growth.
American Electric Power Company (AEP) Price Chart
5. The Kraft Heinz Company (KHC) – up 7.26%
Kraft Heinz is another utility company performing well on the Nasdaq 100 (US100), although this time focused on the food sector.
Much of the soaring performance by the stock was seen during the very start of 2022, as investors hoped Kraft Heinz would be able to maintain its profitability during the current inflationary period.
However, the first quarter earnings report showed a drop in the sales numbers and profitability, negatively impacting its stock value. This pointed to customers reducing the amount they spend on food items as inflation persists. This fate is likely to hit many other food retailers globally in the coming year.
But a company that owns favourite consumer brands like Oreo, Cadbury, Jacobs, Jell-O, Philadelphia and Kool-Aid, is likely to survive some temporary turbulence.
The Kraft Heinz Company (KHC) Price Chart
6. XCEL ENERGY (XCEL) - up 4.92%
Third and last energy company on the Nasdaq 100 (US100) to have their stock prices grow in the first half of 2022. Again, most of its rally can be credited to the present economic environment for energy commodities.
Its relatively muted rally comes after its underwhelming first quarter results. XCEL Energy's gross profits only saw a 4% growth year on year, half that of other energy companies on this list. Its revenues grew by 11%, alluding to the fact that XCEL Energy (XCEL) may not be as cost efficient as its peers.
As an energy and gas delivery company, its valuation during the coming years is expected to remain sustainable as inflation is likely to remain stubborn.
XCEL ENERGY (XCEL) Price Chart