Online sales up 8% YoY as buyers try to avoid supply shortages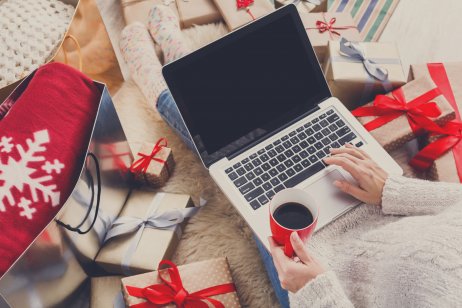 The Christmas shopping season has started early this year, with consumers buying gifts online to circumvent supply chain and labour shortages, new research by software company Adobe indicates.
The research, posted as a blog to the company's website this week, said consumers began shopping earlier this year due to a wave of online deals. Adobe (ADBE) said the data reveals $72.4b (£54.1b) was spent online in October 2021, up 8% from the same period last year.
Supply chain slowdown
"With over 2 billion out-of-stock messages last month, consumers are beginning to understand the real impact of the supply-chain challenges," said Taylor Schreiner, director of Adobe Digital Insights. "Some have begun to adjust their holiday strategy accordingly, with parents shopping for toys earlier and some settling for gift cards this season. For those who have not yet started their holiday shopping, they will need to be prepared to be flexible".
Adobe said spending on toys in October jumped 50% from the previous month, while grocery purchases jumped 34%. Video game and gift card purchases climbed 20% from September.
What is your sentiment on AMZN?
Vote to see Traders sentiment!
Amazon ready for holidays
A spokesperson for e-commerce giant Amazon (AMZN) said potential shortages are being addressed with supply partners and that customers are encouraged to shop early to avoid an anticipated Christmas rush.
But, overall, the e-commerce giant is prepared for the holidays, Amazon spokesperson Robin Handaly said in an email to Capital.com.
"We work with suppliers to ensure we have robust inventory with competitive prices across all categories in order to meet our customers' needs, not only during the holiday season, but every day," Handaly said.
Amazon posted a message on its website from John Felton, senior vice president of global delivery services, telling shoppers it is working to meet customer demand.
"We've increased ports of entry across our network by 50%, doubled our container processing capacity, and expanded our ocean freight carrier network partnerships to secure committed capacity into critical ports within our network."
Electronics hardest to find
Adobe said $680b was spent online by shoppers so far this year, a 9% hike over the same period in 2020 and a hefty 57% increase from 2019. Of the 18 categories tracked by Adobe, electronics has the highest out-of-stock levels currently, followed by jewellery, apparel, home and garden and pet products.
Shoppers are finding fewer sales in electronics, sporting goods, appliances and tools/home improvement, Adobe said. Toy discounts are up almost 16% from last year, and computer deals are up 12.4%, Adobe said.
Adobe provides a comprehensive view into US e-commerce by analysing direct consumer transactions online. Based on Adobe Analytics data, the analysis covers over one trillion visits to US retail sites and 100 million stock keeping units (SKUs).
Read more: Analysis: How businesses respond to supply chain issues