Omicron: UK introduces measures to combat Covid-19 variant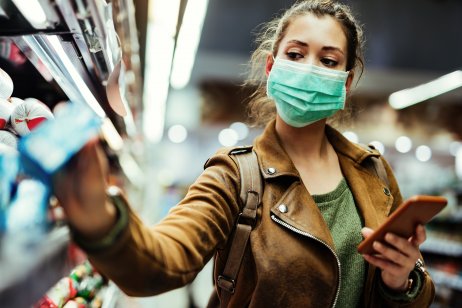 Temporary measures to combat the Omicron variant of Covid-19 will come into force across the UK from tomorrow (Tuesday).
The government has confirmed face coverings will be compulsory in shops and on public transport, while international arrivals must isolate until they receive a negative PCR test.
In addition, all contacts of suspected Omicron cases must self-isolate – regardless of their vaccination status – with targeted testing and tracing already underway across the country.
Tougher restrictions
The tougher restrictions will require masks to be worn in retail outlets, as well as banks, post offices and hairdressers. Hospitality venues, however, are currently exempt from the rulings.
All international arrivals into the country from 4am on Tuesday will need to take a day 2 PCR test and self-isolate until they receive a negative result.
More cases discovered
Health secretary Sajid Javid is expected to provide an update on the situation later today, with the UK now having nine cases of the Omicron variant.
It was revealed today that the first six cases of Omicron have been identified in Scotland, with four in the Lanarkshire area and two in Greater Glasgow and Clyde.
The news follows the discovery of England's third case of Omicron, the variant which has caused a rapid rise in infections within South Africa.
Stock market reaction
However, claims from South African doctors that the Omicron variant has mild effects have helped lift markets after Friday's collapse, according to Joshua Mahony, senior market analyst at IG.
"European markets are kicking off the week on a more positive footing today, with fears around the new Omicron variant easing somewhat," he said.
Even so, there are still reservations. "With the true impact of this variant yet to be ascertained, volatility lies ahead for markets," he added.
Investors are optimistic
The FTSE 100 had risen 1% to 7,115.85 points by mid-morning in London, with a similar rise enjoyed by the EURO STOXX 50.
The decisive action of governments to try and control the spread of Omicron has restored confidence among investors, according to Russ Mould, investment director at AJ Bell.
"Despite tougher rules on travel and the reintroduction of wearing face masks in different locations including shops, investors have taken an optimistic view that the pandemic's new flare-up can be contained," he said.
Health ministers meeting
An urgent meeting of G7 health ministers will also be convened today to discuss the latest developments.
It is understood France currently has eight possible cases of the Omicron variant with Olivier Veran, its health minister, telling reporters the government would do its utmost to contain the spread.
Meanwhile, the Reuters news agency reported there were calls in Germany for tighter restrictions to be introduced to contain the surge in coronavirus cases.
Less effective protection
Although it's still being investigated by scientists, Omicron is believed to be more transmissible than Delta, with current vaccines offering less effective protection.
According to the World Health Organisation, preliminary evidence suggests people who have previously had Covid-19 could become reinfected more easily with Omicron.
However, data is currently limited. "More information on this will become available in the coming days and weeks," it added.
Read more: Omicron Covid-19 variant sets off strong market reaction