Olive Garden operator up 8% on strong earnings post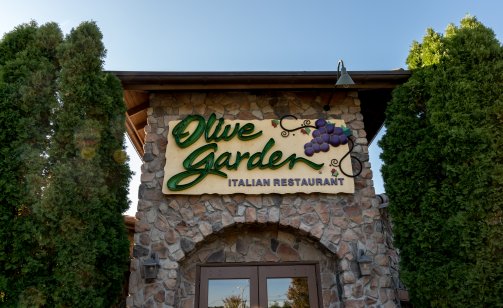 Shares in Olive Garden operator Darden Restaurants rose by more than 8.5% to $163.50 (£118.97) a share after the restaurant company reported strong earnings Thursday morning.
Darden Restaurants, which also operates dine-in brands including LongHorn Steakhouse, Yard House and Bahama Breeze, reported total sales increased by more than 8% over the comparable pre-Covid-19 quarter and more than 50% over last year's pandemic-affected quarter.
Darden reported sales of $2.3bn for the fiscal first quarter ended 29 August. Net earnings from continuing operations was $232m. EBITDA was $370m.
With sales up, Darden Restaurants is raising its fiscal 2022 financial outlooks. The company now sees total sales of $9.4bn–$9.6bn up from earlier estimates of $9.2bn–$9.5bn. On a percentage basis, total sales compared to pre-Covid-19 numbers are now expected to increase by 7%-9% versus earlier predictions of 5%-8%.
Weathering inflation
The outlook for the financial year ending May 2022 also includes an increase in expected inflation to 4% from 3%.
Despite the increase in shipping and food costs, management said it is reluctant to pass those added expenses along to the consumer.
Other businesses were quick to pass on the additional costs to consumers with minimal short-term pushback, one analyst noted on Darden's investor call. However, lower income consumers are disproportionately impacted by increases in inflation and Darden Restaurants does not want to alienate a big part of its guest makeup for the casual dining brands it operates, CEO Gene Lee said on the call.
"We're incredibly focused on the longer-term pushback . . . and eventually there will be pushback," Lee said. "We want to make sure this big group of consumers that we service feel as though they can still come to our restaurants and still get a great value for what they have to pay."
Lee added: "Those who manage through this prudently and take a longer look will be okay and those that pass on a lot of price and are not managing their costs effectively – at some point your average consumer could be priced out of casual dining if it costs too much."
To-go sales
Off-premises sales that were the lifeblood of the business during the worst of the pandemic started to come down earlier this year as people returned to in-person dining.
However, a spike in Delta variant cases caused that percentage to rise again to 27% of overall sales in the latest quarter for Olive Garden and 15% for Longhorn Steakhouse, according to the company's earnings presentation. Those percentages are slightly elevated from where management sees off-premises sales sticking post-Covid-19, but the company said it has made a lot of investments in its digital ordering experience that should keep to-go sales in the 20s area as a percentage of overall sales.
"I still think the off-premises mix will come down at Olive Garden and LongHorn as the dining rooms continue to fill and people feel more comfortable coming into a restaurant," Lee said. "We do believe that our to-go as a percent of sales will be bigger than we ever thought it would be before Covid because we're getting a lot of people coming to Olive Garden and Longhorn that had never done to-go before and they are getting a great experience."
Shareholder returns
Darden Restaurants' board of directors authorised the company to repurchases an additional $750m of outstanding common stock.
During the latest quarter, the company repurchased 1.3 million shares at a cost of $186m under its previous $500m repurchase authorization.
That brings the total remaining repurchase authorisation to around $1bn for the fiscal year.
Darden had 1,841 company-owned locations as of 29 August.
Read more: Chipotle share price balloons as digital sales soar