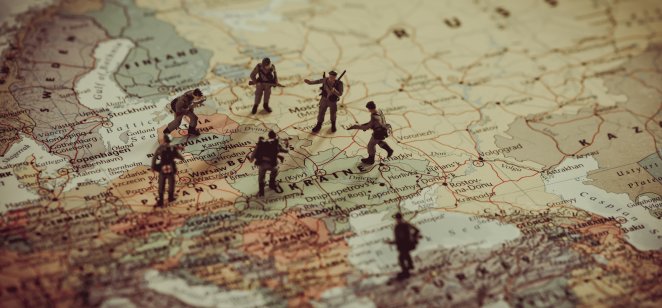 US and global crude oil prices surged above $100 a barrel on Thursday to levels not seen in nearly eight years, as Russian troops and tanks crossed into Ukraine and bombs fell on the capital city of Kyiv.
April deliveries of West Texas Intermediate soared more than $5.50 to hit a high of $105.54 per barrel in early morning trading, but fell below $95 by midday on the New York Mercantile Exchange.
Contracts for April Brent crude were selling for a high of $104.15 per barrel on the ICE but dipped to $101 in aftermarket trading.
Thursday's international and domestic contracts were at their highest since 2014.
Meanwhile, natural gas jumped nearly 5% to $4.85 per million British thermal units ahead of expiration at the day's settlement.
And March petrol was at $2.88 a gallon while heating oil rose to $3.02 a gallon, nearly a 7% increase.
Analysts told Capital.com on Thursday that prices will likely only go higher, with Brent reaching $110-$115 a barrel within days. Depending on the severity of Western sanctions and the length of the Russia-Ukraine conflict, a barrel of crude could fetch between $120-$150 per barrel by midyear.
"Oil prices are soaring with no end in sight [on] the news of Russia's full-scale military incursion of Ukraine, immediately putting at risk up to one million [barrels per day] of Russian crude oil exports transiting through Ukraine and the Black Sea," Louise Dickson, senior oil market analyst at Rystad Energy, wrote in a client note obtained by Capital.com.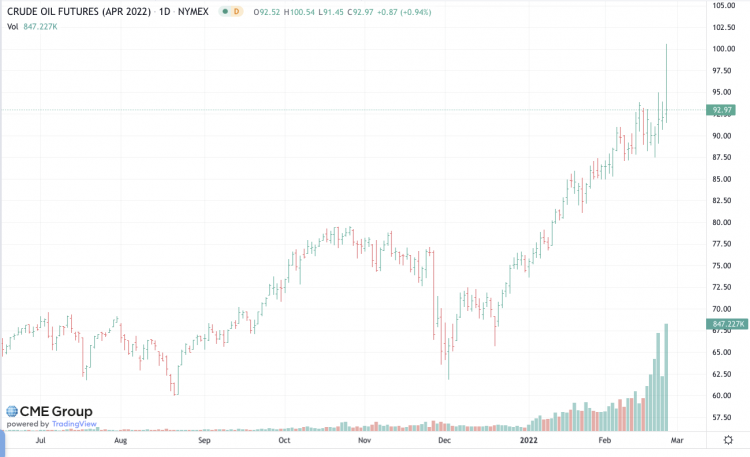 Crude oil for April deliver – Credit: CME Group
Sanctions
During a press conference Thursday, US President Joe Biden listed sanction against Russia. The list targets Russian banks, oligarchs and its high-tech industry. The US and allies will freeze the assets of the country's largest banks and impose export control. Biden did say additional sanctions are possible but did not specifically mention oil or gas.
It's believed the White House left off oil and gas, because the administration wants to save motorists from additional pain at the pump. Roughly 8%, more than 700,000 barrels a day, of oil imported to the US comes from Russia, most headed to the Pacific Coast.
However, the commodity data and analytics firm Kpler wrote tougher sanctions are in the pipeline.
"There is no doubt that heavy sanctions will surely follow," the note reads. "Considering the near-zero likelihood of foreign troops coming to the direct aid of Ukraine, there will likely be nothing left off the table when it comes to what financial and economic tools can be used."
"The scale of Putin's aggression and the threat it poses to the international order require a resolute response, and we will continue imposing severe costs if he does not change course" – US President Joe Biden
Dependency
Russia is the world's third largest crude producer, exporting more than ten million barrels daily across the globe.
"The ramifications on the global energy markets are immense and the moves in oil and gas prices" Thursday, and events in recent weeks, "go some way to reflect this," Kpler added.
Analysts told Capital.com on Thursday the conflict heightens the risk of Russian oil and natural gas supplies reaching Europe, sending oil prices higher and accelerating inflationary pressure worldwide.
"Any cut off of oil from Russia would be disastrous for consumers and businesses around the world," said Market Rebellion's CEO Jon Najarian in an email to Capital.com.
What is your sentiment on BP?
Vote to see Traders sentiment!
Step discount
Russia, which has a smaller economy than Canada or Italy, is dependent on crude cash which adds billions annually to the country's coffers.
Worried about the impact, Moscow on Tuesday offered a steep discount for their flagship crude, known as Urals oil grade. Earlier this week, March contracts loading at Baltic ports were dated Brent minus $4.60 per barrel, the largest discount in nearly two years.
The offer came after a Financial Times report, three major oil buyers were denied credit from Western banks to finance buys from Russia.
ExxonMobil, BP, Shell, ENI, Chevron, France's TotalEnergies and ENG all purchase oil from Russia.
ExxonMobil fell 1% to $75.80 per share
BP fell 4.6% to 365.35p
Shell was fractionally higher at 1,952.80p
ENI fell 1% to €13.50
Chevron fell .5% to $134.85
TotalEnergies declined 3.9% to €47.62
Natural gas
Russia delivers 30%-40% of Europe's natural gas with expectations of increase when the Nord Stream 2 pipeline is operational later this year.
However, Germany halted certification of the 763-mile pipeline in response to Russia's bellicose action against Ukraine. Construction of the pipeline is complete.
Biden said the pipeline is "not going to happen" now.
The conflict has sent natural gas prices to their highest in 17 years.
In Holland, TTF Gas Futures jumped 60%, up four straight days.
In Germany, March power contracts soared 42%.
Further reading: