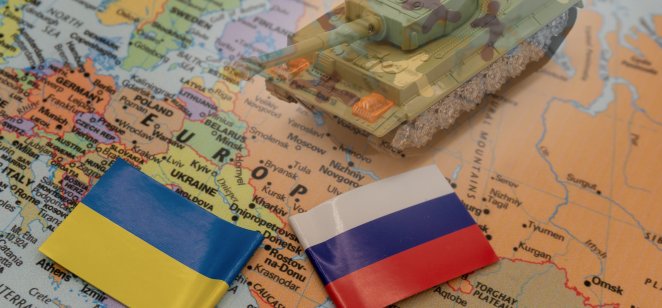 Oil futures continued to soar Monday over concerns of declining supplies from Russia, the world's third largest exporter of crude and natural gas, after initial peace talks failed to halt the fighting between Russia and Ukraine.
Four days after Russia invaded its neighbour, April contracts of West Texas Intermediate jumped more than 4% to $95.81 a barrel and up more than 9% in February. A barrel of Brent crude oil remained above $100, up 2.9% for the day, and 12.5% for the month.
"The marked price increases are due to the sanctions imposed on Russia by the West, which were tightened significantly again at the weekend," explained Carsten Fritsch, an energy analyst for Commerzbank.
Commodities from gold to soybeans are also seeing drastic price increase as traders worry about instability.
Supply
The sanctions and exodus of Western oil companies most likely will result in lower Russian oil and gas production because they will make investments in maintaining production and developing new sources significantly more difficult, Fritsch said.
Shell said Monday afternoon it will exit a joint venture with the Russian energy behemoth Gazprom, following BP's announcement Sunday it will divest its 20% stake in Russia's state-controlled oil producer Rosneft. Both majors cited Russia's invasion of the Ukraine as the reason for ending its financial ties.
Shell fell 1.4% to 1,972p in London trading

BP fell 4% to 363.55p

Gazprom American Depositary Receipts dropped 34% to $16.
Domestically, President Joe Biden suggested on Thursday the US could release oil from its strategic reserve after prices soared amid Ukrainian conflict.
"We are actively working with countries around the world to elevate collective release from the strategic petroleum reserves of major energy consuming companies, and the United States will release additional barrels of oil as conditions warrant," he said.
By Monday afternoon, no plan was in place to release additional petroleum.
Energy traders are awaiting the US and allies to tap their strategic reserves, which could unleash 70 million barrels of oil, said Edward Moya, senior market analyst at OANDA.
"The oil market will remain very volatile as the risk of losing access to Russian energy supplies grows. The uncertainty over how the Ukraine war will unfold has too many risks that include nuclear threats, which means any oil price dips on any strategic release announcement will be short-lived," he told Capital.com.
SWIFT exclusion
Over the weekend, some Russian banks were excluded from the SWIFT system which could hinder commodity trading. Goldman Sachs noted this could "create hurdles, but not barriers" in carrying out energy transactions.
"The absence of SWIFT intermediation would, for example, leave for slower payments and the rise in account receivables for Russian commodity exporters (rather than a complete halt in financial transfers)," they wrote Sunday.
What is your sentiment on Natural Gas?
Vote to see Traders sentiment!
According to news reports, some analysts said Russia could respond to the sanctions and SWIFT exclusion by reducing or suspending energy shipments to Europe.
"The sanctions and the exodus of Western oil companies are likely in the medium to long term to result in lower Russian oil and gas production because they will make investments in maintaining production and developing new sources significantly more difficult," Fritsch said.
OPEC+ meeting
OPEC+ nations, which includes Russia, will meet 2 March. They are expected to stick with its current agreement of adding 400,000 barrels a day to oil supplies in April.
Sources told Reuters not to expect changes in the agreement, as Russia enjoys a close partnership with the Saudis. The two countries jointly chair OPEC+ and are large producers.
"Crude supplies are not increasing at a fast enough pace and the energy market is still very vulnerable to a massive shock," said Moya.
Natural gas
Currently, Russia controls about 40% of the natural gas delivered to Europe. However, the European Union's executive team is increasing efforts to reduce European nations' reliance on Russian gas following the Ukraine invasion.
Daniel Yergin, an energy expert and author of The Prize, a history of oil and its politics, told Bloomberg Monday, it will be "a long time" before Europe is not dependent on Russia for energy.
While crude was enjoying highs, natural gas continued to struggle Monday, down .56% Monday afternoon to $4.47MMBtu
Further reading: