Oil prices rebound on hopes OPEC suspend output increase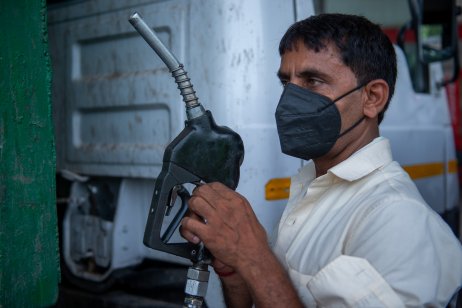 Oil prices rebounded on expectation that the Organization of Petroleum Exporting Countries (OPEC) may suspend production increase due to the spread of the latest Covid-19 variant Omicron as investors are weighing the risks of the new variant.
Brent crude oil futures, the international benchmark, gained 3.62% to $75.35 per barrel (bbl) on Monday. West Texas Intermediate (WTI) advanced 4.36% to $71.12/bbl. Both contracts tumbled more than $10/bbl on 26 November, with WTI closed at below $70 after the World Health Organization warned about the new Covid-19 strain first detected in South Africa.
"Covid-19 remains the biggest concern for oil prices, particularly with possible wider lockdown in Europe," said Lukman Leong, analyst at Jakarta-based Deu Calion Futures.
"But more than $10 price drop is too big for something that have not fully confirmed. There are many things that we don't know about it (Omicron) yet. So investors are pulling back a bit today because they are still unsure," he added.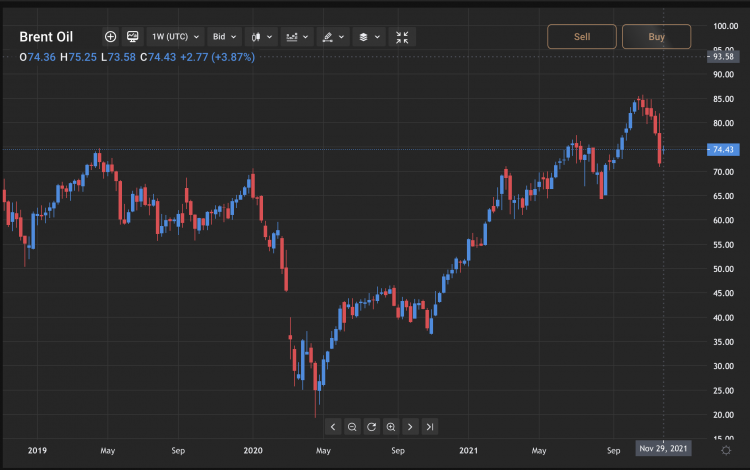 Brent price movement - 29 November 2021 Credit: Capital.com
Pause output increase
Saudi Arabia-led OPEC and its allies led by Russia (OPEC+) are scheduled to hold a monthly meeting to discuss output increase on 2 December. While there has been uncertainty about OPEC+ action to respond to oil reserves release by the US and several key oil-consuming nation, speculations abound that the emergence of Omicron would prompt the cartel to suspend the 400,000 barrels per day (bpd) production increase in January.
"With the potential demand hit, we believe the group could take a pause in its current supply increases. This would be consistent with the cautious approach OPEC+ has taken since the initial outbreak of Covid-19," ING Group said in its note on Monday.
Since the group has already decided a 400,000 bpd output increase for December, any decisions this week will be applied for January 2022, ING said.
Delayed meeting
However, Bloomberg reported on Monday that OPEC is moving two technical meetings to later this week to give committees more time to evaluate the impact of Omicron.
"OPEC delaying meetings is not good for oil prices. But outside the formal meetings, OPEC can still make statements. We'll just have to wait and see," Lukman said.
Read more: US natural gas prices hit 10-day high, but Covid-19 surge in Europe hits demand for oil