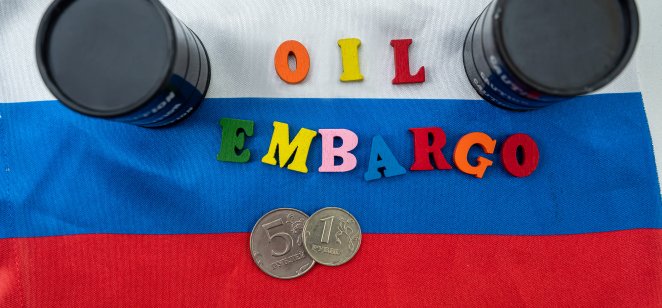 US oil prices jumped nearly 8% Thursday after a dire report stating millions of barrels of Russian oil could disappear from the global market.
In afternoon trading Thursday, West Texas Intermediate's April contracts kicked the recent downward trend by gaining 7.6% to $102.25 per barrel, up from a $95.34 a barrel opening on the New York Mercantile Exchange.
The International Energy Agency's (IEA) Wednesday released a report stating a global embargo on Russia oil would cause the "biggest supply crisis in decades."
The report continues, "The prospect of large-scale disruptions to Russian oil production is threatening to create a global oil supply shock," reads the International Energy Agency monthly oil report.
Loss 'cannot be understated'
"The implications of a potential loss of Russian oil exports to global markets cannot be understated," the report stated about the world's third-largest crude producer after the US and Saudi Arabia. Russia is also Europe's main oil source
On Thursday, Brent, the international benchmark, had gains of more than 8% per barrel for May deliveries of $106.26 a barrel. On Wednesday, both contracts dipped due to a surprising jump in US crude stockpiles and positive signs of Russia-Ukraine.
Overnight US investment house Morgan Stanley forecast Brent would jump $20 by Q3 to $120 a barrel, arguing Russia's production would drop by 1 million bpd from April, saying the decrease will offset downward world-wide demand by about 600,000 barrels daily.
Media reports are quoting the Lithuanian bank SEC telling clients that "both supply and demand are hurting, but supply is currently hurting more, and a tight oil market for the coming two quarters is to be expected."
Market to remain tight
There's not enough crude demand destruction to warrant prices falling below the $90 level and, with inventories continuing to decline, this oil market will likely remain tight for quite some time, according to Edward Moya, senior analyst at OANDA.
"WTI crude seems poised to continue to edge higher if no major progress happens with Ukraine-Russia talks. The Saudi Crown Prince noted the kingdom is keen on maintaining the oil market balanced and stable," he said.
Prices are going highter after US Secretary of State Antony Blinken said he doesn't see signs that Putin is prepared to stop and that the US is concerned China is considering helping Russia, according to Moya.
"This war seems like it won't be ending anytime soon and that likely means oil prices could have another strong rally here," Moya said.
Read more