Oil prices fall further on Covid-19 vaccine uncertainty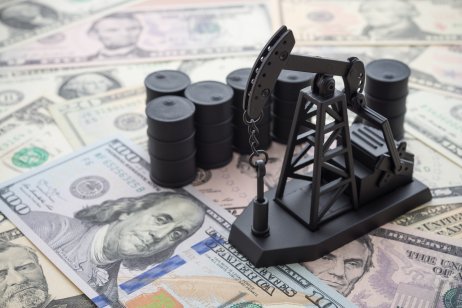 Oil prices are extending losses after dropping more than 10% Friday on concerns over the impact of the Omicron variant.
Brent crude oil and US Crude oil traded at around $71.41 and $68.11 respectively.
The declines follow comments by Moderna chief executive Stéphane Bancel. He told the Financial Times that existing vaccines maybe less effective in protecting against new coronavirus strains and that it may require months to mass produce an Omicron–specific vaccine.
This has created uncertainty regarding future lockdown measures, dampening the demand prospects of oil. Prior to recent events, Organization of the Petroleum Exporting Countries (OPEC) had already warned about a potential supply surplus in the new year.
US Natural Gas traded below $4.60 per million British thermal units, a 5% decline since Monday, although demand continues to be strong. Cold weather in Europe has left the region struggling to keep inventories. The US has been exporting record volumes of liquid natural gas (LNG) to Europe and Asia, as global dependency on US LNG has been high since the start of the year, as per US Energy Information Administration
Performance
Day range: $70.36 – $75.36

52 week range: $46.82 – $86.70

One week change: -13.44%

One month change: -14.89%

Six month change: 3.68%

One year change: 49.72%
Day range: $67.06 – $71.22

52 week range: $43.92 – £83.83

One week change: -9.61%

One month change -13.23%

Six month change: 7.35%

One year change: 56.51%
Day range: $4.56 - $4.95

52 week range: $2.26 – $6.47

One week change: -7.19%

One month change: -15.04%

Six month change: 54.39%

One year change: 59.96%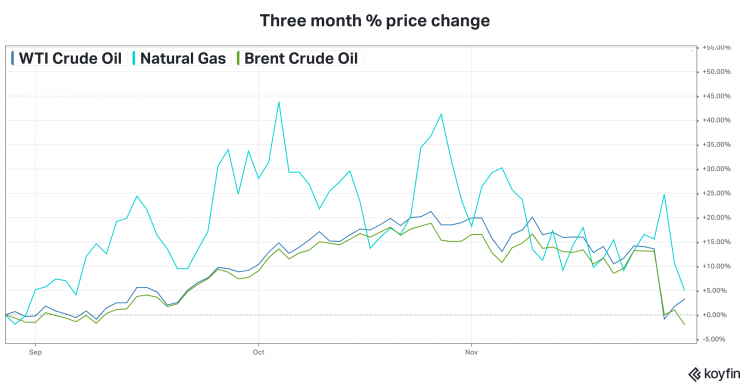 Three month percentage price change – Credit: Koyfin
Read more: Omicron scare pushes global risk assets lower