Oil prices fall as markets eye US move to tame fuel prices
Oil prices retreated as investors are watching closely on what the US government will do to cool of gasoline price amid firm demand for winter.
International benchmark Brent crude oil futures dropped 0.29% to $82.63 a barrel. US crude futures West Texas Intermediate fell 0.36% to $81.30/bbl.
"Long-term fundamentals for oil remains strong. But in the short-term, there is a concern on how the Biden administration will prevent oil speculators," Lukman Leong, analyst at the Jakarta-based Deu Calion Futures, told Capital.com
Eyes on White House
Bloomberg reported that 11 Democratic senators in a letter urged US President Joe Biden to address rising gasoline prices by taking actions which include a possible ban on oil exports and release crude oil from its strategic petroleum reserves.
"The market continues to monitor efforts by the White House to intervene to cool rising prices. He (Biden) is still weighing the merits of an emergency release of crude from strategic reserves," analysts at ANZ Research wrote in a note on Friday.
Markets also shrugged off minor downward revision on global oil demand estimates from the Organization of Petroleum Exporting Countries (OPEC).
What is your sentiment on Oil - Crude?
Vote to see Traders sentiment!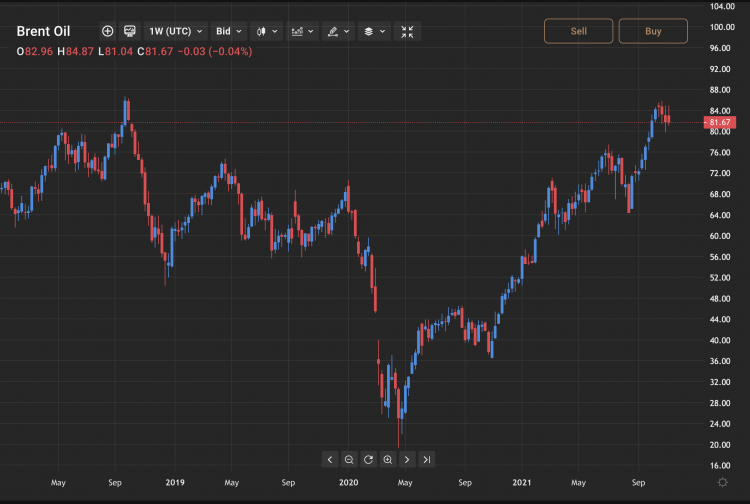 Brent oil price movement on 12 November - Credit: Capital.com
Downward revision
OPEC in its monthly oil market report for November, released on Thursday, revised down its world's oil demand growth in 2021 by 0.16 million barrels/day compared with October's assessment to stand at 5.7 million bpd. Global oil demand for this year is now estimated to reach 96.4 million bpd.
"Revisions were mainly to account for slower than anticipated demand from China and India in 3Q21 (third quarter of 2021)," OPEC said.
For 2022, OPEC estimates global oil demand to grow by 4.2 million bpd to reach 100.6 million bpd, unchanged from the group's forecast a month ago. Demand in 2022 is estimated to be around 0.5 million bpd above 2019 levels.
Supply outlook
Production from 13-members of OPEC is forecast to rise to 28.66 million bpd in 2022, up from estimated 27.65 million bpd in 2021, according to the report.
"It is this continued expectation from OPEC for a better-supplied market next year that is holding them back from easing supply cuts more aggressively in the short term," ING Group said in a note on Friday.
OPEC keeps its forecast for oil production from non-OPEC members at 63.64 million bpd and 66.66 million bpd in 2021 and 2022 respectively.
Read more: Oil prices gain further as concerns of US oil release ebb