Oil prices continue rebound while gas trims losses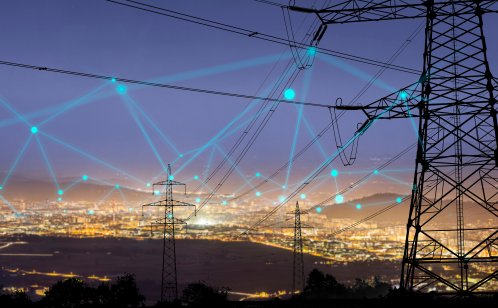 US natural gas prices saw a 2% rebound today, trading at under $3.9 per million British thermal units. This comes after the production of liquified natural gas (LNG) was halted at the Royal Dutch shell refinery in Australia after a power outage last week.
Demand pressures are also coming from Europe, as the region faces a cold snap. Muted demand from Asia may cap the price increases.
The US Energy Information Administration (EIA) expects gas prices to remain volatile in the short term, with consumption mainly being affected by weather changes.
They expect high levels of gas exports to continue until March, limiting severe price drops. They have predicted gas prices to drop 3.8% in January, and expect a further drop of 4.3% during the rest of the year, averaging out at around $2.88.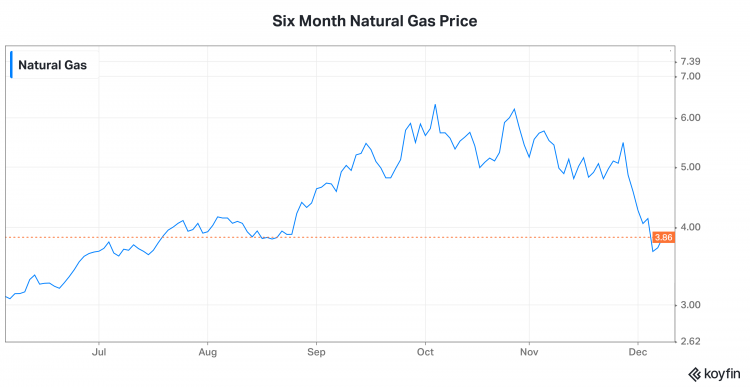 Natural Gas Price – Credit: Koyfin
Brent Crude Oil and US Crude Oil traded around $75 and $72 per barrel respectively. Although the public health effects of Omicron are now being considered minimal, the risk still remains on how the discovery would affect consumer behaviour. The EIA expects there to be a drop in demand at least in the near term due to the effects of the new variant.
According to the EIA, there is further uncertainty added to the prices of oil due to the decisions made by OPEC and on whether refineries would be able to reach the planned targets. They expect Brent crude prices to remain at the current levels in 2022, averaging $70 per barrel.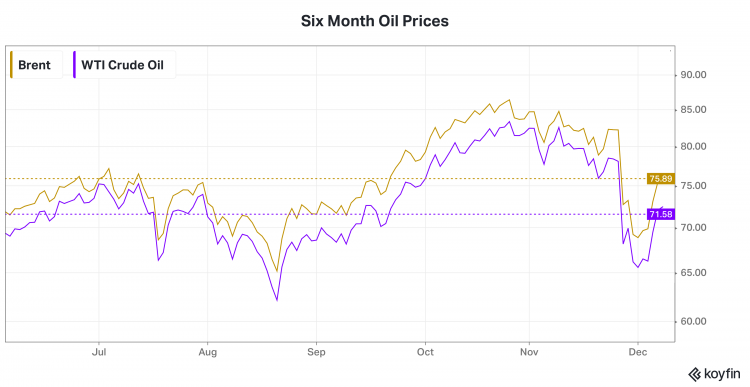 Six month Oil Prices – Credit: Koyfin
Performance
Day range: $73.20 - $76.77
52-week range: $48.09 - $86.70
10-day Exponential Moving Average (EMA): $74.26
14-day Relative Strength Index (RSI): 46.67
Day range: $71.26 - $72.28
52-week range: $44.95 - £83.83
10-day Exponential Moving Average (EMA): $70.83
14-day Relative Strength Index (RSI): 46.40
Day range: $3.66 - $3.85
52 week range: $2.26 - $6.47
10-day Exponential Moving Average (EMA): $4.21
14-day Relative Strength Index (RSI): 35.69
Read more: Oil price could be over 0 per barrel next year: Schroders