Oil price analysis: will WTI break below $65 again?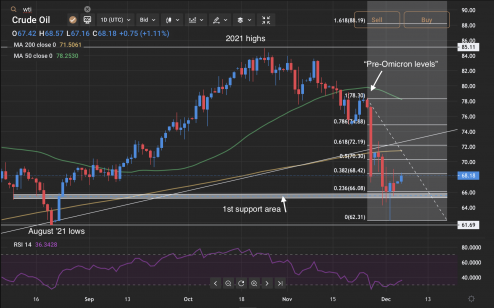 Oil was one of the assets hardest hit by the discovery of the new Omicron Covid variant due to investors' concern over its effect on economic growth and fuel demand.
Since the beginning of November, the price of WTI crude has fallen from $85 per barrel (the highest since October 2014) to $67, losing about 20% after six consecutive weeks of decline.
The market widely expected the decision by OPEC+ to increase production by 400,000 barrels per day in January last week, and oil prices did not react much to the news.
Strategic reserves
A week earlier, the coordinated effort by the United States, India, China, Japan, South Korea and the United Kingdom to release their strategic oil reserves failed to achieve the expected impact of lowering crude oil prices.
Price actions on crude oil futures continue to be mainly driven by pandemic-related news, which shapes the supply-demand outlook for the coming months.
From a technical point of view, a new level of support appears to have formed around the $65.50 to $66 region, and a breach of it might enhance the likelihood of revisiting the August lows.
On the other hand, bulls could push prices above the 200-day moving average in response to favourable news on the pandemic front.
What is your sentiment on Oil - Crude?
Vote to see Traders sentiment!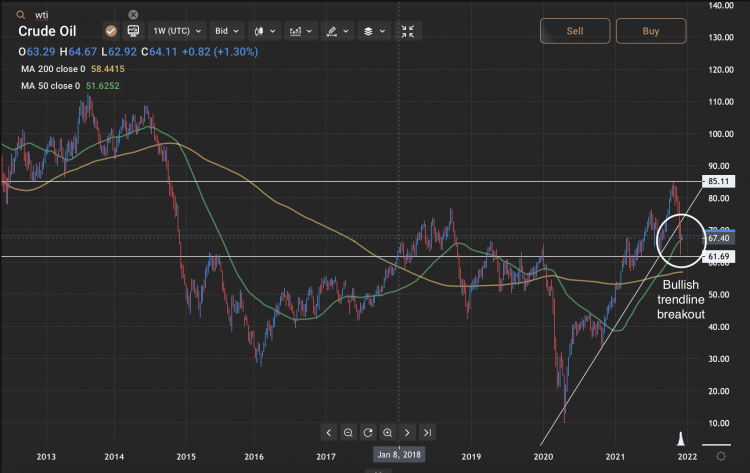 Oil WTI weekly price chart – Credit: Capital.com
Oil price (WTI): fundamental analysis
The oil supply and demand outlook for 2022 is fraught with uncertainties due to the still-unknown impact of the new Covid Omicron variant.
According to the most recent OPEC monthly report, global oil consumption is predicted to rise by 4.2 million barrels per day (mb/d) in 2022, bringing total demand to 100.6 mb/d, almost 0.5 mb/d higher than in 2019.
On the supply side, non-OPEC is predicted to expand its supply by 3.0 mb/d to an average of 66.7 mb/d in 2022, while OPEC crude oil output averaged 27.45 million barrels per day in October 2021 and is planned to increase by 400,000 b/d in January.
The OPEC cartel warned at its most recent meeting about the potential risk for market imbalances as a result of the planned release of oil from a number of strategic reserves, as well as the negative effect on demand from the new variant, which requires producing countries to "remain prudent" and "prepared to be proactive".
Another factor affecting oil prices is the negotiations between Iran and Western countries over the nuclear deal, which are expected to resume next week. The US Energy Information Administration estimates that if US oil sanctions are lifted, Iran's production may reach 3.8 mb/d.
Oil price (WTI): technical analysis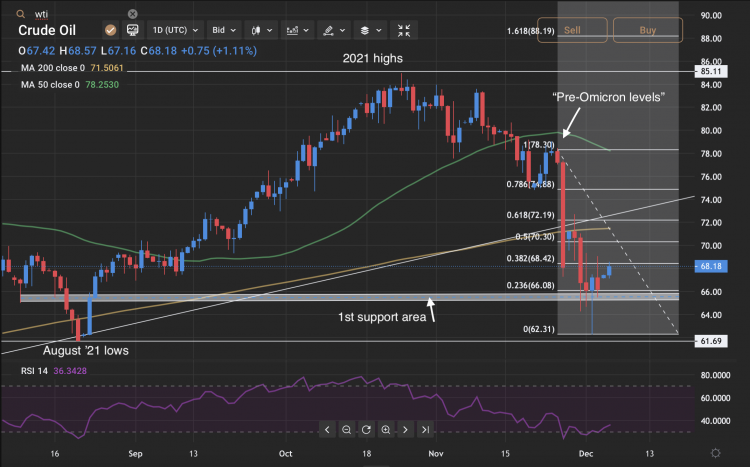 Oil WTI daily price chart – Credit: Capital.com
On 6 December, WTI oil was trading at $68, after falling as low as $62 last week when the market sold off on worries over the Omicron variant.
The recent strong price movement has resulted in the breakdown of the bullish trendline that has been in place since November 2020.
Crude oil prices are still $10 lower than before the discovery of the Omicron variant and are now trading slightly below the 200-day simple moving average (SMA).
The 50-day simple moving average (SMA) stands around $78, where prices were before Omicron's discovery, or roughly 15% above current levels, and is now sloping downwards.
After spending most of the past week in the oversold area, the Relative Strength Index (RSI) has now rebounded to 36.
A new support level appears to have emerged in the $65.50 to $66 range, corresponding to the July 2021 lows. A sustained break below this level might tempt bears to retest the August lows of $61.70.
Alternatively, encouraging news about vaccination efficacy against the Omicron strain might cause prices to recoup some of their recent losses. A comeback above the 200-day moving average might raise the likelihood of looking at the 72.05 level (39.2% Fibonacci retracement).
Note that this article does not constitute financial or investment advice.
Before investing in any asset, always do your own research or contact your financial adviser before arriving at a decision. Remember that your decision should be based on your attitude to risk, your expertise in this market, the spread of your portfolio and how comfortable you feel about losing money. Never invest more than you can afford to lose and keep in mind that past performance is no guarantee of future returns.
Read more: Inflation to pass 5% warns BoE's Broadbent