Oil markets recover ahead of Christmas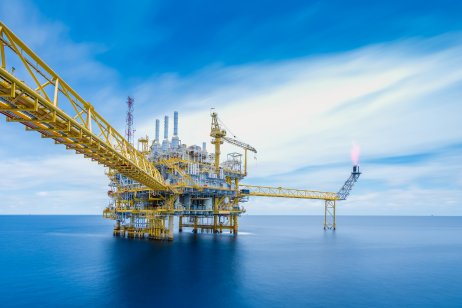 Oil prices have recovered by about 60% from losses occurring due to the sell-off triggered by discovery of the Omicron variant.
Following studies showing the risks of Omicron are less than for previous coronavirus variants such as the Delta variant, Brent crude oil and US crude oil prices have risen and are currently trading at $76.59 and $73.61 per barrel, respectively. This also points to demand prospects for the commodity being potentially secured for the new year.
Meanwhile, the US Energy Information Administration (EIA) released a report on the decline in production of crude oil. US crude-oil production fell by 8% in 2020, due to low oil prices and reduced drilling activities during the year, with New Mexico being the only state to increase production during the period.
According to the EIA, out of the total electricity generated in the US in 2020, 40% derived from natural gas and 21% from renewable energy sources. Electricity generated by natural gas has increased twofold since 2010, while the use of coal for electricity declined sharply.
US Natural Gas traded at $3.593 per million British thermal units (MMBtu).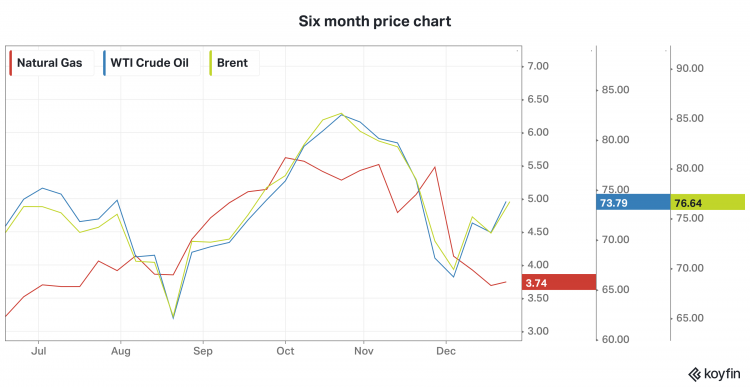 Six-month spot price as of 24 Dec 2021 – Credit: Koyfin
Performance
Day range: $74.79–$76.98
52-week range: $49.20–$86.70
52-week price change: 49.78%
10-day exponential moving average (EMA): $74.93
14-day relative strength index (RSI): 52.60
Day range: $72.27–$73.95
52-week range: $46.16–$83.83
52-week price change: 53.00%
10-day exponential moving average (EMA): $71.61
14-day relative strength index (RSI): 53.51
Day range: $3.59–$4.06
52-week range: $2.26–$6.47
52-week price change: 48.65%
10-day exponential moving average (EMA): $3.86
14-day relative strength index (RSI): 38.43