Oil and gas prices expected to remain strong in 2022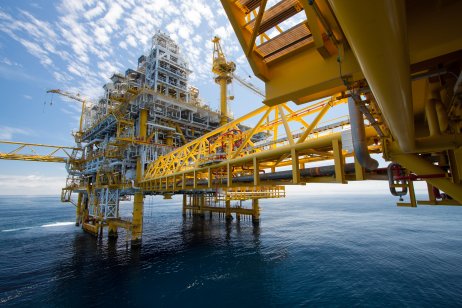 As 2021 is drawing to close, commodities will bid goodbye to 12 months of eye-watering high prices boosted by recovering demand, supply chain disruptions and unfavourable weather.
However, even though prices may come down from the highs of 2021, analysts expect that as global economic recovery continues and supply chain problems ease, oil and gas prices will remain strong in 2022.
Uncertainties on oil supply and demand are forecast to remain high next year due to the output policy of the Organization of Petroleum Exporting Countries (OPEC) alliance or OPEC+ (OPEC and its allies), the resumption of Iran's oil export and the impact of the newly discovered Omicron variant of Covid-19.
Oil production surplus for 2022
ING Group said in its 2022 commodities outlook on 10 December forecast that the global oil market will swing back into surplus in 2022, propelled by strong supply growth from non-OPEC producers, including from the US.
ING estimates that non-OPEC supply will grow by 2.65 million barrels per day (bpd) next year, compared to an estimated 900,000 bpd in 2021.
Fitch Solutions was also bullish about the production outlook for 2022 on unwinding of the OPEC+ production cut deal, the recovery of the US shale oil output and the return of sanctioned barrels from Iran. However, there are risks to the optimistic forecast.
What is your sentiment on Natural Gas?
Vote to see Traders sentiment!
OPEC+ policy is unclear
"OPEC+ policy direction is still under review; US shale prospects remain clouded by a volatile price environment and ongoing caution among publicly-listed producers; and US-Iranian nuclear negotiations are facing renewed headwinds under President (Ebrahim) Raisi," Fitch Solutions said in its 2022 outlook on 9 December.
Oil demand recovery is expected to continue, but the emergence of the Omicron variant remains a risk with several countries having imposed fresh travel restrictions.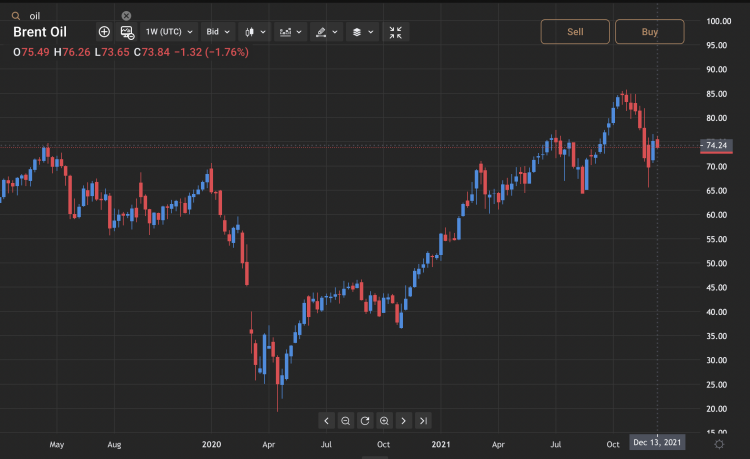 Brent price movement – Credit: Capital.com
What are oil price predictions for 2022?
Fitch Solutions expects international benchmark Brent to average $72/bbl in 2022, up from $71 in 2021, while West Texas Intermediate (WTI) is forecast to average $66/bbl, down from $68 in 2021.
ANZ Research estimates the Brent price will strengthen, averaging $74.9/bbl in 2022, compared to $71.9 in 2021.
ING is more bullish, forecasting that Brent will average $76/bbl over 2022. Prices next year will be lower than the high levels over much of the second half of 2021, but still well above their post-2015 numbers, it said.
European winter gas prices to stay high
The combination of a colder-than-expected winter, low inventory, and continuing tight gas supply from Russia are forecast to keep Europe gas prices elevated until the first quarter of 2022 before cooling off, analysts said.
Stricter climate action pledges will also magnify growth of gas demand as it will prompt coal-to-gas switching, according to ANZ Research.
ING expects that Dutch TTF, the European benchmark gas futures price, will average at €70 per megawatt hour in the first quarter of 2022, before dropping to €45/Mwh in the second quarter.
The Dutch bank predicts TTF will average at €47 in 2022.
Little extra Asia gas supply
Asia will also see a tight market during winter time due strong demand and limited channels available to export more gas to the region.
ING says that only 12 million tonnes per annum (mtpa) of new export capacity will come online in 2022, compared with the 24 mtpa and 42 mtpa which was added in 2020 and 2019.
"It is only towards the end of 2025 and onwards where we see some significant capacity growth coming through from Qatar," ING said.
As for outlook for the natural gas spot at Fitch Solutions forecast gas price Henry Hub, (the US gas benchmark) to reach $4.2/million British thermal unit (MMBtu) for 2022, while ING forecast $4.1/MMBtu.
Read more: Oil prices continue rally as Omicron concerns ease