Nvidia stock price: Can NVDA chip shares resist double drag of China curbs, gaming market downturn?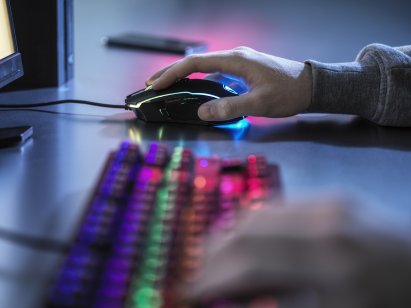 Shares of gaming giant Nvidia (NVDA), have been volatile while the company not only deals with the effects of a slowing economy but also being caught in political crossfires between the United States and China.
In September 2022, US officials told Nvidia to halt exporting two types of computing chips to China, a move which may interrupt Nvidia's development of its software.
This comes on the heels of intensifying political tensions between the US and China as the US tries to advance in chips production, which currently mostly takes place in China.
Nvidia (NVDA) Price Chart
The recently-passed CHIPS and Science Act in the US, aims to financially support semiconductor producers who open factories in the US. This is likely to gain the attention of all chip makers such as Intel (INTC), Micron (MU) and Advanced Micro Devices (AMD) some of whom have already begun production projects in the US.
On the other hand, Nvidia's income from the gaming sector is likely to slow, but not as much as the market may believe. Gaming has in the past proven to be a cheap source of entertainment during inflationary times, and sales could remain robust as people cut spending on luxuries, such as eating out and shopping trips, and hunker down at home.
What is your sentiment on NVDA?
Vote to see Traders sentiment!
Intel (INTC) Price Chart
China Curbs
In an SEC filing, Nvidia revealed that the US has imposed export restrictions on two of its AI chips to China. This would include exports to Hong Kong and Taiwan, which make up 26% of its revenue.
The company said $400m worth of potential sales to China are at stake "which may be subject to the new licence requirement if customers do not want to purchase the company's alternative product offerings or if the US does not grant licences in a timely manner or denies licences to significant customers".
The US Government said this move was aimed to "address the risk that the covered products may be used in, or diverted to, a 'military end use' or 'military end user' in China and Russia."
Rita Liao, Asian tech researcher at TechCrunch said in a publication that innovation is likely to accelerate in the semiconductor industry, as the two nations compete to stay ahead: "The US's move to bar China's access to its high-end technologies has in turn accelerated the latter's pursuit of independence."
She added: "While China may still be a generation behind in producing the most sophisticated chips, the country is gradually sharpening its edge in lower-end, specialised semiconductors."
Micron (MU) Price Chart
Gaming downturn
The gaming sector saw a large increase in sales in 2020 as lockdown measures were put in place. As sales have normalised, the industry has had to face a reality check while sales numbers normalise.
Despite the recent slowdown in sales, many market watchers expect gaming sales numbers to pick up. This is due to gaming products historically seeing a higher demand during economic downturns.
At the same time, the gaming sector's long-term high growth potential remains intact.
Stock outlook
Nvidia stock has slid 21% year-to-date due to disappointing earnings and "also driven by worries about the knock-on impacts of the CHIPS bills on its sales to China" as per analysts at Vanda Research.
The report adds "Despite its recent woes, NVDA remains a retail favourite within the semiconductor universe, with over $600m net retail flows over the past two weeks."
They add that "the stock derives around 57% of its revenue from China and Taiwan, but that doesn't seem to worry retail investors much as they continue offering exit liquidity to the pros."
The shares have recovered more than 5% in the past week and and were up 2.6% in early trade on Friday at $143.44.