Nvidia (NVDA) stock rises 7% on improving chip supplies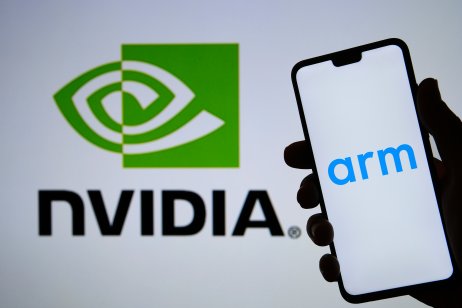 Chip designer Nvidia (NVDA) rose more than 7% Tuesday following recent price hits on signs that it will have access to more graphics processing unit supplies in 2022 than it has during the global chip shortage.
The stock rise came after Santa Clara, California-based Nvidia had dropped for six straight days.
Nvidia CFO Colette Kress told the UBS Global TMT conference on Monday that the company expects supplies for its graphics cards to improve by the second half of 2022, PC Magazine reported.
A Graphics Processing Unit (GPU) is a chip or electronic circuit capable of rendering graphics for display on an electronic device. The GPU was introduced to the wider market in 1999 and is best known for its use in providing smooth graphics in videos and games, according to Investopedia.
"The company as a whole will take the appropriate work to continue to procure more supply," Kress said. "We've been able to grow quite well during this year, each quarter, sequentially growing. And we do continue to plan to do that for (the fourth quarter)."
Company develops integrated circuits
Nvidia develops integrated circuits used in products ranging from electronic-game consoles to personal computers. Graphics processing units (GPUs) are key components of gaming devices.
Nvidia is in the process of developing next-generation GPUs that will replace its RTX 3000 series, which is hard to find, according to PC Magazine.
To increase production, the magazine reported, Kress said Nvidia has been entering into more longer-term commitments for manufacturing capacity, which involves pouring billions into spending agreements.
But the CFO said it remains unclear when the GPU market will reach a "stabilisation point," where supply can meet demand.
"We'll have to wait until we finish the holiday seasons to see how that inventory in the channel is looking," she said.
What is your sentiment on NVDA?
Vote to see Traders sentiment!
FTC suing Nvidia
Nvidia's stock plummet appeared to be exacerbated by a 2 December lawsuit filed by the US Federal Trade Commission (FTC) against the company. The FTC is seeking to block Nvidia's proposed $40bn merger with UK-based chip designer Arm.
"Tomorrow's technologies depend on preserving today's competitive, cutting-edge chip markets," said FTC Bureau of Competition director Holly Vedova in a statement.
"This proposed deal would distort Arm's incentives in chip markets and allow the combined firm to unfairly undermine Nvidia's rivals. The FTC's lawsuit should send a strong signal that we will act aggressively to protect our critical infrastructure markets from illegal vertical mergers that have far-reaching and damaging effects on future innovations."
Arm designs and licenses chips for a wide variety of uses, including graphics, AI processing, and computer-assisted driving. Nvidia's proposed acquisition of Arm was announced in September 2020 but has stalled due to regulator resistance in the US and UK.
Wells Fargo optimistic about company
Despite Nvidia's supply woes, Wells Fargo analyst Aaron Rakers believes that the stock has considerable upside.
"We continue to believe a premium multiple for Nvidia is warranted given what we believe is a multi-year strong competitive positioning for data center growth driven by cloud and AI, gaming, next-generation autonomous vehicle applications, and an expanding ecosystem of products/applications (e.g, Omniverse)," Akers wrote in a recent report that Wells Fargo provided to Capital.com.
Nvidia describes its Omniverse offering as a scalable, multi-GPU real-time reference development platform for 3D simulation and design collaboration. The platform uses Pixar's Universal Scene Description and Nvidia RTX technology.
Nvidia expects Omniverse to play a major role in its future.
$370 price target
Rakers has set a $370 price target for Nvidia based on a 68-times price-to-earnings ratio using 2023 calendar-year estimates. The analyst gives the company an overweight rating. The stock closed at $324.56 on Tuesday.
"We see Nvidia as one of the most attractive secular growth stories in large-cap (semiconductor companies)," he wrote.
Meanwhile, Rakers wrote that AMD has increased its share of central processing units (CPUs) used on Steam, the largest PC gaming platform, to a record 31.5%. AMD has increased its CPU share on Steam about 6.5% since January 2021.
The figures were based on Steam's own survey.
Chipmaker AMD also showed signs of rising from bottom. AMD stock was up 3% on Tuesday after it took heavy hits last week. The declines came after AMD rose more than 60% over the past two months.
Read More: Intel (INTC) up 7% on plans to take Mobileye public