Nvidia (NVDA) net income rises 84% in latest quarter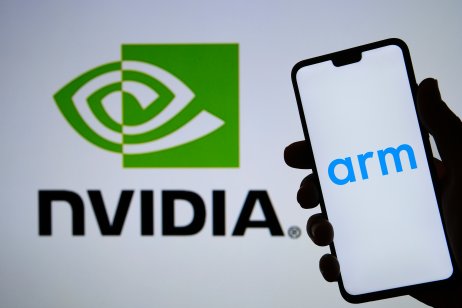 US microchip and artificial intelligence company Nvidia's net income and revenue soared in the latest fiscal reporting period.
Santa Clara, California-based Nvidia's profit spiked 84% year-over-year to $2.46bn from $1.34bn, while revenue increased 50% to $7.13bn from $4.73bn a year earlier, the company said Wednesday 17 November in a news release.
On a conference call with analysts, CEO Jensen Huang called the quarter "outstanding."
Omniverse highlights quarter
For accounting purposes, the latest reporting period served as the third quarter of Nvidia's 2022 fiscal year.
The quarter was highlighted by the company's efforts to roll out its Nvidia Omniverse open-source 3D simulation and collaboration platform that aims to serve the metaverse, a future version of the Internet.
Nvidia Omniverse is designed to allow creators, designers and engineers to collaborate and develop projects in real time in a virtual space. The company expects Omniverse to play a major role in its future.
What is your sentiment on NVDA?
Vote to see Traders sentiment!
Tip of the iceberg
"This is just the tip of the iceberg of what's to come," said Huang near the conclusion of the conference call on which Omniverse was a major discussion theme.
The CEO indicated that software, rather than chips, will shape the company's development going forward.
"The chips are enablers, but it's the software that opens new-growth opportunities," said Huang.
Stock rises more than 4.5%
The company delivered its earnings report after markets closed. Nvidia's stock rose more than 4.5% in after-hours trading after closing down 3.12%, or $9.42, at $292.61 on the Nasdaq Global Select Market. The company's guidance had called for quarterly revenue of $6.82bn.
Nvidia boosted its adjusted earnings per share (EPS) 83% to 97 cents from 53 cents a year earlier. But the company missed its adjusted earnings per share guidance of $1.11. Analysts polled by Dow Jones had also expected Nvidia to post adjusted EPS of $1.11. On a full-year basis, the analyst group expects the company to produced adjusted EPS of $4.74.
Gaming revenue up 42%
Nvidia said it posted record gaming revenue of $3.22bn, which was up 42% from a year earlier and marked a 5% increase from the previous quarter.
"Demand was strong across the board," said CFO Colette Kress on the earnings call.
Data centre revenue of $2.94bn was also a record and represented a 55% year-over-year increase and 24% quarter-over-quarter gain.
Professional visualisation revenue rose 144% year-over-year to $577m and was up 11% sequentially.
Automotive revenue up 8%
Automotive revenue increased 8% from the same period a year earlier but was down 11% sequentially.
"The year-on-year growth was due to the ramp of self-driving programs, while the sequential decline was related to automotive makers's supply constraints," said Kress in a commentary published on the company's website.
On the conference call, Huang said Nvidia has secured guaranteed chip foundry supply for the next fiscal year.
"We feel very good about our supply situation, particularly starting in the second half of the year," said Huang on the conference call.
Company projects Q4 revenue of $7.42bn
Nvidia projects revenue of $7.42bn, plus or minus 2%, for its fiscal fourth quarter.
"We could probably expect our data centres to grow faster than our gaming (revenue), probably both in terms of percentage-wise and absolute dollars," said Kress on the conference call.
The strong earnings report continued a memorable month for Nvidia. On 2 November, Nvidia became the seventh-largest US company in terms of market capitalisation at $6.6bn according to FactSet, surpassing Berkshire Hathaway for the first time.
Two days later, Nvidia closed with a market cap of $745bn, according to Dow Jones. That total was actually exceeded in intraday trading. Dow now pegs Nvidia's market cap at $755bn.
Read more: Sono Group (SEV) spikes 140% on first day of trading