NIU declines more than 16% on Nasdaq as earnings fall short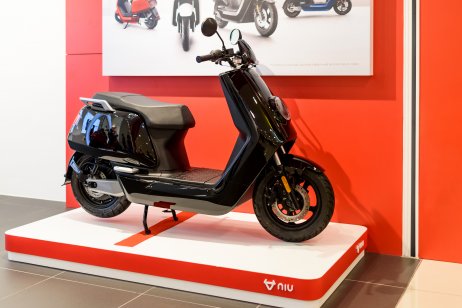 The price of Chinese electric scooter manufacturer Niu's American Depository Shares fell more than 16% Monday after the company missed a key earnings estimate.
Beijing-based Niu closed at $19.81 per share, down $4.05, on the Nasdaq Global Select Market.
An American depositary share (ADS) is an equity share of a non-U.S. company that is held by a U.S. depository bank and is available for purchase by U.S. investors. The entire issuance of shares by a foreign company is called an American Depositary Receipt (ADR), while the individual shares are referred to as ADSs, according to Investopedia.
EPS well below forecast
Niu reported adjusted earnings per ADS share (ADS) was RMB1.19 (US 18 cents) after analysts polled by Dow Jones anticipated adjusted per-share earnings of US$1.18.
The lower-than-expected increase coincided with a 7.5% year-over-year rise in net income to RMB91.7m from RMB80.0m. Revenue climbed 37% to RMB1.23bn from RMB894.50bn a year earlier.
Sales from China led the way, increasing 45.40% to RMB 1.077bn from RMB740.80m in the third quarter of 2020.
High sales volume
On a conference call with analysts, CEO Yan Li said the quarter ranked as one of the company's best in terms of sales volume.
But Niu declined 27.5% year-on-year in international sales to RMB43.2m from RMB 59.60m. International sales had sparked revenue increases during the previous quarter when weather was warmer and more people were riding vehicles.
Revenues per e-scooter also dipped noticeably, dropping 13.4% to RMB3,089 from RMB3,565 a year earlier. Niu attributed the decline mainly to an unspecified "change in product mix."
Asking sale prices plummet
The company's product portfolio includes electric motorcycles, mopeds, bicycles, and kick-scooters. CFO Fion Zhou said e-scooter asking sale prices declined 90% year-over-year mainly due to sales of low-end models that accounted for 41% of total sales volume compared to 27% a year earlier.
Li said Niu sold 397,000 units, up 57% from the third quarter of 2020. The number of units sold in China increased 60% year-over-year, but Niu peddled about 11%, or 5,000, fewer products in international markets.
CFO Zhou cited continued shipping challenges as the cause of the decline in international sales. Li said the company has a "a lot of orders in backlog," but shipments are expected to increase in the fourth quarter.
Supply chain difficulties
He said Niu has experienced supply-chain difficulties, but "nothing too much" after the company redesigned some chips following a chipset shortage earlier in the year. Niu may experience some raw material price pressures in 2022, but the company increased its product price to offset those potential hikes.
The number of franchised stores in China rose 13.52%, or by 320 outlets, to 2,686 from a year earlier. CFO Fion Zhou said the increase occurred after the company opened 750 new stores in the first half of 2021.
"We're well on track to have 3,000 stores in operation (in China) by (the) end of 2021," said Li on the conference call.
New product development
Internationally, Niu increased its distributor count to 41 in 49 countries.
The company has developed new products, including upgraded kick-scooters and e-motorcycles, but Li said it was too early to provide any guidance on them.
Following the stock-price decline, Niu rose marginally in after-hours trading.
Read More: Vaccine makers appear to get boost from distribution plans