Nina Dobrev and Julianne Hough winemaker raises $22m in IPO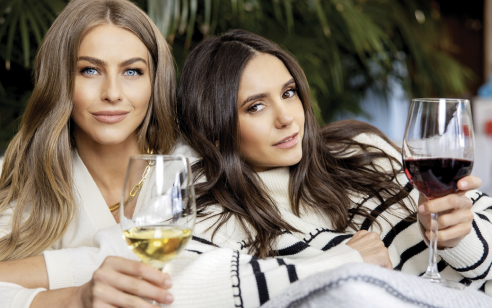 Fresh Vine Wine sold 2.20 million shares to the public at $10 per share to raise $22m, the company announced.
Oak Ridge Financial acted as sole lead manager on the initial public offering (IPO). The underwriter has been granted a 45-day option to purchase up to an additional 330,000 shares at the IPO price, bringing the total proceeds to a potential $25.3m (£19.1m), the company said in a press release.
Settlement is scheduled for 16 December. Fresh Vine Wine has applied to trade on the New York Stock Exchange under the ticker "VINE".
The Plymouth, Minnesota-based healthy lifestyle alcoholic beverage producer changed its name from Fresh Grapes LLC upon completion of the IPO, the company said in its shelf registration filed with the US Securities & Exchange Commission.
Dobrev and Hough
Proceeds from the IPO will go primarily to paying down outstanding debt, including $1.61m owed to Fresh Grapes Chairman and co-founder Damian Novak, as well as two promissory notes totalling $430,000.
Offering low sugar and low carbohydrate from Napa Valley grapes, Fresh Vine Wines was co-founded in part by actors Nina Dobrev and Julianne Hough, who each hold roughly 11% of the company.
Dobrev and Hough also have licencing agreements that allow the company to use their names, images and likenesses to promote products. If as of the end of calendar year 2023, Fresh Vine Wine has not achieved at least $5m in EBITDA in either fiscal 2022 or fiscal 2023. Otherwise the licence agreements are scheduled to expire in March 2026. EBITDA for 2020 was $1.29m.
Both currently serve as company ambassadors and actively endorse wines on their sizable social media and other outlets and are considered by many to be the face of the brand, Fine Vine Wine said.
Financials
Fresh Vine Wines lost $8.09m, or $5.99 per share, through the first nine months of 2021 on $1.05m in revenue. Through the comparable period in 2020, Fresh Vine Wine lost $919,473, or $0.93 per share, on $115.535 in revenue. For the full year 2020, Fresh Vine Wine lost $1.29m, or $1.30 per share, on $217,074 in revenue.
Fresh Vine Wine is sold both direct to consumers and through retail channels, including 7-11, Food Lion and Walgreens. Its wines sell for between $15 to $22 per bottle.
Read more: Unconventional winemaker Winc uncorks an IPO