Nike reports mixed financial results, lowers revenue outlook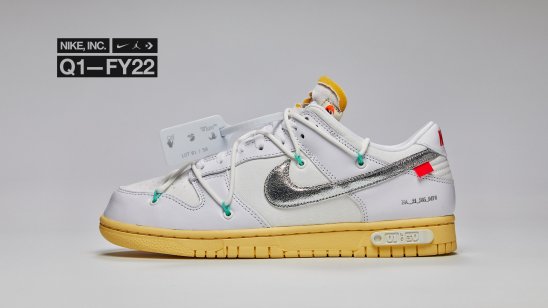 Nike Inc. (NYSE: NKE) reported mixed top- and bottom-line financial results on Thursday, beating earnings-per-share estimates but slightly missing the analysts' revenue expectations. Additionally, Nike executives lowered revenue expectations through its 2022 fiscal year due to global Covid-related supply-chain issues.
The Beaverton, Oregon-based athletic apparel manufacturer reported $1.16 EPS on $12.2bn (£8.88bn) in revenue. Analysts had expected $1.12 EBS and $12.5bn in revenue. The relatively strong revenue was driven by gains in the digital sales, versus its retail distribution outlets.
"We have the right playbook to navigate macroeconomic dynamics, as we create value through our relentless drive to fuel the future of sport," said Nike president and CEO John Donahoe in a prepared release.
During the post-earnings investor conference call, Donahoe cited the company's digital sales effort buttressing the company's sales through Covid-related retail store closures.
"Growth in digital puts us in a better position, relative to our competitors, than prior to the pandemic. Donahoe added. "We expect digital [sales] to be the source of our growth going forward."
"Our first-quarter results illustrate how Nike's Consumer Direct Acceleration strategy continues to fuel growth and transform our long-term financial model," added CFO Matt Friend in the same release. Friend noted the company's goal to generate 40% of all Nike sales through its digital platforms by fiscal 2025.
But Friend admitted on the call both the top- and bottom-line performance was negatively impacted by Covid-related supply-chain issues, something he didn't see changing in the near term.
Friend adjusted Nike's outlook to mid-single-digit revenue growth for the remainder of its 2021 fiscal year, down from low double-digit growth. He expects revenue growth to be flat to the low single digits for fiscal year 2022.
"We are experiencing worsening transit times, twice as long as pre-pandemic," Friend said, noting the drain on Nike's wholesale warehouse supply. Friend estimated Nike lost ten weeks of production due to government-mandated factory closures overseas.
To illustrate his point, Friend reported shipping transport times in its fiscal first-quarter averaged 80 days, versus 45 days in transit pre-pandemic.
"We had full-price inventory we couldn't sell," due to transit delays. "We would have had stronger top-and bottom-line performance," if not for the supply chain issue.
The other disrupting event along Nike's supply chain are Covid-related factory closures in Indonesia and Vietnam. Friend blamed these closures in particular, for Nike's lost production.
While Indonesia's Nike Factories are reopening this week, 80% of Nike's factories in Vietnam remain closed and the timeline for re-opening is uncertain. And even after a factory re-opening occurs, "ramping up production takes time," Friend admitted.
Read more: Nike (NKE) stock forecast: Can Nike repeat its June peak