Nickel price analysis: What's next after breaking the $20,000/tonne level?
Subscribe to Weekly Highlights
The major market events for the week ahead right in your inbox.
Subscribe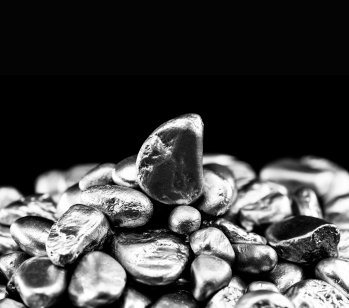 Content
A recovery in stainless-steel demand, rising demand from electric vehicles (EVs) and supply tightness have supported an uptrend in the latest nickel price to continue into 2021, up from the second half of 2020.
Nickel prices had rallied in the first eight months of this year, but failed to break the $20,000-per-metric-tonne level until September. The historical nickel price graph showed the benchmark nickel futures at the London Metal Exchange (LME) hit seven-year highs at $20,392 a tonne on 10 September.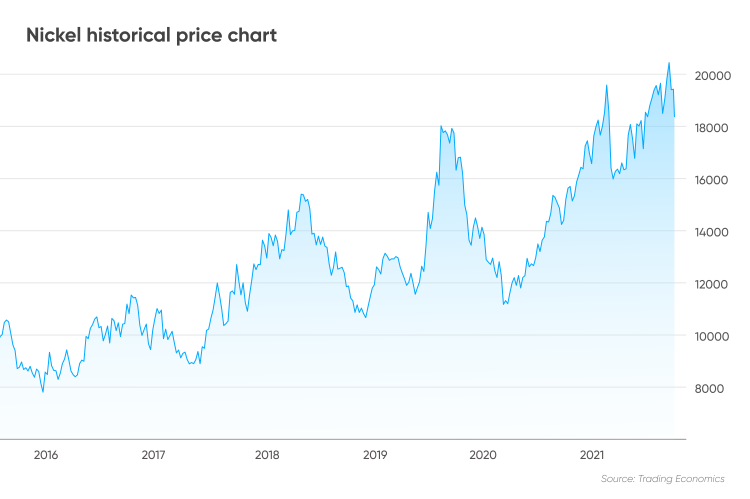 This was caused by supply shortages triggered by rising demand from stainless-steel makers and batteries for electric vehicles as well as low inventories. EV production is expanding globally, which will boost nickel demand for EV batteries.
News about Indonesia mulling the imposition of an export tax on low-grade nickel – meaning with less than 70% nickel content – had supported prices to hover at $20,000, for a stint. But prices since then have steadily fallen to below $19,000 on mounting concerns about the possibility of slowing China's economic growth amid a power crisis and a default risk faced by Chinese property giant Evergrande.
This article discusses the latest nickel price news, nickel price analysis, and the short- and medium-term industry outlook.
Nickel price analysis: major price drivers
Nickel was not spared from the rippling effects on metal demand caused by restrictions to curb the spread of the coronavirus pandemic in 2020. The price of the metal, mainly used in producing stainless steel, plunged to $11,753 in April 2020, from a peak of $17,673 in September 2019.
In the second half of the year, China's rapid economic recovery became a major driver in increased nickel prices for the rest of 2020. This trend continued into 2021. In addition, a ban on nickel-ore exports from Indonesia, which came into effect on 1 January 2020, contributed to the metal's rally.
In February 2021, nickel advanced to a nearly seven-year high above $19,000/tonne from around $17,000 early this year, as a result of China's strong economic growth and a shortage of supply.
But the rally was short-lived after Chinese company Tsingshan Group announced it would supply nickel matte for battery production. The news eased concerns about a supply crunch for battery-grade nickel, knocking nickel futures at the London Metal Exchange at one point to $15,945 a tonne on 4 March 2021.
In the second quarter, nickel prices advanced steadily, gaining 12.6% to the end of June on strong fundamentals, Sucden Financial wrote in its Quarterly Metals Report released in July.
Several top nickel producers, including Nornickel and Glencore, experienced operational disruptions in the first half of this year, squeezing supply further amid strong demand. Supply disruptions had supported prices to hover at $19,000 a tonne. According to the Nickel technical analysis chart, the commodity's price was trading within the range of $18,240 to $19,900 late August – early September 2021 before the price rocketed to its fresh high of $20,393.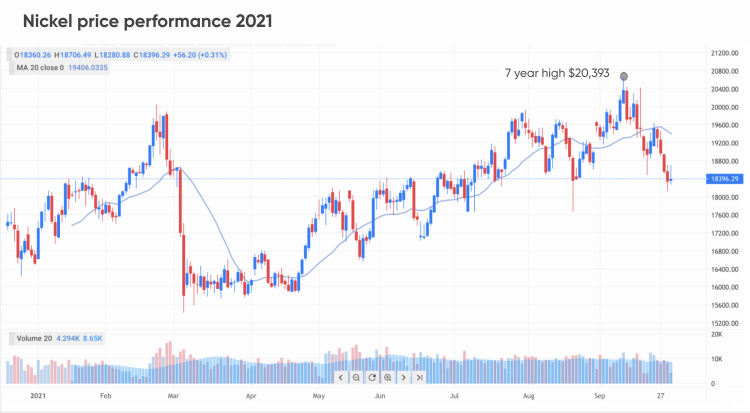 Nickel price news: Indonesia's potential ban, risks of China's slowing demand
Indonesia's investment minister and chairman of the Indonesia Investment Coordinating Board, Bahlil Lahadia, said the country is exploring the possibility of imposing an export tax on nickel products with less than 70% nickel content, Reuters reported.
The news had raised concerns about potential supply reduction from the world's top nickel producer. Indonesia has imposed a ban on nickel ore exports starting 1 January 2020, two years earlier than the initial plan to impose it in 2022. The country wanted to spur developments of its domestic nickel smelters.
"Should Indonesia go ahead with this plan, this could be a potential upside risk for nickel prices," analysts at ANZ Research said in a note on 18 September.
But worries about potential supply reduction from Indonesia quickly dissipated as news emerged about a default risk faced by debt-ridden Chinese property giant Evergrande.
Evergrande's debt woes had raised fears that it may lead to a fallout in the country's property sector, potentially hurting demand for industrial metals, including nickel.
The Evergrande crisis has also heightened uncertainty about Chinese demand for industrial metals following the country's move to curb electricity usage for smelters to cut emissions and the severe power crunch due to record highs in coal prices.
The power crisis has seen at least 20 out of 31 provinces in China implement power-rationing measures, ABC news reported. The power-rationing has left households without power during peak usage periods while industrial, manufacturing and tech sectors have been crippled by strict operating restrictions.
Nickel demand outlook: the China factor
In April 2021, the International Nickel Study Group (INSG) forecast stated that primary nickel usage will rise to 2.718 million tonnes in 2021, up from 2.494 million tonnes in 2020, as demand for stainless steel products such as white goods and automobiles was expected to recover from the coronavirus pandemic.
Non-corrosive stainless steel made up more than two-thirds of nickel use, according to the industry member association.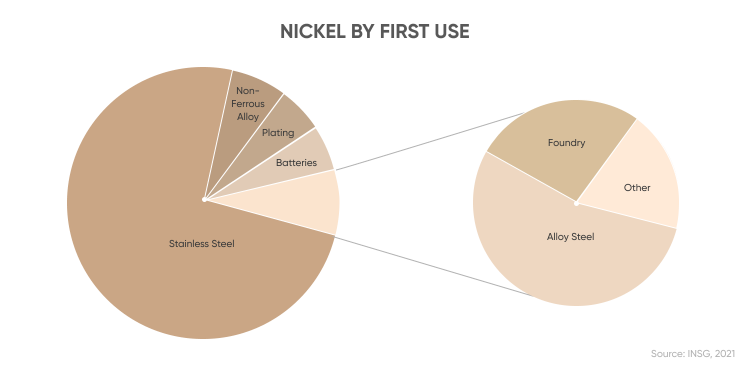 However, the power crisis and tightening emission rules in China, which accounts for nearly 60% of global nickel demand, have clouded the outlook for stainless-steel production. China, the world's largest stainless steel producer, has been the main driver for the global market.
China's Fujian Province, the country's key stainless steel-producing region, is among those carrying out power-rationing.
"There is a significant amount of uncertainty as to how much stainless steel production will be cut and what grades of stainless steel will be most affected," Amanda Eglinton, Associate Director of Economics in the Pricing and Purchasing Service at IHS Markit, told Capital.com in a note.
If Chinese mills opt to cut production of 200- and 400-grade stainless steel, both of which have lower nickel content, and maintain or increase higher nickel content of 300-grade stainless steel, China's nickel demand will remain robust, Eglinton said.
"Likewise, if production of 200- and/or 400-grade stainless is maintained and 300-grade production is cut, then demand will decline," Eglinton added.
Nickel trend analysis amid slowing China's demand
Regardless of the power woes in China, IHS Markit's Eglinton forecast that China's domestic stainless-steel production will be slowing over the fourth quarter and 2022 from the rapid pace seen over the second half of 2020 and the first half of 2021.
This is due to the decline of stainless steel exports following the removal of the 13% VAT rebate on steel exports and slowing demand from the manufacturing sector.
Fitch Solutions is of the same opinion. The analysts state that demand from China's stainless steel sector should begin to weaken in the fourth quarter of this year after rapidly expanding in the first nine months.
"High-frequency indicators such as manufacturing PMIs [purchasing managers' indices] and industrial production figures suggest an incipient slowdown in demand from steel end-users," Fitch Solutions said in its nickel price outlook on 16 September.
An ongoing outbreak of the Delta variant of Covid-19 in China should further slow stainless steel-production growth in the next quarter, it added.
Supply outlook: tightness to ease
The potential slowing demand from China came as supply tightness began to ease, as output, particularly from Indonesia and the Philippines, was recovering.
"Growth in the near term will be driven by a recovery in output in Indonesia and the Philippines," Fitch Solutions wrote in its 16 September's note. "In Indonesia, a gradual rollback of Covid-19 lockdown restrictions imposed in mid-2021 will reduce disruption to both nickel refining and construction of additional nickel refineries," it said in a separate note on 9 September.
Fitch Solutions has forecast Indonesia's mined nickel output will rise by 10% to 836,000 tonnes in 2021, from 760,000 tonnes in 2020, while IHS Markit estimated Indonesian mined nickel production will increase to just under 1.1 million metric tonnes this year.
Nickel output from the Philippines is estimated to rise to 366,300 tonnes this year, up from 333,000 tonnes in 2020, according to the Fitch forecast. Mined nickel output from the Philippines, the top supplier of nickel ore to China, has been gradually recovering after the government relaxed restrictions on the mining sector.
China's nickel imports increased in May to 3.68 million tonnes, of which 3.506 million tonnes were from the Philippines, Sucden Financial said in its Quarterly Metals Report.
"We expect imports from the Philippines to remain strong, which will alleviate some of the tightness in the market," it added.
From deficit to surplus
IHS Markit estimates there will be a small surplus emerging in the fourth quarter and over 2022 as demand growth slows and new capacity comes online.
"This is in sharp contrast to the rather large surplus we were forecasting at the start of the year for both 2021 and 2022, and reflects much stronger demand than originally anticipated as supply has increased as expected," Eglinton said.
Fitch Solutions has also forecast that high prices for refined nickel and reduced disruption from the Covid-19 pandemic will result in strong growth of nickel mine production during 2021–2023.
Nickel price forecast: short-term outlook
IHS Markit has forecast the nickel price will average $18,273/tonne for the fourth quarter of 2021 and $18,161/tonne on average for 2021, based on stronger-than-anticipated demand and sharp drawdown in inventories, both at the London Metal Exchange and the Shanghai Futures Exchange.
"Supply concerns have also increased over the third quarter as a result of the recent wave of Covid-19 outbreaks across Southeast Asia, ongoing shipping and transportation bottlenecks, power shortages and rising power costs in mainland China, and comments by an Indonesian government official that is was considering imposing a tariff on exports of refined products with less than a 70% nickel content," commented Eglinton.
Fitch Solutions has revised up its nickel prices outlook to $17,500/tonne for 2021, from the previous forecast of $16,500/tonne and an average of $16,672/tonne over the remainder of the year. In May, Fitch Ratings revised up its nickel prices forecast to $16,500 a tonne from $15,000 for 2021.
Meanwhile, the Bank of America estimated nickel prices to average at $17,436/tonne in 2021 and $15,250/tonne in 2022, according to S&P Global.
Long-term price outlook
For the long-term nickel price forecast 2025, IHS Market expects LME's nickel price to average $16,520 in 2022 and remain within the $16,000–$17,000 range from 2023 to 2025.
Fitch Solutions forecast nickel prices to range from $16,450–$19,140/tonne between 2022 and 2025, underpinned by persistent annual production deficits.
"Demand growth will be driven by expanding global battery production to supply the electric vehicle (EV) and utility storage industries over the coming years," said Fitch Solutions, adding that China will be a key source of the demand as manufacturers there begin to use higher nickel-content batteries in their EVs.
The Organisation of Petroleum Exporting Countries (OPEC) in its 2021 World Oil Outlook forecast the total EV fleet globally to reach 2.6 billion by 2045, around a 1.1 billion increase from the 2020 level.
FAQ
Will nickel prices rise?

The price of nickel is determined by supply and demand. An expected, rising demand for high-grade nickel, which is essential for making electric vehicle (EV) batteries, has boosted nickel prices as demand for EVs has grown. But uncertainty about China's stainless-steel demand may cap prices.
Will nickel prices continue to go up?

Demand for nickel has been driven mainly by growing consumption of stainless steel and EV. But the uncertainty on China's stainless-steel demand following the power crisis may cover the upside amid expected supply recovery in major producing countries, such as Indonesia and the Philippines.
Is nickel mining stocks a good investment?

The growing use of nickel in EV batteries has supported prices. However, whether it's the right investment for you depends on your investment goals and portfolio composition. You should do your own research and never invest money you cannot afford to lose.