Nickel advances on fresh concerns about supply shortage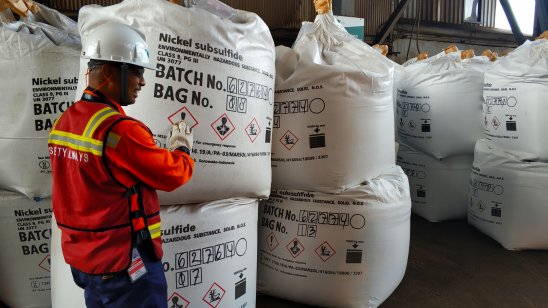 Nickel price extended gains for the third day on concerns about supply crunch after Indonesian president's comment about stopping raw materials exports and an expected lower ore output from the Philippine.
The benchmark nickel futures on the London Metal Exchange rose 1.25% to $21,217.5 a tonne on Thursday. The metal, used in the making of stainless steel, surged 4.55% on Wednesday to nearly $21,000 a tonne.
"There is a supply shortage sentiment in nickel, such as potential export ban on nickel products with less than 70% nickel content and lower output from the Philippine due to weather," said Ahmad Zaki, industrial analyst covering coal and metals at the Jakarta-based Office of Chief Economist at state-run lender, Bank Mandiri.
Lower output
Reuters reported on Tuesday that Indonesian President Joko Widodo said that the country plans to "hit the brakes" on exporting raw materials. The president mentioned about the current ban on nickel ore which was imposed in 2020, and may stop bauxite export next year, and "something else".
Indonesia's Investment Minister Bahlil Lahadalia in September said that the government was consider to levy an export tax on low-grade nickel.
Nickel output from the Philippine is forecast to drop by 10% to 25 million dry metric tons (DMT) this year, from 27.17 million DMT due to heavy rains and shortage of vessels to deliver nickel ore, Manila Bulletin reported citing Dante R Bravo, the president of Philippine Nickel Industry Association.
Reports of lower nickel output from major producers, such as Brazil's Vale and Russia's Norilsk Nickel also added concerns about supply crunch, Ahmad added. Vale announced its nickel output dropped by 9.6% in the first nine months of 2021, while Norilsk's nickel production fell by 23% in the nine months period.
What is your sentiment on Nickel?
Vote to see Traders sentiment!
Base metals mixed
Other base metals were mixed. Zinc was another gainer, climbing by up 0.67%. Copper dropped by 2.19%, lead was down by 0.23%, and tin fell 1.17%.
Aluminium dropped by 0.23% to $3,062.50 as concerns about supply disruptions due to power crunch eased.
"Efforts to boost coal supplies and stabilise power markets could see the impact of on heavy industry such as aluminium smelting reduced," analysts at ANZ Research wrote in its note on Thursday.
Price intervention
China's National Development and Reform Commission on Tuesday unveiled measures to intervene in the coal market to secure energy supply ahead of winter. The measures include ordering coal companies to ensure price and supply stability.
Power crunch and high electricity costs in China have raised fears of further cut in the country's aluminium output.
Read more: Nickel price analysis: What's next after breaking the ,000/tonne level?