Hungary's Orban says central bank money supply cuts are too drastic
By Reuters_News
11:37, 9 March 2023
Subscribe to Weekly Highlights
The major market events for the week ahead right in your inbox.
Subscribe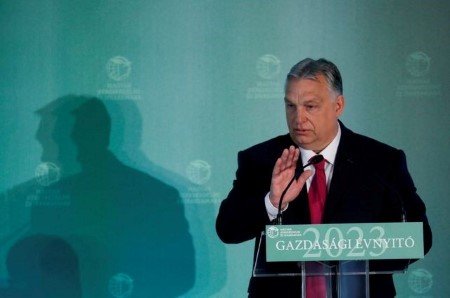 Adds detail, more comments
BUDAPEST, March 9 (Reuters) - Hungarian Prime Minister Viktor Orban said on Thursday that the National Bank of Hungary's cuts to money supply were too fast and drastic as inflation has probably peaked and price growth was driven by energy costs and sanctions on Russia.
Orban said he saw tentative signs of an improvement in inflation trends after data on Wednesday showed price growth eased marginally to an annual 25.4% in February.
Hungary's central bank doubled down on a "very disciplined and tight" monetary policy after the data while its governor called on Orban's government to help fight inflation, widening the policy rift between the government and the bank.
Orban said policy debates with the central bank were "not abnormal" but called for co-ordination with Hungary projected to run the European Union's highest inflation rate at 16.4% this year.
"The co-ordination of monetary and fiscal policies is under way and it will eventually happen, otherwise the horses scatter and the coach rolls into a ditch," Orban told an economic forum.
"Today, the central bank is of the view ... that inflation has to be tackled by substantially curbing the money supply," Orban said. "This is a logical thought if the statement that all inflation is of a monetary nature is true."
Orban said that if inflation eases, as the government expects, policy co-ordination will be easier, however, if inflation stagnates or rises further, it could be more difficult.
The central bank left interest rates unchanged last week, as expected, and said it would tighten liquidity conditions further, defying government pressure to cut borrowing costs amid a sharp economic slowdown.
On Wednesday it said cutting inflation into single digits by the end of the year from levels above 25% would be a "tough job", adding that tight monetary policy was also needed to preserve financial stability.
Reporting by Gergely Szakacs and Krisztina Than; Editing by Kirsten Donovan